WBC brawl: It was more than just the rules that had Mexico upset
Team Mexico third baseman Luis Cruz, who instigated Saturday's huge World Baseball Classic brawl, suggested in text messages to Dodgers manager Don Mattingly that plays earlier in the game upset the Mexican players.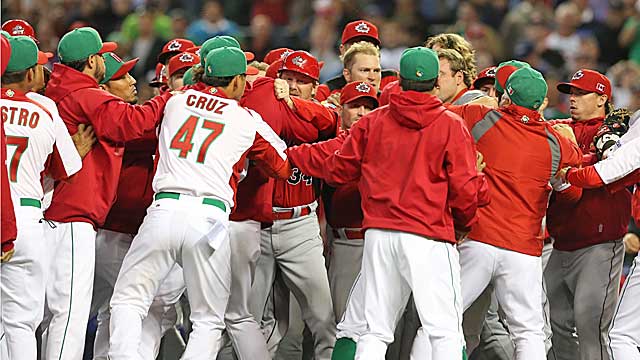 GLENDALE, Ariz. -- The instigator of Saturday's huge Mexico-Canada World Baseball Classic brawl has yet to speak publicly, but we gained a little more insight Sunday into what Luis Cruz was thinking.
Cruz was the Team Mexico third baseman who dramatically pointed at his ribs, seeming to ask Mexico pitcher Arnold Leon to throw at Canada's Rene Tosoni in the ninth inning of Saturday's game. The Mexican players chose not to speak after the game, but manager Rick Renteria suggested Chris Robinson's leadoff bunt single in what was a six-run game (and a misunderstanding of the tournament rules) was what had his team upset.
Cruz isn't expected back in Dodgers camp until Monday, but he exchanged text messages Saturday night with Dodgers manager Don Mattingly.
"I don't want to speak for him, but he said something about plays earlier in the game," Mattingly said Sunday morning.
There were two hard slides at second base by Canadian players earlier in Saturday's game. When the WBC highlights played on a clubhouse television Sunday morning, several Dodgers players mentioned those slides.
Leon, meanwhile, took to Twitter to explain his role.
"Thanks, Mexico, for your support," Leon wrote in Spanish. "Baseball is the same in every part of the world! Respect for your opponent matters, no matter the score!"
Mattingly said he did appreciate Canadian first-base coach Larry Walker trying to keep Adrian Gonzalez out of harm's way. Walker said he told Gonzalez, "You're too important to the game to get hurt in this."
"[Rod] Carew did that to me one time," Mattingly said. "We had [a fight] with the Angels. He said, 'Get over here, you're not getting into this.' "
Mattingly did have one comment on Saturday's fight.
"I was surprised you didn't see jerseys pulled over heads, hockey-style," he said.
Keep tabs on the top 50 free agents right here

Your one-stop shop for all things MLB Winter Meetings-related

The Angels knew about the first-degree sprain and still wanted to sign the potential ace, of...
The run on relievers continues with two more signings

The Yankees added Giancarlo Stanton in a blockbuster trade, though they now have openings at...

Smyly is currently on the mend from Tommy John surgery