Weaver looks like playoff ace, for team with no chance of getting there
Jered Weaver has an 0.79 ERA in his last five starts against playoff teams. Too bad the Angels haven't built a playoff team around him.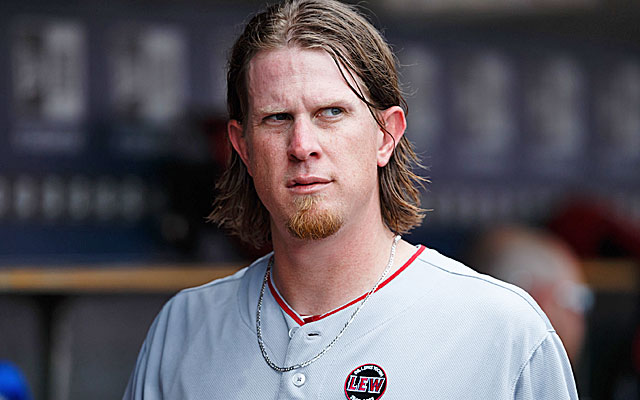 Almost in succession, Jered Weaver pitched against the Tigers, the Cardinals, the Red Sox, the A's and the Rangers this summer.
He didn't lose a single one of those starts, pitching into the seventh inning each time. His ERA over the five games was 0.79.
It was almost like a playoff run, for a pitcher whose team has failed miserably in its attempt to build a playoff team around him. In the two years since Weaver committed to the Angels by taking a below-market five-year, $85 million contract, the team has progressively gotten farther from returning to October, rather than closer.
The Angels will blame injuries, including one that cost Weaver seven weeks and likely cost him a fourth straight top-five Cy Young finish, for this season's step back. But the sad truth is that the roster the Angels constructed probably couldn't have won a championship, even if healthy.
The rotation beyond Weaver simply wasn't good enough. The bullpen simply wasn't good enough.
The roster needs major work this winter, so much so that the Angels may need to consider trading one or more of Mark Trumbo, Peter Bourjos, Howie Kendrick and Erick Aybar. They did some listening in the days before the July 31 deadline, but will likely need to listen even more in the months to come.
Weaver himself won't criticize the decisions the team has made the last few years, and won't admit to any regrets at committing his future to the Angels.
"No, absolutely not," he said this week. "There's too much talent in this clubhouse not to figure it out. It's only a matter of time before things start clicking."
For now, things click most for the Angels on the days Weaver starts, though he struggled mightily against the Yankees in a 11-3 loss Wednesday nightNew York Yankees. They're 55-25 in his starts over the last three seasons, and barely above .500 (228-214) when anyone else does.
The Angels seemed to understand their needs when they signed C.J. Wilson as a free agent and traded for Zack Greinke last July. But they allowed Greinke to leave as a free agent, instead focusing their efforts on signing Josh Hamilton.
Then they made matters worse by basically replacing Ervin Santana and Dan Haren with Tommy Hanson and Joe Blanton. Hanson and Blanton both flopped, with Blanton sent to the bullpen and Hanson sent to the minor leagues.
General manager Jerry Dipoto paints a brighter picture, pointing to the return of Jason Vargas from the disabled list and saying that in Weaver, Wilson and Vargas, the Angels have a solid front three. But Vargas will be a free agent at the end of the season, and Wilson probably profiles better as a third starter than as a second on a championship team.
Dipoto won't telegraph his winter plans (and some wonder if owner Arte Moreno will even keep him around to make them), but he does defend the roster he, Moreno and manager Mike Scioscia built.
"We have quite a good foundation," Dipoto said Wednesday. "It's a pretty dad-gummed good group of players."
The one place where he should find little argument is at the top of the rotation. Weaver had some scouts worried this spring at a drop in velocity -- and he even admits he had some concerns -- but he's pitching now as well as he ever has.
His 1.72 ERA over his last nine starts ranks fourth in the American League in that time, behind only David Price (1.40), Felix Hernandez (1.42) and Hiroki Kuroda (1.50). His overall ERA for the season (2.87) would rank in the top 10 in the AL, if he had enough innings to qualify.
"I think he's pitching as well as he did last year, which was his best year," manager Mike Scioscia said.
Weaver says now that the broken left arm he suffered in April was a blessing in disguise, because it allowed him to regroup and recover from whatever it was that caused his early drop in velocity.
"I wasn't hurting, but something just wasn't firing right," he said.
Whatever it was, it went away in the seven weeks on the DL, and Weaver said he came back feeling strong.
"The ball's coming out a lot better," he said.
The problem is that the Angels were already six games under .500 when he returned, and as well as he pitched, they never got much better than that the rest of the way. They'll need to do well just to avoid what would be the first 90-loss season in Scioscia's 14 seasons in charge.
"It's real frustrating, being a guy who has been here and seen the team do well, been in the playoffs," Weaver said. "We've always been a winning organization."
The last time the Angels were in the playoffs, John Lackey was still the ace, although Weaver was already a strong contributor.
Weaver is the ace now, an ace worthy of leading a team deep into October. But the best he can do now is beat playoff teams in June and July.
The Astros scored seven runs in Game 6 after scoring nine runs total in Games 1-5

The Astros are still alive, and Justin Verlander is the reason why

With a six-run lead in the ninth, the Astros used closer Ken Giles for 23 pitches
On Saturday night in Houston, it'll be CC Sabathia against Morton

The ALCS will go the distance after all with the Astros offense coming back to life in Game...

Verlander's stuff was insane during Game 6 of the ALCS