Weekday Series Rankings: A's look for revenge in Texas
It's time to break out the Hoagie Scale to rank the 15 weekday series in MLB action. On top, the A's visiting the Rangers and the Cardinals hosting the Brewers.
More MLB: Power Rankings | Expert Picks | Latest news & notes | Fantasy news
The schedule this week is a bit light, with several two-game series instead of three- or four-gamers. Everything below will be the final series of April, so we're starting to get to the point where we can stop saying things like "it's early."
Below are the series rankings. The bigger the sandwich, the better the series.

| | | |
| --- | --- | --- |
| | at | |
Oakland Athletics at Texas Rangers
Monday: Sonny Gray (3-1) vs. Yu Darvish (1-0)
Tuesday: Scott Kazmir (3-0) vs. Martin Perez (4-0)
Wednesday: Jesse Chavez (1-0) vs. Robbie Ross (1-1)

After being swept by the Rangers last week, the A's will look for a little redemption here on the road. They need to get back on track, too, because they've lost five of their last seven -- including two straight against the Astros.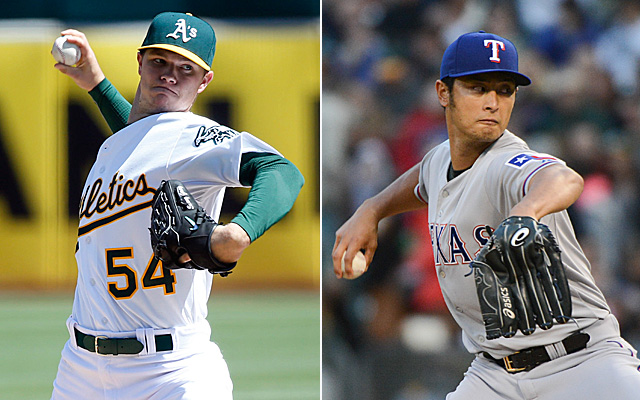 Likewise, the Rangers were playing as well as anyone in baseball, but just lost a series to the Mariners. They have, however, taken over first place in the AL West from the two-time defending division champion A's.
There are some beautiful pitching matchups here, especially the Monday night duel between aces Gray and Darvish.
Something to watch: The Rangers have come to be known as a power-hitting team and play in one of the most hitter-friendly parks in the majors, yet so far only the Royals have fewer homers among AL teams.
| | | |
| --- | --- | --- |
| | at | |
Milwaukee Brewers at St. Louis Cardinals
Monday: Yovani Gallardo (2-0) vs. Michael Wacha (2-2)
Tuesday: Kyle Lohse (4-1) vs. Lance Lynn (4-1)
Wednesday: Matt Garza (1-2) vs. Shelby Miller (2-2)

At 18-7, the Brewers have the best record in baseball. The Cardinals are the defending division champs and took two of three in Milwaukee earlier this season, but still trail the Brewers by 4.5 games in the NL Central. It wasn't too long ago that these two teams battled it out in the NLCS, either, so this is a juicy one.
The Brewers limp into the series with several injuries, notably to Ryan Braun and Jean Segura.
The Brewers should be happy to miss out on seeing Adam Wainwright and his scoreless streak, but Wacha presents a very strong test for Gallardo in an excellent pitching matchup Monday.

| | | |
| --- | --- | --- |
| | at | |
Detroit Tigers at Chicago White Sox
Tuesday: Justin Verlander (3-1) vs. Jose Quintana (1-2)
Wednesday: Max Scherzer (2-1) vs. TBD

Only a two-gamer here, but Verlander and Scherzer face off against one of baseball's most powerful and exciting offenses. The White Sox are only 1.5 games behind the Tigers in the standings, too, so this could be real fun.
Miguel Cabrera is hitting .409 with two doubles and a homer in his last five games after an awful start to the season. He's been baseball's best slugger the past few years, but is Jose Abreu ready to steal his thunder?
| | | |
| --- | --- | --- |
| | at | |
Tampa Bay Rays at Boston Red Sox
Tuesday: Erik Bedard (0-1) vs. John Lackey (3-2)
Wednesday: Chris Archer (2-1) vs. Felix Doubront (1-3)
Thursday: Cesar Ramos (1-1) vs. Jake Peavy (1-0)

It's a battle between two AL East teams who entered the season with high expectations and thus far haven't played up to said expectations. The Red Sox are back to full strength on offense and won two of three in Toronto, so they'll look to win another series here and get things back in the positive.
The Rays, though, have lost four of five and haven't been able to play well for more than a few games at a time thus far. Facing Boston with patchwork starters (Bedard and Ramos) likely doesn't bode well, either, as the Rays were 8-16 (including the playoffs) against the Red Sox last year.
| | | |
| --- | --- | --- |
| | at | |
Seattle Mariners at New York Yankees
Tuesday: Chris Young (0-0) vs. CC Sabathia (3-2)
Wednesday: Roenis Elias (1-2) vs. David Phelps (0-0)
Thursday: Felix Hernandez (3-1) vs. Hiroki Kuroda (2-2)

Well, let's see ... Jesus Montero is in the minors and Michael Pineda is suspended, so that storyline is out. Ichiro facing his former team has happened several times before. Hmmm. Can't come up with anything.
OH WAIT, ROBINSON CANO IS RETURNING TO YANKEE STADIUM.
The swarming New York media will be in full effect for this one, that's for sure. It actually is pretty fun, given that Cano played nine seasons -- 1,374 regular-season and 51 postseason games -- for the Yankees. His reception by Yankees fans should be interesting, too, since they don't usually lose prime free agents due to money.
As far as the actual games, though, it's the first-place Yankees against what has mostly been a bad Mariners team with 60 percent of its rotation on the DL. The matchup seems to favor the Mariners whenever King Felix is on the hill, but they've lost his last two starts. And the Yankees have really hit their stride, having won 10 of their last 14.
| | | |
| --- | --- | --- |
| | at | |
Los Angeles Dodgers at Minnesota Twins
Tuesday: Zack Greinke (4-0) vs. Kyle Gibson (3-1)
Wednesday: Dan Haren (3-0) vs. Mike Pelfrey (0-2)
Thursday: Josh Beckett (0-0) vs. Ricky Nolasco (2-2)

On paper, this seems like a mismatch. The Dodgers have a lot more talent -- and high-priced talent, at that -- than the Twins. Minnesota, though, is excellent at getting runners on base and has found a way to produce a winning record to this point. The Dodgers, on the other hand, are 7-11 when they don't play the Diamondbacks, still don't have Clayton Kershaw back and haven't looked good of late.
| | | |
| --- | --- | --- |
| | at | |
Cleveland Indians at Los Angeles Angels
Monday: Justin Masterson (0-0) vs. Tyler Skaggs (2-0)
Tuesday: Corey Kluber (2-2) vs. Jered Weaver (1-2)
Wednesday: Carlos Carrasco (0-3) vs. C.J. Wilson (3-2)

A pair of playoff hopefuls that are off to at least moderately disappointing starts to the season. The Indians in just got swept in San Francisco and could use a series win to help turn the tide. One interesting contrast is that the Angels lead the majors in homers while the Indians are among the stingiest teams in the majors in allowing homers.
Stat of the series: C.J. Wilson is tops in the majors in run support received so far. Last season he was sixth in all of baseball. He's squaring off against Carlos Carrasco, he of the 6.95 ERA, Wednesday, too. Looks like that trend will continue.
| | | |
| --- | --- | --- |
| | at | |
New York Mets at Philadelphia Phillies
Tuesday: Jon Niese (1-2) vs. Cole Hamels (0-1)
Wednesday: Bartolo Colon (2-3) vs. Kyle Kendrick (0-2)

Back in 2006-07, this would have been sitting at the top, no question. Instead, the two teams are essentially also-rans this season.
Still, New York vs. Philadelphia is always a great rivalry and Tuesday brings a real nice, albeit underrated, pitching matchup. Not only that, but both are playing very well right now. The Mets are 14-8 since getting swept in their initial series and the Phillies have won six of their last eight and crawled above .500. So while it's funny to say about any game involving New York and Philly, this series is actually underrated as far as the national consciousness goes.
| | | |
| --- | --- | --- |
| | at | |
San Diego Padres at San Francisco Giants
Monday: Tyson Ross (2-3) vs. Madison Bumgarner (2-2)
Tuesday: Eric Stults (1-2) vs. Matt Cain (0-3)
Wednesday: Robbie Erlin (1-3) vs. Tim Hudson (3-1)

The Giants come in riding a four-game winning streak and sit atop the NL West. Prior to the Padres' grueling seven-game week (at Milwaukee and at Washington), in which they went 3-4, they took two of three from San Francisco.
The Padres are still struggling to find offensive consistency and it's doubtful they'll have any different luck against Bumgarner or Hudson.
What about Cain, though? Cain is coming off a rough 2013 season and has been touched up twice so far this season. Last time out, he was shelled in Coors Field. His previous start before that, though, came in San Diego and he was dominant. It could go either way Tuesday.
| | | |
| --- | --- | --- |
| |  at  | |
Atlanta Braves at Miami Marlins
Tuesday: Alex Wood (2-3) vs. Jose Fernandez (3-1)
Wednesday: Aaron Harang (3-1) vs. Nate Eovaldi (1-1)
Thursday: Ervin Santana (3-0) vs. Henderson Alvarez (1-2)

The Braves are a lot better than the Marlins. We know that. This one gets a bump because Jose Fernandez is pitching. All he did last time out -- against the Braves -- was strikeout 14 while allowing only three hits and no walks in eight shutout innings.
The Braves, meanwhile, have been getting the best starting pitching in baseball. Expect these games to move quickly, other than during the replay reviews.

| | | |
| --- | --- | --- |
| | at | |
Pittsburgh Pirates at Baltimore Orioles
Tuesday: Charlie Morton (0-3) vs. Chris Tillman (3-1)
Wednesday: Brandon Cumpton (0-1) vs. Bud Norris (1-2)

With Chris Davis hurt and Manny Machado still not back from injury, the Orioles' powerful offense won't be close to 100 percent here, but they still pack some firepower. Having Tillman start one of the two games in the series is a big plus, too.
While the Orioles aren't playing very well, the Pirates are scuffling in a big way. They have lost 13 of their last 17 games and dropped to six games below .500. The offense has been pitiful, as they've scored two or fewer runs in six of their last eight games.
| | | |
| --- | --- | --- |
| | at | |
Toronto Blue Jays at Kansas City Royals
Tuesday: Dustin McGowan (1-1) vs. Jason Vargas (2-0)
Wednesday: Drew Hutchison (1-1) vs. Bruce Chen (1-2)
Thursday: Mark Buehrle (4-1) vs. Yordano Ventura (2-1)

It's a series of opposites. Generally speaking, the Blue Jays have a powerful offense and don't pitch well. The Royals' lack of power has been very well documented (they still have the same number of homers as Jose Abreu) while they are one of the best in the business at run prevention.
Interesting pitching matchup: Buehrle's early hot start came to a screeching halt last time out while Ventura is one of the most exciting young players in baseball.
| | | |
| --- | --- | --- |
| |  at  | |
Colorado Rockies at Arizona Diamondbacks
Monday: Franklin Morales (2-1) vs. Wade Miley (2-2)
Tuesday: Tyler Chatwood (1-0) vs. Mike Bolsinger (1-1)
Wednesday: Jordan Lyles (3-0) vs. Josh Collmenter (1-2)

The Diamondbacks are pretty poor, but there's intrigue here to see if the Rockies can capitalize to stay hot with a sweep. They've won seven of their last 10 and are right in the thick of things toward the top of the NL West. They have done it mostly without help from Carlos Gonzalez, too, who has battled injury and hit .234/.287/.426 so far.

| | | |
| --- | --- | --- |
| | at | |
Washington Nationals at Houston Astros
Tuesday: Gio Gonzalez (3-1) vs. Jarrod Cosart (1-2)
Wednesday: Jordan Zimmermann (1-1) vs. Brett Oberholtzer (0-4)

The Astros can play well in spurts (they were 4-3 this past week), but overall they're an objectively terrible baseball team.
The Nationals, meanwhile, have gone 7-10 since a great start and have several key players on the disabled list. This series should favor Washington, but the two games won't garner a ton of interest outside of D.C.
| | | |
| --- | --- | --- |
| |  at  | |
Chicago Cubs at Cincinnati Reds
Monday: Jeff Samardzija (0-2) vs. Alfredo Simon (3-1)
Tuesday: Edwin Jackson (1-2) vs. Tony Cingrani (2-2)
Wednesday: Carlos Villanueva (1-5) vs. Homer Bailey (1-2)

The Reds pulled themselves back to .500 by winning eight of 11, but just got swept in Atlanta. The Cubs, meanwhile, are probably the worst team in baseball. The way Simon and Cingrani have been pitching, the Cubs' woeful offense shouldn't pose a threat and Bailey's only good start of the season came against the Cubs. The Reds could get a sweep here. If they do, they'll end April 14-14 after a terrible start.
The Indians may be seeking a left-handed hitter in return

NBC Sports California has cut ties with the former A's slugger after a string of inappropriate...

Pineda figures to miss most of the 2018 season after undergoing Tommy John surgery
Keep tabs on the top 50 free agents right here

Your one-stop shop for all things MLB Winter Meetings-related

The Angels knew about the first-degree sprain and still wanted to sign the potential ace, of...