Weekday Series Rankings: Excellent AL West battle looms
It's the Hoagie Scale, with the Rangers-A's and Yankees-Red Sox battles getting "footlong" treatment. Check out all the rest in our weekly series rankings.
More MLB: Scoreboard | Standings | Probable Pitchers | Sortable Stats | Odds
Another new set of series, another look ahead. It's Hoagie scale time! Monday will give us one lingering "weekend" series conclusion, otherwise it's a whole new slate. Let's see what's on tap for the Major League Baseball weekday series.

| | | |
| --- | --- | --- |
| | at | |
Texas Rangers at Oakland Athletics
Monday: Yu Darvish (1-0) vs. Dan Straily (1-1)
Tuesday: Nick Martinez (0-0) vs. Tommy Milone (0-1)
Wednesday: Martin Perez (3-0) vs. Sonny Gray (3-0)
Why watch? The past four AL West championships have been split between these two teams and they currently occupy the top two spots in the West. The A's might well be the best team in baseball while the Rangers were red hot before Sunday's beatdown at the hands of the White Sox. Still, they've won five of six and seven of their past 10. This one will be fun.
What to watch for: Can Yu turn it around? Darvish is 1-6 in his career against the A's. Also, the finale pitching matchup is excellent with two young guns going. Gray has never faced the Rangers.
| | | |
| --- | --- | --- |
| | at | |
New York Yankees at Boston Red Sox
Tuesday: Masahiro Tanaka (2-0) vs. Jon Lester (2-2)
Wednesday: Michael Pineda (2-1) vs. John Lackey (2-2)
Thursday: CC Sabathia (2-2) vs. Felix Doubront (1-2)
Why watch? Because you don't want to make ESPN angry. I kid, I kid. Seriously, though, it's the defending champions against their fiercest rival and said rival just happens to be in first place right now. Even though many fans across the nation are sick of this rivalry, this is a big series.
What to watch for: Tuesday's pitching matchup is a must-watch. Lester has been brilliant thus far (2.17 ERA, 29:4 K:BB in 29 IP), but Tanaka has been better (2.05 ERA, 28:2 K:BB in 22 IP). It'll be Boston's first look at the "rookie," too. Also, Shane Victorino should return for the Red Sox, possibly giving them the offensive jolt they need.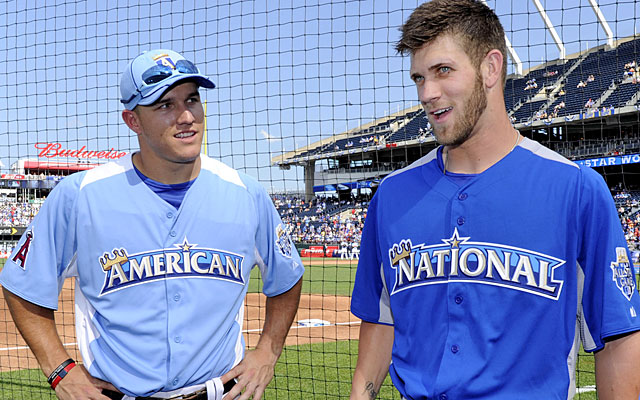 | | | |
| --- | --- | --- |
| | at | |
Los Angeles Angels at Washington Nationals
Monday: Garrett Richards (2-0) vs. Tanner Roark (1-0)
Tuesday: Tyler Skaggs (1-0) vs. Taylor Jordan (0-2)
Wednesday: Jered Weaver (1-2) vs. Gio Gonzalez (3-1)
Why watch? Mike Trout and Bryce Harper are often mentioned in the same breath due to being young, talented outfielders and having come up at around the same time -- both to immense hype. And now they'll be playing against each other for the first time at the big-league level.
What to watch for: The Washington offense mustered just nine runs in a four-game series against St. Louis while the Angels have had one of the worst pitching staffs in baseball to this point, so something's gotta give.
| | | |
| --- | --- | --- |
| | at | |
Cincinnati Reds at Pittsburgh Pirates
Monday: Mike Leake (2-1) vs. Francisco Liriano (0-3)
Tuesday: Johnny Cueto (1-2) vs. Edinson Volquez (1-0)
Wednesday: Alfredo Simon (2-1) vs. Charlie Morton (0-2)
Thursday: Tony Cingrani (1-2) vs. Wandy Rodriguez (0-2)
Why watch? It's a rematch of the wild-card game last season, with a bonus that Cueto returns to the scene of him falling apart in the face of the slow "Cue-to" chants. He'll also be facing his former teammate Volquez in Tuesday's game. Both clubs are playing below their expectations to date but still have plenty of talent.
What to watch for: The Pirates have lost nine of their past 12 and another series loss would mean early season trouble. Can they turn things around? The Reds took two of three last week in Cincinnati. The Reds, meanwhile, appear to be coming together, having won five of their past seven. Still, they're below .500 and need a series win here to get back to even.
Also, how hot is Devin Mesoraco? He's hitting .515/.553/.970 right now. Wow.
| | | |
| --- | --- | --- |
| |  at  | |
Chicago White Sox at Detroit Tigers
Monday: John Danks (1-0) vs. Anibal Sanchez (0-1)
Tuesday: Chris Sale (3-0) vs. Justin Verlander (2-1)
Wednesday: TBD vs. Drew Smyly (1-1)
Thursday: Jose Quintana (1-1) vs. Max Scherzer (1-1)
Why watch? Generally speaking, the White Sox have a lot of offensive firepower while the Tigers boast a stout rotation. It's a great matchup of power arms vs. power bats. Chris Sale vs. Justin Verlander on Tuesday? Yes, please.
What to watch for: Scherzer has 34 strikeouts in 27 innings so far this season. He also has 123 career strikeouts against the White Sox, more than any other team. This year's White Sox are one of the most strikeout-prone teams in the majors, too, so prepare for some whiffs.
| | | |
| --- | --- | --- |
| | at | |
San Francisco Giants at Colorado Rockies
Monday: Ryan Vogelsong (0-0) vs. Jorge De La Rosa (0-3)
Tuesday: Madison Bumgarner (2-1) vs. Franklin Morales (1-1)
Wednesday: Matt Cain (0-3) vs. Tyler Chatwood (1-0)
Why watch? The Rockies are playing some good baseball right now, having won four of six. The Giants are scuffling a bit but are still right in the mix in the NL West. It should mark a good test for the Rockies.
What to watch for: Despite playing home games in a very pitcher-friendly park, the Giants have more homers than games played this season. The Rockies have plenty of power themselves, too, so there's great potential here for some crooked numbers. That's always fun.
| | | |
| --- | --- | --- |
| | at | |
San Diego Padres at Milwaukee Brewers
Monday: Andrew Cashner (2-1) vs. Wily Peralta (2-0)
Tuesday: Ian Kennedy (1-3) vs. Yovani Gallardo (2-0)
Wednesday: Tyson Ross (2-2) vs. Kyle Lohse (3-1)
Why watch? This is a sneaky sleeper of an awesome series. The Brewers have the best record in baseball and the Padres have been very good since their 2-6 start. Cashner and Gallardo have been two of the best pitchers in baseball thus far, too.
What to watch for: The Padres are just 2-4 on the road so far this season against the Marlins and Indians. Can they play good baseball away from Petco Park? This is a good test.

| | | |
| --- | --- | --- |
| | at | |
Baltimore Orioles at Toronto Blue Jays
Tuesday: Miguel Gonzalez (1-1) vs. R.A. Dickey (1-3)
Wednesday: Chris Tillman (2-1) vs. Dustin McGowan (1-1)
Thursday: Bud Norris (0-2) vs. Drew Hutchison (1-1)
Why watch? Chris Davis, Jose Bautista, Adam Jones, Edwin Encarnacion, Nelson Cruz, Colby Rasmus, J.J. Hardy, Adam Lind, Matt Wieters, Brett Lawrie ... think we might see a few bombs in this series?
What to watch for: Davis only has one homer while Encarnacion hasn't hit any. The duo combined for 89 last year. Is this the series where one or both of them gets hot?
| | | |
| --- | --- | --- |
| | at | |
Kansas City Royals at Cleveland Indians
Monday: Jeremy Guthrie (2-0) vs. Zach McAllister (2-0)
Tuesday: James Shields (1-2) vs. Danny Salazar (0-2)
Wednesday: Jason Vargas (2-0) vs. Justin Masterson (0-0)
Thursday: Bruce Chen (1-1) vs. Corey Kluber (1-2)
Why watch? Because these four games could go a long way toward deciding second place in the AL Central? Maybe? How about this: In 19 games last year, the Indians won 10 but were outscored 83-81. Six of the 19 games were decided by one run.
What to watch for: The Royals still only have six home runs as a team while the Indians are among the best in baseball at preventing home runs. So the pressure will likely fall on the Indians' defense and the Royals' ability to make things happen with runners in scoring position.
| | | |
| --- | --- | --- |
| | at | |
Miami Marlins at Atlanta Braves
Monday: Tom Koehler (2-1) vs. Julio Teheran (2-1)
Tuesday: Jose Fernandez (2-1) vs. Alex Wood (2-2)
Wednesday: Nate Eovaldi (1-1) vs. Aaron Harang (3-1)
Why watch? The Braves are in first place and the Marlins have actually won four of their past five. That's something.
What to watch for: The Braves' starting pitching has been out-of-this-world excellent so far and it doesn't seem possible for them to keep it up. By the same token, the Marlins' offense has actually been pretty good overall, but some players (Casey McGehee, to name one) are overachieving. What gives here?
| | | |
| --- | --- | --- |
| | at | |
St. Louis Cardinals vs. New York Mets
Monday: Tyler Lyons (0-0) vs. Jenrry Mejia (2-0)
Tuesday: Adam Wainwright (3-1) vs. Dillon Gee (1-0)
Wednesday: Michael Wacha (2-1) vs. Jonathon Niese (0-2)
Thursday: Lance Lynn (4-0) vs. Bartolo Colon (1-3)
Why watch? Wainwright against the Mets always brings back certain painful memories for Mets fans. The Cardinals are clearly the better team on paper here, but at 11-8 they haven't been nearly as great as many thought they would be. The Mets, meanwhile, have actually been pretty good since starting 0-3.
What to watch for: NLCS lore aside, Wainwright has actually been poor against the Mets in his career (6.02 ERA). Of course, the last time he faced them he threw seven shutout innings and got the win. Also, will new Mets acquisition Curtis Granderson get it together at the plate?
| | | |
| --- | --- | --- |
| | at | |
Minnesota Twins at Tampa Bay Rays
Tuesday: Mike Pelfrey (0-2) vs. David Price (2-1)
Wednesday: Kyle Gibson (3-0) vs. Jake Odorizzi (1-2)
Thursday: Ricky Nolasco (1-2) vs. Erik Bedard (0-0)
Why watch? Who would've thought at this point in the season that the Twins would have a better record than the Rays? But they do. The Twins have actually won six of nine and have shown some pretty great flashes of offense. The Rays' calling card, meanwhile, remains run prevention.
What to watch for: David Price was beat up last time out by the Yankees, so he'll be looking for a bounce-back outing. He has a career 2.66 ERA in 40 2/3 innings against the Twins. On the other side, Gibson has been stellar so far, sporting a 0.93 ERA. Some of his peripherals indicate there has been a bit of luck and he's due a regression. The only time he has previously faced the Rays in his career, he allowed four runs in six innings, so the regression may begin this week.
| | | |
| --- | --- | --- |
| |  at  | |
Philadelphia Phillies at Los Angeles Dodgers
Monday: Cliff Lee (2-2) vs. Paul Maholm (0-1)
Tuesday: A.J. Burnett (0-1) vs. Hyun-Jin Ryu (3-1)
Wednesday: Cole Hamels (0-0) vs. Zack Greinke (3-0)
Thursday: Kyle Kendrick (0-2) vs. Dan Haren (3-0)
Why watch? In true LA fashion, there are lots of big names here -- most of which boast high salaries and star power. How about that tasty matchup in Hamels' return to the mound from injury Wednesday, too?
What to watch for: The Dodgers are 12-7, but they've gotten pretty poor offensive production from many of their bigger names (Hanley Ramirez, Carl Crawford, Matt Kemp, Yasiel Puig). Lee and Hamels both sport a sub-2.00 ERA in their careers against the Dodgers, too. Will it even matter, though? The Phillies offense as a whole hasn't been very good this season, Sunday's explosion in the thin Colorado air notwithstanding (and please don't bring up the humidor; Coors Field was the top run-scoring venue in 2012 and '13).

| | | |
| --- | --- | --- |
| | at | |
Houston Astros at Seattle Mariners
Monday: Dallas Keuchel (1-1) vs. Felix Hernandez (3-0)
Tuesday: Scott Feldman (2-1) vs. Erasmo Ramirez (1-2)
Wednesday: Jarred Cosart (1-2) vs. Chris Young (0-0)
Why watch? King Felix is pitching, so there's that. Otherwise the viewing audience will likely be limited to die-hard fans of either team.
What to watch for: The Mariners have lost six straight and nine of 12. They have to stop the bleeding and facing off against the Astros is a good way to do that. Maybe a little home cooking is what they need? Only five of their 18 games thus far have been in Safeco Field.
| | | |
| --- | --- | --- |
| |  at  | |
Arizona Diamondbacks at Chicago Cubs
Monday: Bronson Arroyo (1-1) vs. Travis Wood (0-2)
Tuesday: Brandon McCarthy (0-3) vs. Jason Hammel (2-1)
Wednesday: Wade Miley (2-2) vs. Jeff Samardzija (0-2)
Thursday: Mike Bolsinger (0-1) vs. Edwin Jackson (1-1)
Why watch? To get a good laugh. These are clearly the two worst teams in the National League.
What to watch for: The Cubs' offense, for the most part, has been terrible this season. The Diamondbacks' starting rotation has been even worse. Something's gotta give, I think. Who knows in this battle of futility?
Gallardo spent the first eight years of his career in Milwaukee

MLB revenues are at a record high right now, but teams aren't spending it on players

Chicago added Tyler Chatwood earlier this offseason but might not be done adding to the ro...
The Dodgers and Braves pulled off a whopper on Saturday

Sabathia will reportedly spend a 10th season in the Bronx

Fowler suffered a knee injury at Chicago's Guaranteed Rate Field