Weekday Series Rankings: Tigers, Royals meet in AL Central showdown
The first place Tigers and second place Royals will meet for four games in Detroit this week. They lead our weekday series rankings.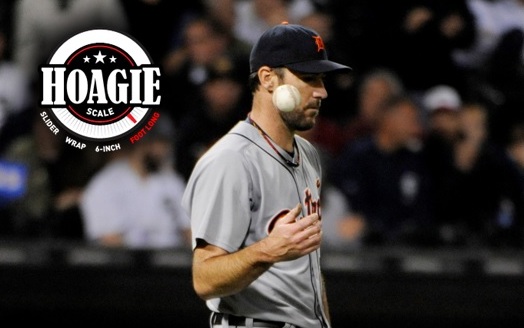 More MLB: Power Rankings | Expert Picks | Latest news & notes | Fantasy news
It's hoagie scale time, so let's check out how hungry we are to consume the 15 weekend series in Major League Baseball. The bigger the sandwich, the more juicy the matchup in this humble writer's opinion. Let's dig in.

| | | |
| --- | --- | --- |
| | at | |
Kansas City Royals (36-32) at Detroit Tigers (36-29)
Monday: LHP Jason Vargas (6-2) vs. RHP Justin Verlander (6-6)
Tuesday: RHP Yordano Ventura (4-5) vs. RHP Max Scherzer (8-2)
Wednesday: RHP Jeremy Guthrie (3-6) vs. LHP Drew Smyly (3-5)
Thursday: LHP Danny Duffy (4-5) vs. RHP Anibal Sanchez (3-2)
As recently as three and a half weeks ago, the Royals were seven games back of the Tigers in the AL Central. Thanks to their recent hot streak and Detroit's struggles, they've climbed to within 1.5 games of the division lead heading into this week's series at Comerica Park. This is about as big as a mid June series can possibly get, especially for the Royals. Want to be taken seriously as a contender? This is the week to prove yourself.
As for the Tigers, they have to figure out what in the world is wrong with Verlander. The former Cy Young winner and MVP has allowed 35 runs and 69 base-runners in 37 2/3 innings across his last six starts, though the Tigers have miraculously won two of those six games. Scherzer's been phenomenal and Sanchez has been very good when healthy this year. Getting Verlander back in line is priority No. 1 for Detroit.
Now for a fun fact:
Royals at home: 18-16 Royals on road: 18-16 Tigers at home: 18-16 Tigers on road: 18-13 — Chris Iott (@Chris_Iott) June 15, 2014
Hooray symmetry!
| | | |
| --- | --- | --- |
| | at | |
Toronto Blue Jays (41-30) at New York Yankees (35-33)
Monday: OFF
Tuesday: RHP Marcus Stroman (3-1) vs. RHP Masahiro Tanaka (10-1)
Wednesday: LHP Mark Buehrle (10-3) vs. RHP Chase Whitley (2-0)
Thursday: RHP Drew Hutchison (5-4) vs. RHP David Phelps (2-4)
The Blue Jays have been the best team in a wholly underwhelming AL East so far this season, though even they've started to come back down to Earth over the last week or so. They split four games with the Orioles over the weekend but have dropped six of their last nine contests overall. Toronto uncharacteristically scored only 20 runs in those nine games.
The Yankees, meanwhile, have a chance to climb back into the division race at home this week. They're 4.5 games back with plenty of season remaining, but their rotation is held together by duct tape and the offense is very disappointing. New York has been unable to get on any kind of extended roll this year -- win eight of 10 or 17 of 22, something like that -- so these head-to-head games are incredibly important, if only to keep pace with the Jays. They'll have the guy they want on the mound in the series opener on Tuesday.
| | | |
| --- | --- | --- |
| | at | |
Houston Astros (32-39) at Washington Nationals (35-33)
Monday: OFF
Tuesday: LHP Dallas Keuchel (8-3) vs. RHP Tanner Roark (5-4)
Wednesday: RHP Scott Feldman (3-4) vs. LHP Gio Gonzalez (3-4)
The Astros might be the hottest team in baseball right now. Sunday's win over the Rays was their eighth win in their last 11 games and their 21st win in their last 31 games. The Astros, huh? How about that.
The Nationals were just swept at home by the Cardinals and have lost four straight after winning four straight and eight of nine. Just when you think everything is starting to click and they're about to go on a big run, Washington finds a way to disappoint. There will be an awful lot talent on the field this week -- Anthony Rendon , George Springer, Jon Singleton , etc. -- and it's been a while since Houston faced a (projected) contender. This two-game set will be a good measuring stick. (For both teams.)
| | | |
| --- | --- | --- |
| | at | |
Texas Rangers (34-35) at Oakland Athletics (42-27)
Monday: RHP Colby Lewis (4-4) vs. LHP Drew Pomeranz (5-3)
Tuesday: RHP Yu Darvish (7-3) vs. LHP Tommy Milone (4-3)
Wednesday: RHP Nick Tepesch (2-2) vs. RHP Sonny Gray (6-3)
As recently as April, this would have been the top series of the week. These two clubs were expected to battle for the AL West crown this year like they have the last two years, but the Rangers have been decimated by injury and are little more than a spectator in the division race this season. The A's have a healthy lead despite some recent hiccups.
More than anything, this three-game series is about watching Darvish and Gray do their thing. They're two of the very best pitchers in the league -- you can make a strong argument Darvish is the best, if you want -- and it would have been amazing if they lined up to pitch the same day. Alas. We'll have to settle for seeing them one game apart.

| | | |
| --- | --- | --- |
| | at | |
Cincinnati Reds (33-35) at Pittsburgh Pirates (34-35)
Monday: OFF
Tuesday: RHP Johnny Cueto (6-5) vs. RHP Brandon Cumpton (2-2)
Wednesday: RHP Alfredo Simon (9-3) vs. RHP Edinson Volquez (4-5)
Thursday: RHP Homer Bailey (7-3) vs. LHP Jeff Locke (0-1)
Once again, the Reds and Pirates are neck-and-neck in the standings and fighting for playoff position. This year's race is a bit more exciting than last season's though. Last summer it was pretty clear both teams were going to October, it was just a question of home field advantage and whether they would be the division winner or wild card team. Both clubs are two games back of the second wild card spot in the loss column and it sure looks like there is only room for one in the postseason this year, if that.
| | | |
| --- | --- | --- |
| | at | |
Colorado Rockies (34-35) at Los Angeles Dodgers (37-34)
Monday: LHP Tyler Matzek (1-0) vs. LHP Hyun-Jin Ryu (7-3)
Tuesday: RHP Jhoulys Chacin (1-4) vs. RHP Zack Greinke (8-3)
Wednesday: LHP Jorge De La Rosa (6-5) vs. LHP Clayton Kershaw (6-2)
Is this the series when the Dodgers finally put it together and take off? Probably not. I've been asking that question for weeks and they've yet to give the right answer. The Rockies come to town having won five straight -- including three on the road against the Giants despite trailing in the eighth inning or later in all three games -- but geez. Those pitching matchups are not in their favor. Trap series for Los Angeles?

| | | |
| --- | --- | --- |
| | at | |
San Francisco Giants (43-37) at Chicago White Sox (33-37)
Monday: OFF
Tuesday: LHP John Danks (5-5) vs. RHP Matt Cain (1-5)
Wednesday: LHP Chris Sale (5-1) vs. RHP Tim Hudson (7-2)

The Giants have quietly lost six of their last seven games, all at home in San Francisco. I guess it's easy to overlook bad weeks like that when you still have the best record in MLB at the end of it. That Sale-Hudson matchup will be awesome. Two great pitchers with very different styles. Sale is criminally underrated by the masses.
| | | |
| --- | --- | --- |
| | at | |
Los Angeles Angels (37-31) at Cleveland Indians (35-35)
Monday: RHP Jered Weaver (7-5) vs. RHP Trevor Bauer (1-3)
Tuesday: RHP Matt Shoemaker (3-1) vs. RHP Josh Tomlin (4-3)
Wednesday: LHP C.J. Wilson (7-6) vs. RHP Justin Masterson (4-5)
Thursday: RHP Garrett Richards (6-2) vs. RHP Zach McAllister (3-4)

It surprised me to see the Indians (3.5 games back) are closer to leading their division than the Angels (4.5 games back), especially since the Halos have been very good over the last 10 days (weekend in Atlanta notwithstanding). This will be a nice litmus test for both teams. They're both kinda sorta contenders who need to play better than they have to date. My guess? A split.
| | | |
| --- | --- | --- |
| | at | |
Baltimore Orioles (35-33) at Tampa Bay Rays (27-43)
Monday: LHP Wei-Yin Chen (7-2) vs. RHP Jake Odorizzi (2-7)
Tuesday: RHP Miguel Gonzalez (3-4) vs. LHP Erik Bedard (3-4)
Wednesday: RHP Kevin Gausman (2-1) vs. RHP Alex Cobb (2-4)

If you would have told me before the season that one of these teams would be tied for second and the other would have the worst record in baseball on June 16, I think I would have said the Orioles would be the ones in the gutter. The Rays have collapsed and are in full on Devil Rays mode, which is good for Baltimore, who sit 4.5 games back of the Blue Jays. This is a good opportunity for the O's to close the AL East gap a bit.
| | | |
| --- | --- | --- |
| | at | |
New York Mets (31-38) at St. Louis Cardinals (37-32)
Monday: RHP Jacob de Grom (0-3) vs. RHP Carlos Martinez (0-3)
Tuesday: RHP Jon Niese (3-3) vs. LHP Michael Wacha (4-5)
Wednesday: RHP Lance Lynn (7-4) vs. RHP Bartolo Colon (6-5)

The Cardinals are coming off three straight wins, the Mets nine losses in their last 12 games. Expectations are slightly different. It'll be interesting to see how Martinez fares in his spot start in place of the injured Adam Wainwright , thought it's worth noting Wainwright is only expected to miss one start. Martinez competed for the team's fifth starter spot in spring training but was unable to nail it down.
| | | |
| --- | --- | --- |
| | at | |
Chicago Cubs (28-39) at Miami Marlins (35-33)
Monday: RHP Jason Hammel (6-4) vs. RHP Tom Koehler (5-5)
Tuesday: RHP Jeff Samardzija (2-6) vs. RHP Jacob Turner (2-4)
Wednesday: RHP Jake Arrieta (2-1) vs. RHP Nathan Eovaldi (4-2)

It's June 16 and the Marlins are a half-game out of first place despite losing Jose Fernandez to Tommy John surgery last month. Last week didn't go well but they're still in the hunt. It's fun. The Cubbies, on the other hand, are already running out the clock on the season and fielding trade offers for Hammel and Samardzija.
| | | |
| --- | --- | --- |
| | at | |
Philadelphia Phillies (29-38) at Atlanta Braves (36-32)
Monday: LHP Cole Hamels (2-3) vs. RHP Julio Teheran (6-4)
Tuesday: RHP Kyle Kendrick (2-6) vs. RHP Ervin Santana (5-3)
Wednesday: RHP Roberto Hernandez (2-5) vs. RHP Aaron Harang (5-5)
Two or three years ago, this would have been the biggest series of the week. Instead, it's a first place team against a last place team with one really good pitching matchup mixed in. This is an opportunity for the Braves to bank some wins in an incredibly tight NL East race.


| | | |
| --- | --- | --- |
| | at | |
Milwaukee Brewers (41-29) at Arizona Diamondbacks (30-42)
Monday: RHP Wily Peralta (6-5) vs. RHP Brandon McCarthy (1-9)
Tuesday: RHP Kyle Lohse (7-2) vs. LHP Wade Miley (3-6)
Wednesday: RHP Matt Garza (4-4) vs. RHP Chase Anderson (5-1)
Thursday: RHP Yovani Gallardo (4-4) vs. RHP Josh Collmenter (4-4)
Seeing Carlos Gomez and Paul Goldschmidt on the same field will be a lot of fun. Other than that? Not a lot to see in the desert this week. Just the Brew Crew trying to pad their NL Central lead.
| | | |
| --- | --- | --- |
| | at | |
Minnesota Twins (32-35) at Boston Red Sox (31-38)
Monday: RHP Kevin Correia (3-7) vs. RHP Rubby De La Rosa (1-2)
Tuesday: RHP Phil Hughes (7-2) vs. LHP Jon Lester (7-7)
Wednesday: RHP Kyle Gibson (6-4) vs. RHP John Lackey (8-5)

Hughes vs. Lester is the sneaky good pitching matchup of the week. That could be a dandy given how both guys have pitched this season, especially Hughes. Otherwise we're talking about two teams that are a combined 10 games under .500.
| | | |
| --- | --- | --- |
| | at | |
San Diego Padres (29-40) at Seattle Mariners (35-34)
Monday: RHP Tyson Ross (6-5) vs. RHP Chris Young (5-4)
Tuesday: LHP Eric Stults (2-8) vs. LHP Roenis Elias (5-5)
Wednesday: RHP Andrew Cashner (2-5) vs. RHP Felix Hernandez (8-2)
Thursday: RHP Jesse Hahn (1-1) vs. RHP Erasmo Ramirez (1-4)

This series is two games in Seattle and two games in San Diego. That Cashner-Hernandez game is the best pitching matchup of the week if you like watching power pitchers, and Felix vs. the Padres in Petco Park has serious no-hit potential.