Weekend Buzz: Braves lapping field in NL East as Nationals, Phillies fade
Alex Rodriguez is swiping more than his share of the buzz these days as we await news of Biogenesis suspensions. Matt Garza is Exhibit A- in athletes behaving badly. And while everyone was gawking in those directions, the Braves are running away with the NL East. ...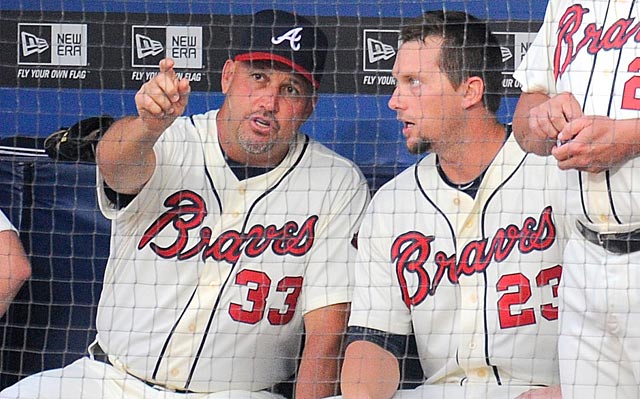 The Weekend Buzz while you were wondering if the city of Chicago is big enough for Alex Rodriguez AND his pink elephant. ...
1. Tomahawk chopping through the NL East: Forget "World Series or bust" -- the Nationals can't even see .500 right now.
And Phillies general manager Ruben Amaro Jr. is more delusional than anybody this side of Alex Rodriguez. Come last week's trade deadline, he couldn't even see the pink elephant in the room and start dealing players to reboot his declining club. Michael Young? Cliff Lee? Hello?
The Braves, even with that anchor of a free agent, B.J. Upton, are running away with the division. Ten straight wins after Sunday night's victory in Philadelphia, and what's next, maybe legs up on an ottoman and some sweet homemade Georgia peach cobbler?
Maybe not quite so fast. As you might recall, the only team who fell as far as the Red Sox two Septembers ago was the Braves, who blew a 9½-game lead in the wild-card standings.
"I think something we can learn from is our failure in 2011, and even last year," starter Kris Medlen told David O'Brien, the great Braves beat writer for the Atlanta Journal-Constitution. "Just finish strong at the end of the year."
Lots has gone right for the Braves, clearly, with a division lead now more than twice as large as any of the game's other five division leaders.
Third baseman Chris Johnson continues to lead the NL in hitting at .344, an average that ranks second in the majors only to Miguel Cabrera's .359. His 11-game hitting streak is toast, but memories remain: His eight consecutive multi-hit games is the the longest streak by a Braves player since the team moved to Atlanta in 1966.
When the Braves popped for seven runs in the third inning against the Rockies on Wednesday, it was the third consecutive game in which they scored six or more runs in an inning. Not since 1918 has the Braves franchise done that.
Even with Jonny Venters and Eric O'Flaherty out for the season, Atlanta's bullpen has been lights out, allowing only two earned runs in 30 innings during the nine-game winning streak. The Braves' pen leads the majors with a 2.48 ERA.
Another key factor is that Atlanta's starting pitchers have worked enough innings that the relievers have pitched the fifth-fewest innings among NL pens. As the Braves look to prevent a repeat of '11, a fresh bullpen down the stretch will be vital.
The high-strikeout Braves also lead the NL in home runs -- by a ton, 14, over the Rockies, who rank second.
Cult hero Evan Gattis missed a month with an oblique strain yet still leads all major-league rookies with 15 homers and 44 RBI, and Brandon Beachy has been good enough in his past two starts to provide hope that he could mitigate the loss of Tim Hudson for the season.
No, there are no guarantees. Not on Aug. 4. But Fredi Gonzalez's club owns its largest divisional lead since Sept. 21, 2003.
And right now, they're lapping both the Nationals and the Phillies.
2. The Biogenesis All-Stars: Monday is D-Day for suspensions, Alex Rodriguez and pink elephants. Kenesaw Mountain Landis and elephant trainers everywhere would be proud.
3. Texas' very own cave man: Matt Garza earned himself a place on this year's all-Neanderthal team with his Twitter rampage against Oakland's Eric Sogard, who dared bunt on him, and Sogard's wife. Among other things, Garza tweeted that Sogard should "keep your woman out of it ... Mans(sic) game." He also recommended that Kaycee Sogard keep her "trap shut" and give her husband "his balls back." Someone needs to suspend this guy's Twitter license until he can field bunts better.
4. Jose Fernandez, Randy Johnson and Kerry Wood: The sensational Marlins rookie now has 27 strikeouts in his past two starts after whiffing 14 Indians on Friday night. He becomes the first pitcher with at least 13 strikeouts in successive games since Johnson in 2004, and the first rookie to do it since Wood in 1998. Jeffrey Loria already is salivating at the thought of when Fernandez, 21, will be old enough to trade.
5. Dodgers earn platinum status on the road: Sunday's 1-0 win in Wrigley was their franchise-record 14th consecutive road win, and the longest road streak in the NL in 56 years. Even losing Hanley Ramirez (jammed shoulder) and Yasiel Puig (bruised left thumb) over the weekend didn't slow these guys down. Now 31-7 since June 21, the Dodgers now aim for their 15th consecutive road in Monday night in St. Louis. The NL record is 17, held by the 1916 New York Giants.
6. Trade you a bottle of rum for a parrot: With the best record in the majors, the Pirates still looked to upgrade at last week's trade deadline. But as general manager Neal Huntington quipped, "We were willing to do something stupid. We just weren't willing to do something insane."
7. Red Sox owner John Henry buys Boston Globe: Upcoming headlines:
Revisiting last August's deal with Dodgers: Are Red Sox smartest team ever?
Contrary to myth, Red Sox never traded Babe Ruth
Behind the Evil Empire: Yankees even more Evil than you thought
Look you stupid people, we're winning without Theo and Tito
8. Lynyrd Skynyrd trumps Neil Diamond: Jake Peavy's first start for the Red Sox is a tour de force. "I don't care if you win at ping-pong in the clubhouse," Peavy told Boston reporters. "It's fun to win, and that's why we all show up at the ballpark every day. To find a way for your team to win." From Sweet Home Alabama, to which Peavy took the field, to Sweet Caroline ... everything is sweet in Fenway these days.
9. The sad, sad Yankees: Derek Jeter had to sit out again Saturday and Sunday and could go back onto the disabled list. Alex Rodriguez is still Alex Rodriguez. And CC Sabathia, following Friday's latest clunker, has served up 22 earned runs in his past 19 2/3 innings.
"Of course," he said when asked if he's starting to worry. "Who wouldn't?"
He added: "We've dealt with a lot this year, and me not helping us is killing me. ... I'm not saying I'm better than anybody else, but I feel like I need to be strong."
10. Who needs George Brett? Just when you figured he resigned as interim hitting coach because these guys are hopeless, the Royals went 8-1 on a swing through Chicago (White Sox), Minnesota and New York (Mets) to complete the best trip of nine or more games in franchise history. Or maybe it's the other way around, that Brett instilled so much knowledge that the Royals will draw from it the rest of the summer. At 13-3 since the All-Star break, the Royals are in the wild-card hunt.
Fowler suffered a knee injury at Chicago's Guaranteed Rate Field

The lefty starter is coming off a terrible season

After acquiring Ian Kinsler and Zack Cozart in recent days, the Angels are trending upward
Cozart's coming off a big season as the Reds' shortstop

The veteran slugger spent the last eight seasons with Cleveland

The Padres may be poised for an active winter