Weekend Buzz: Braves looking to regain pitching health, missing mojo
The Braves all but officially wrapped up the NL East long ago. Now poised to clinch the division in Washington this week, pitching and the Big Picture is a concern. Also this week, the retiring Todd Helton and his Hall of Fame candidacy, the late-starting Nationals, the imploding Rangers, Barry Bonds' place in the (convicted felon) history book and more. ...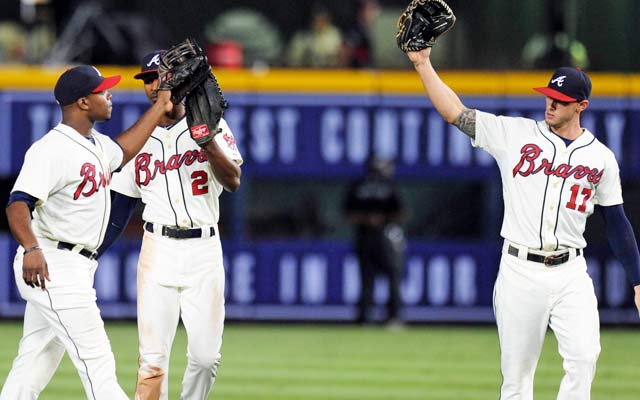 The Weekend Buzz while you were digesting last-week's dust-up between Baltimore Orioles ' manager Buck Showalter and New York Yankees ' skipper Joe Girardi and wondering which one would play Grumpy Cat in the movie. …
1. Atlanta Braves ' runaway no day at the Beach(y): For a team that long ago methodically de-fanged its NL East rivals, it sure is difficult to figure that October will be as delicious to the Braves as the past six months were. Not impossible. But difficult.
All credit to the Braves for whipping the Philadelphia Phillies into a lump of cream cheese and for busting the Washington Nationals ' pre-planned World Series cruise. But autumn surely would be much more foreboding for the Los Angeles Dodgers , St. Louis Cardinals , Pittsburgh Pirates and Cincinnati Reds (or, OK, maybe, the hard-charging Nationals) if each day didn't seem to be bringing another sore arm in Atlanta, now is a middling 6-8 this month.
Chances are that Tim Hudson 's broken ankle will be no less devastating in October than when it happened in July. Good as the Braves are in all other areas, that's still a tough, tough loss. The playoffs are all about pitching and, especially, veteran pitching.
Brandon Beachy 's July return from Tommy John surgery was aborted last week. Atlanta did get some good news with Paul Maholm when an MRI exam showed no structural damage to his sore elbow.
With the Braves' magic number now four, they could use a little medical magic with their rotation.
"We've had our share of injuries, for sure," Braves general manager Frank Wren said during a telephone conversation Friday afternoon. "Since Tim Hudson went down, the guys really picked it up in August and did really well.
"But we're thin if we have any other injuries. We've got to be careful."
To that end, over these final few weeks the Braves are using off days and strategically placed spot starters to make sure Kris Medlen , Mike Minor , Julio Teheran and rookie Alex Wood still have some fuel come October.
The Braves skipped Wood's turn in the rotation Thursday, using veteran Freddy Garcia instead. Wood now will start Wednesday against the Nationals.
Rookie David Hale started Friday -- and struck out nine San Diego Padres -- in place of Maholm.
"Everything was structurally sound" in Maholm's MRI, Wren said. "Now it's a matter of having to get some soreness out of there. But he's much better."
The starters still standing already are stretching career-high workloads, which is the big reason the Braves are doing what they can to mix in extra off days. Minor is at 185 2/3 innings after a career-high 179 2/3 last year. Medlen (181 2/3) and Teheran (176 2/3) are at career highs. Wood, Atlanta's second-round pick in the 2012 draft, is deeper into a season than ever.
That said, there is no panic or even excess worry right now in Atlanta.
"They're actually in good shape," Wren said of Medlen, Teheran, Minor and Wood. "By coming into September with the lead, we've been able to use some spot starters and give them extra time to freshen them up."
Using extra starters like Hale and Garcia, essentially inserting a sixth starter at times, might wind up being Atlanta's secret weapon.
"[Manager] Fredi [Gonzalez] and [pitching coach] Roger [McDowell] have done a real good job of taking care of guys and looking for opportunities to utilize off days to give guys extra rest," Wren said.
It has been a year for the scrapbook in Atlanta, what with closer Craig Kimbrel 's dominance (Cy Young votes, anyone?), shortstop Andrelton Simmons ' defensive wizardry, Freddie Freeman 's MVP push, Chris Johnson 's pursuit of a batting title and Justin Upton 's early home run barrage.
Now, as Jason Heyward works his way back from a fractured jaw and October approaches, the most pressing issue for the Braves is to make sure the other pieces are in place, too.
2. Next stop: Cooperstown?  Colorado Rockies icon Todd Helton will retire at season's end, and Saturday's announcement essentially was the unofficial start to another spirited Hall of Fame debate. Helton is the only player in major league history with at least 2,270 hits, 1,280 runs, 530 doubles, 330 homers, 1,250 RBI and 1,200 walks before playing in his 2,000th game. He also is one of only two players in history with at least 2,500 hits, 550 doubles, 350 homers and higher than a .315 career average (.317). The other? Stan Musial.
As with every other player in Rockies' history, though, Helton's biggest negative in the Hall of Fame discussion will be -- all together now -- his home/road splits. In Denver, Helton's lifetime numbers are .345/.442/.607 with 225 homers, 850 RBI and 2,427 total bases in 1,132 games. On the road, Helton is at .287/.386/.470 with 142 homers, 547 RBI and 1,839 total bases in 1,103 games. He's also won three Gold Gloves.
Hall of Famer? Still undecided. But for all of those numbers I just cited, here's the one that may be the most compelling of all: Lifetime on-base percentage? .415. Pretty damn excellent.
3. Nationals catching their Zzzz's: But hey, not how you think. After snoozing through much of the summer, baseball's hottest team is making a late sprint into the NL wild-card race in no small part because of Ryan Zimmerman 's bat. Zimmerman has homered in eight of the Nats' past 13 games, punching a franchise record-tying nine homers for the month of September.
4. Kansas City's last stand: The Kansas City Royals ' Cinderella wild-card bid took a hit this weekend when they lost two of three in Detroit, but there's no time to look back now. Kansas City hosts the Cleveland Indians for three beginning Monday night. Then, after an off day Thursday, the Royals' homestand continues with three against the Texas Rangers . This time next week, the 2013 Royals will either be a has-been ... or the game's darlings as they push their wild-card hopes further.
5. The Rangers hate Yu Darvish : Clearly, because they've now lost 1-0 in four of Darvish's 29 starts this year. Nothing is going right in Texas, who this weekend against Oakland went from hoping to hang on and win the AL West to simply praying they don't blow a wild-card playoff slot. The disaster could continue, too: Next up is a four-game series at Tampa Bay this week, followed by three games in Kansas City. Uh-oh.
6. Yankee numbers game: Yes, they've been beaten up badly this year, but until you look at the raw numbers, it's hard for it to sink in how much. Friend Buster Olney of ESPN tweeted the other day how many players the Yankees have played per position in 2013: First base: 10; Second base: 8; Third base: 11; Shortstop: 8; Left field: 9; Center field: 4; Right field: 10; Catcher: 4; Designated Hitter: 18.
7. Dodgers vs. Momentum: While the Braves work on keeping their pitching healthy, the other NL team that made a mockery of the division race has its own issues. Hanley Ramirez took shots for a nerve irritation in his back and outfielder Andre Ethier sprained an ankle the other night. It ain't easy keeping momentum on your side for months on end.
8. Chris Davis hits No. 50: Only one man stands in the way of Detroit's Miguel Cabrera and a second consecutive Triple Crown. All hail Chris Davis, who is keeping the Orioles in the race and Cabrera out of the history books.
9. NL batting race: Colorado's Michael Cuddyer and Atlanta's Chris Johnson are conducting a highly entertaining show, with Cuddyer at .332 and Johnson at .330. If, you know, anybody cared about batting average anymore.
10. Barry Bonds, convicted felon: Loses his appeal and now has obstruction of justice on his permanent record. Which, you know, is far more accurate than having "Home Run King" on his permanent record.
Sunday's MLB roundup features the D-Backs clinching a postseason spot and the Mariners going...

The 2017 season has been, by far, the worst season of Cabrera's career

The Mariners were eliminated from postseason contention with Sunday's loss
Maxwell became the first MLB player to kneel during the national anthem Saturday

The Blue Jays are not expected to bring Bautista back next season

The Dodgers have already clinched the NL West title, so the D-Backs will be a wild card te...