Weekend Buzz: Braves win NL East in inimitable fashion
Slumps, injuries, changing roles ... nothing phased the Braves as they steamrolled the Nationals and Phillies this summer to win the NL East in a rout. Now, if they can just avoid some crazy Infield Fly Rule call when the playoffs start. Also: Oakland's sewage, Baltimore's sleep-deprivation and the Dodgers' pool party.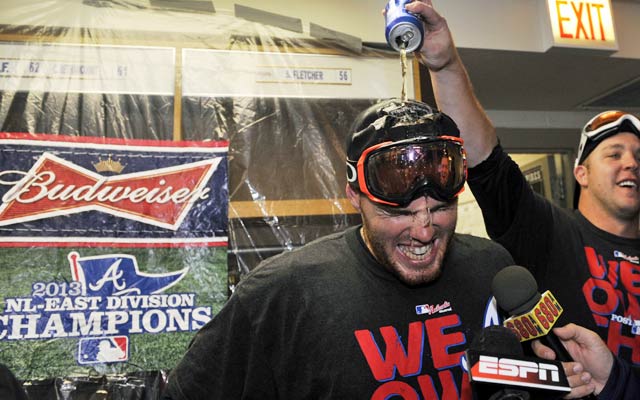 The Weekend Buzz while you were wishing you had paid better attention in math class so it would be easier to calculate the final week's playoff possibilities. …
1. It's that clinching time of year: This is the autumn when good and excellent things will happen to the Braves and for the Braves. Right?
Unlike two summers ago, they've tangled with September and won. Crown them. They clinched the NL East Sunday afternoon with the Nationals' loss to Miami. And repeat after us: Their destiny this autumn is not to be sacked by the Infield Fly Rule on a fly that actually, geographically speaking, is struck to the outfield. Not the infield.
No, that already happened. In last year's NL wild-card game.
So now that they've clobbered the rest of the NL East and have a clear path to October, what could possibly go wrong?
Better question: What hasn't already gone wrong?
The Most Expensive Free Agent in franchise history, B.J. Upton, tanked. His brother, Justin, slowed considerably following a torrid April. Brian McCann spent the first month on the disabled list. Dan Uggla's swing spent half the season on the DL. Tim Hudson fractured an ankle in July, the Braves were counting on Brandon Beachy to return from Tommy John surgery and he couldn't, Jonny Venters never appeared, Eric O'Flaherty disappeared and Jason Heyward broke his jaw.
Oh, and Chipper Jones retired last year.
Assimilate all of this, and it is simply astounding that the Braves have won 91 games (and counting) and spent the summer kicking sand into the faces of the Nationals, Phillies and everyone else in the division.
And listen, it is not out of the question that the sand-kicking will continue right on through October.
Because this also is the year Freddie Freeman stood up, Julio Teheran grew up, Andrelton Simmons broke out and Evan Gattis picked up some of the pieces. Especially early.
Freeman will not win the NL MVP award, but he surely will finish among the top five or six. Closer Craig Kimbrel should get both some Cy Young and MVP votes, and McCann sure came back to steady things.
Then there's third baseman Chris Johnson, battling Colorado's Michael Cuddyer for the NL batting title. Sunday, Johnson was leading at .332, just ahead of Cuddyer's .331.
"He's really been tremendous," Braves general manager Frank Wren says. "Great year. Every time you think, OK, maybe he's going to go in cold spell, he bounces right back and gets three hits. He's really done a nice job."
Under Wren, president John Schuerholz and manager Fredi Gonzalez, the Braves remain a model organization. And don't underestimate the fact that their average opening day age of 27.81 years was the fifth-youngest in the majors this year, trailing only the Astros (27.09), Indians (27.62), Marlins (27.63) and Royals (27.79). Now that we're out of the Big Home Run era, young legs and high talent play.
Despite the runaway clinch, there's plenty of room for improvement. B.J. Upton and Uggla, with only nine hits in 83 at-bats since Aug. 3 – and just one homer since July 25 – have been benched frequently over the past few weeks.
Activating Heyward on Friday – he went 0 for 2 with a walk against the Cubs -- was a big step. A bigger step will be when he again starts walloping the baseball.
The Braves' .703 home winning percentage is the best in baseball and, as of today, they've got a chance to clinch home-field advantage throughout the playoffs. And if that newly installed Turner Field Waffle House continues to work its magic and keeps them unbeatable at home in October, who knows?
2. It's that duck-the-sewage time of year: The Athletics worked to stem the flowing sewage at O.co Coliseum long enough to win their second consecutive AL West title Sunday. And if you want to install them as favorites to play in their first World Series since 1990, go right ahead. They are that good. And if you don't believe me, maybe you'll believe colleague Danny Knobler, who lays it all out here.
3. Dodgers, swimming pools and sand castles: Call them the team most likely to win the 2013 World Series and medal in swimming in the 2016 Olympics in Rio de Janeiro. The Arizona outrage over the Dodgers celebrating in their pool was absolutely silly. Sen. John McCain jumping on that bandwagon to pander to his constituents was embarrassing. It ain't exactly like the Dodgers were trashing Monument Park, folks. And if you don't want them celebrating in your chlorine, then don't let them win. Loved Don Mattingly's line a day later in San Diego: "It would be kind of like if we won it here. Would the Padres be mad if we jumped the fence and went out and made sand castles in the sand box out there? Seriously."
4. Short-timers in Cleveland: Here the Indians are, battling with the Rays, Rangers, Yankees, Orioles and Royals for a wild-card slot … and baseball couldn't wait more than 1 hour and 6 minutes Friday night to gift Cleveland with an early 2-1 win in just seven innings? Seriously, they used to wait longer than that in Cleveland for Albert Belle to re-adjust the clubhouse thermostat. Terry Francona hasn't even unwrapped his 2,000th piece of bubble gum on a given evening in 1:06. The Nationals have barely unrolled the tarp in 1:06.
5. All-nighter in Tampa Bay: To review: The Orioles arrived in Tampa around 3 a.m. Friday following a Thursday night game in Boston, then took an 18-inning loss that didn't end until 2 a.m. Saturday and then played less than 12 hours later, a 1 p.m. start in Tampa on Saturday afternoon, and lost again. Friday night's game lasted 6:54 – or, about the time it would take to postpone six games in Cleveland – the longest game, time-wise, either Baltimore or Tampa Bay had ever played. They combined to throw a total of 593 pitches – 301 by the Rays, 292 by the Orioles. But by the end, one team was far more exhausted than the other.
6. Phillies name Ryne Sandberg manager: And coincidentally, at 54, he's roughly the average age of Philadelphia's nucleus – Jimmy Rollins, Chase Utley, Ryan Howard, Roy Halladay, Cliff Lee. … good luck with that, Ryno.
7. Yankees send off Mariano Rivera in style: Noooooooooooo! Moooooooooooo! Pleeeeeeeaaase! Don't leave us!
8. Alex Rodriguez passes Lou Gehrig on all-time grand slams list: I forget. Which kind of steroids did Gehrig take?
9. Max Scherzer wins 20th on fifth try: And his winning percentage still ranks sixth on the all-time list of 20-game winners, as author Bill Chuck points out: Ron Guidry, 1978, 25-3 (.893); Lefty Grove, 1931, 31-4 (.886); Cliff Lee, 2008, 22-3 (.880); Preacher Roe, 1951, 22-3 (.880); Smoky Joe Wood, 1912, 34-5 (.872); Scherzer, 2013, 20-3 (.870).
10. Pitching in the NL Central: After Sunday, odds are higher that Mean Joe Greene will start for the Pirates in Cincinnati on Saturday than Jeff Locke. And the Cardinals have seen enough of Edward Mujica as closer following blown saves both Friday and Saturday. Manager Mike Matheny instead will go with a committee that will include Trevor Rosenthal, John Axford and Kevin Seigrist.
"A week from October, you don't want to have to be rethinking your club all of a sudden," Cards GM John Mozeliak told reporters. "But sometimes you do."
One week left. Bring on October.
Dodgers manager Dave Roberts on Sunday announced his World Series rotation for the first four...

How should the Astros play it when one of their two aces isn't on the mound against the Do...

The former big-league infielder also worked as GM of the Puerto Rico national team
The Indians pitching coach would be getting his first MLB managerial job

In the last several years, lots of droughts have ended in MLB

The most likely scenarios are Dodgers winning in five or six games