Weekend Buzz: Cabrera, McCutchen, Kershaw among award winners
What, the season is finished? As Rangers manager Ron Washington said Sunday, "When you're having fun, time flies." That must mean ... it's time to hand out the 2013 hardware. Here it is, starting with the MVPs. ...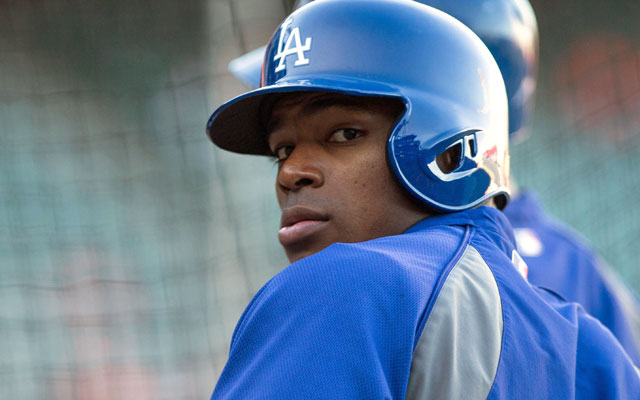 The final Weekend Buzz while Martha Stewart was ranting and raving about her broken iPad and you preparing to do the same over the postseason awards. …
AL MVP: 1. Miguel Cabrera , Detroit Tigers ; 2. Mike Trout , Los Angeles Angels ; 3. Chris Davis , Baltimore Orioles ; 4. Josh Donaldson , Oakland Athletics ; 5. Robinson Cano , New York Yankees ; 6. Manny Machado , Orioles; 7. Adrian Beltre , Texas Rangers ; 8. David Ortiz , Boston Red Sox ; 9. Evan Longoria , Tampa Bay Rays ; 10. Jacoby Ellsbury , Red Sox.
Here it is, a brand new fall season for 2 Broke Girls, and yet it's rerun season for 2 Batting Boys. In the cases of Cabrera and Trout this autumn … the cases are very similar to last year's. Though not completely.
Cabrera not only is the game's most feared hitter, he continues to produce historically significant numbers (.348/.442/.636, 44 homers, 137 RBIs). As friend Jayson Stark of ESPN.com notes, the last right-handed hitter to produce a slash line like that with as many homers was Jimmie Foxx. We're talking overall numbers not seen since Barry Bonds and Mickey Mantle. Combine that with Cabrera pushing his Tigers to a third consecutive AL Central title and, well, agree or disagree, he's the guy.
Trout? Best individual player in the game. And he, too, has allowed us to watch history being made in live, HD TV all summer: Trout became the first player in AL history with at least 25 home runs, 30 steals and 100 walks in a season. But while the Angels made a late-season run a year ago, they've played as many important games as the Happy Days softball team in 2013. Trout is great, sensational, stupendous and every other adjective you want to toss in. And if you want to give him the MVP award, that's fine, too. There is no right or wrong answer here. But the answer in this column is Cabrera.
Davis was the clubhouse leader for a time, Donaldson is the best player nobody's ever heard of (poor Oakland), Cano is about to sign a gazillion-dollar contract to stay with the Yankees (no way he leaves), Machado we wish nothing but the best in a speedy recovery from the knee injury … so many great players. What a time to be watching this game.
NL MVP: 1. Andrew McCutchen , Pittsburgh Pirates ; 2. Matt Carpenter , St. Louis Cardinals ; 3. Yadier Molina , Cardinals; 4. Clayton Kershaw , Los Angeles Dodgers ; 5. Paul Goldschmidt , Arizona Diamondbacks ; 6. Freddie Freeman , Atlanta Braves ; 7. Jay Bruce , Cincinnati Reds ; 8. Shin-Soo Choo , Reds; 9. Andrelton Simmons , Braves; 10. Carlos Gomez , Milwaukee Brewers .
McCutchen was the best player in the NL this year and essential to the Pirates smashing not only their two-decade stretch of losing records, but in earning their first playoff berth since 1992. Post-All-Star break, McCutchen has posted a .441 on-base percentage and a .339 batting average. His 7.9 WAR (FanGraphs) ranks only behind Trout in the majors. Traditional stats, Sabermetrics, winning, clubhouse presence ... McCutchen hit for the cycle this summer.
Meantime, your reading glasses aren't betraying you when you move on to No. 2 (or, in the case of you young 'uns, your Snapchat photo isn't betraying you). Just when you think Molina, as great as he is, would be the first Cardinal on this ballot, Carpenter blows past him. He's not a household name, but if Carpenter produces another couple of seasons like 2013, he soon will be. All this kid has done is produce the best season by a second baseman in St. Louis since Rogers Hornsby. The Cardinals had no regular leadoff man or second baseman when the season started, and now they've got a virtual MVP.
Molina, as good a defensive catcher as there is, slots third. And I slipped Clayton Kershaw into fourth. I'm not prone to list pitchers in the MVP department unless a guy has a season for the ages … and when Kershaw's work invokes names like Sandy Koufax and Bob Gibson, that qualifies. His final ERA, a ridiculous 1.83, is the lowest since Roger Clemens' 1.87 in 2005. Goldschmidt, Freeman and Bruce each produced sensational seasons. Choo's .423 on-base percentage (second in the NL) set up the Reds for another postseason run, Simmons' fielding at shortstop was exquisite and Gomez had a breakout season for the Brewers. And no, I didn't forget Joey Votto . His defense at first base inexplicably slipped this season and Reds people will tell you Bruce and Choo were every bit as valuable, if not moreso.
AL Cy Young: 1. Max Scherzer , Tigers; 2. Yu Darvish , Rangers; 3. Hisashi Iwakuma , Seattle Mariners ; 4. Chris Sale , Chicago White Sox ; 5. Bartolo Colon , Athletics.
Talk about dominance. There was Scherzer's 21-3 record. His stifling 0.97 WHIP, which led the league and trailed only Kershaw (0.92) and the New York Mets ' Matt Harvey (0.93) in the majors -- and not by much. He held hitters to a lower on-base percentage and OPS than any other AL starting pitcher. Even if you don't subscribe to the suddenly old-fashioned value of a pitcher's wins -- and no, they do not mean what they once did, given the modern usage of the bullpen -- Scherzer is the guy.
Darvish led the majors in strikeouts and was dominant all season (and don't even ask about how the Houston Astros "fared" against him). Iwakuma forced people pay attention to the Mariners even when "King" Felix Hernandez wasn't pitching (and what a feat that was). Sale was remarkable and Colon has recaptured the Fountain of Youth. Hey, hey, HEY -- watch your comments here.
NL Cy Young: 1. Clayton Kershaw, Dodgers; 2. Jose Fernandez , Miami Marlins ; 3. Adam Wainwright , Cardinals; 4. Matt Matt Harvey, Mets; 5. Craig Kimbrel , Braves.
Kershaw should win this award unanimously. Fernandez actually held opponents to a lower batting average than Kershaw (.182 vs. .195), though Kershaw worked 64 more innings than the Marlins' rookie. Which leads me to Wainwright: Though he ranked only seventh in the league in ERA (2.94) and ninth in WHIP (1.07), Wainwright led the majors with 241 2/3 innings pitched (Kershaw was second at 236). As for Kimbrel, his major-leading 50 saves and 13.4 strikeouts-per-nine innings kept the Braves purring.
AL Rookie of the Year: 1. Wil Myers , Rays; 2. Jose Iglesias , Tigers; 3. Chris Archer , Rays.
Despite his late recall (mid-June), Myers has been the biggest impact rookie in the AL. His production numbers are at or toward the top of the charts (.293, 13 homers, 52 RBI, 156 total bases, 48 runs scored, .352 on-base percentage going into Sunday), and they contributed directly to Tampa Bay remaining in contention. Iglesias' ability to get on base and pick it defensively (he's a vast upgrade for the Tigers over Jhonny Peralta at shortstop) is impressive. And plop Archer into Myers' department: Without either of their contributions, the Rays don't contend. Apologies to Angels outfielder J.B. Shuck , who is Rookie worthy as well.
NL Rookie of the Year: 1. Yasiel Puig , Dodgers; 2. Jose Fernandez, Marlins; 3. Hyun-Jin Ryu , Dodgers.
What a year for NL rookies. Look at the names NOT on this list: Gerrit Cole , Shelby Miller , Jedd Gyorko , Trevor Rosenthal , Evan Gattis . Truthfully, you can flip a coin between Puig and Fernandez, both are deserving. The nod here is Puig given how he ignited the Dodgers upon his recall in early June (plus, a couple of extra-credit points for his being an everyday player). And Ryu has been a rock in the Los Angeles rotation all season.
AL Manager of the Year: 1. Terry Francona, Cleveland Indians ; 2. John Farrell, Red Sox; 2. Bob Melvin, Athletics.
All summer, I've been leaning toward Farrell for this award. And he deserves it. But so does Francona. And what finally flipped things for me is the Indians winning 91 games after losing 94 a year ago. Sound familiar? Yes, the Red Sox won 97 after losing 97 last year. The hair-splitting difference here simply is this: Farrell had more to work with than Francona (and for that, see my AL Executive of the Year pick below). This is in no way a slight to Farrell, whose skilled managing job this year was off the charts. But Francona proved he is as good as it gets. Meantime, let's not slight Melvin. Consecutive AL West titles only proves the colossal mistake the Mariners and Diamondbacks made in letting this guy go.
NL Manager of the Year: 1. Clint Hurdle, Pirates; 2. Don Mattingly, Dodgers; 3. Fredi Gonzalez, Braves and Mike Matheny, Cardinals (tie).
In leading the Pirates to their first winning season and playoff berth in two decades, Hurdle not only deserves this award, he should have a bridge in Pittsburgh named after him. Mattingly's grace under the early pressure was extraordinary. The Gonzalez-led Braves rendered the Washington Nationals and Philadelphia Phillies irrelevant practically by Mother's Day. And how can you not include Matheny for leading the Cardinals to the best overall record in the NL?
AL Executive of the Year: 1. Ben Cherington, Red Sox; 2. Billy Beane, Athletics; 3. David Dombrowski, Tigers.
Talk about pulling rabbits out of hats: Cherington not only U-turned last year's disaster zone of a team, he completely shut up all of the chicken and beer talk with his spectacular remake of this year's Red Sox. Talk about Project Runaway. Beane's A's have no business winning consecutive division titles against clubs with the largesse of the Rangers and Angels but, well, when does Moneyball II come out? And nobody is better than Dombrowski.
NL Executive of the Year: 1. John Mozeliak, Cardinals; 2. Neal Huntington, Pirates; 3. Frank Wren, Braves.
They said farewell to Albert Pujols . They replace injured ace Chris Carpenter with a battalion of rookies. Nothing stands between the Cardinals and October, and Mozeliak is the chief reason why. Huntington brilliantly rebuilt this Pirates team, which is no small achievement because it was something like the 58th rebuilding project. And Wren may have swung and missed on free agent Melvin Upton (so far), but he's still got an enviable on-base percentage.
30-SECOND REWIND
This rerun of my spring predictions from the guy who, one year ago, correctly foresaw the Tigers playing the San Francisco Giants in the World Series (and that's my go-to reminder, given this spring's picks!). ...
AL East: Toronto Blue Jays , Orioles, Rays, Red Sox, Yankees.
What I wrote this spring: "How can the Jays not be [J.A.] Happ-y at season's end?" Well, let me count the ways. …
AL Central: Tigers, Kansas City Royals , Indians, White Sox, Minnesota Twins .
What I wrote this spring of the Tigers: "As Ann Arbor native and Tigers fan Bob Seger sings, We've Got Tonight, babe. Who needs tomorrow?" See you in Oakland on Friday night for Game 1.
AL West: Angels, Athletics, Rangers, Mariners.
What I wrote this spring of the Angels: "With this lineup, they could pitch Zooey Deschanel and win." Who knew the Angels would do exactly that -- under the guise of Joe Blanton --and their vaunted bats couldn't overcome it?
NL East: Nationals, Braves, Phillies, Mets, Marlins.
What I wrote this spring of the Nationals: "If only our do-nothing Congress worked this well together." Now look, the government is on the verge of shutdown … and I'm blaming the Nationals.
NL Central: Reds, Brewers, Cardinals, Pirates, Chicago Cubs .
What I wrote this spring of the Reds: "They made the correct decision in returning Aroldis Chapman to his closer's role, because this is a team built to win now." Still believe that.
NL West: Giants, Dodgers, Diamondbacks, San Diego Padres , Colorado Rockies .
What I wrote this spring of the Giants: "While lots of folks are getting swept up by the Dodgers' projected record $230 million payroll, let's remember who has won two of the past three World Series." Yes, let's remember … as we watch the Dodgers steamroll into October.
AL Wild-Cards: Orioles and Royals.
Nice try.
NL Wild-Cards: Dodgers and Braves.
Is it too late to change this to "Division Winners?"
World Series: Tigers over Nationals.
Can still get half of this right. The most important half, too.
AL MVP: Mike Trout, Angels.
Could turn out this way still.
NL MVP: Buster Posey , Giants.
Won't turn out this way.
AL Cy Young: Justin Verlander , Tigers.
Hey, got the team right!
NL Cy Young: Clayton Kershaw, Dodgers.
Nailed it.
AL Rookie of the Year: Aaron Hicks, Twins.
Booooo!
NL Rookie of the Year: Jedd Gyorko, Padres.
Gyorko was one of the best things about another losing Padres season.
AL Manager of the Year: John Gibbons, Blue Jays
Nope.
NL Manager of the Year: Davey Johnson, Nationals.
Double nope.
And now … thanks for reading all season, and see you in October.