Weekend Buzz: Cardinals' pitching mowing through NL
The Weekend Buzz would be remiss if we didn't jump on the red-hot Redbirds' bandwagon. Sure as summer rolls around, the Cardinals produce pitching. Also: The Orioles' amazing streak, a suggestion for a new Cubs home, the Whiff Machine in Anaheim and excellent barbecue analysis from Adam Wainwright.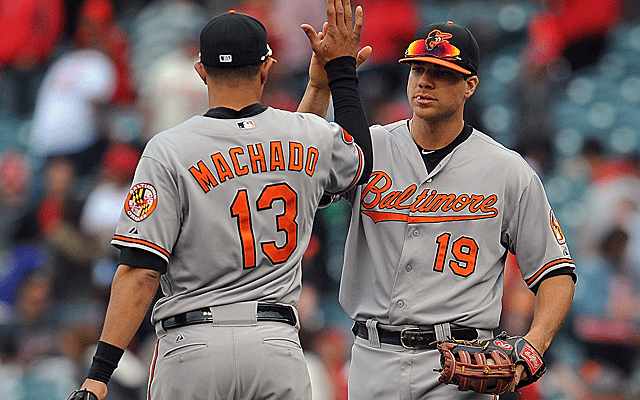 The Weekend Buzz while you were writing a letter of complaint to your local theater after paying good money to see Iron Man 3, only to discover that it is not an update on Cal Ripken in retirement. …
1. You take the Pope, we'll take the Cardinals: Where do the Redbirds find all of this pitching, some secret underground mine near general manager John Mozeliak's home in the suburbs? Huckleberry Finn's favorite fishing hole on the Mississippi River?
The Cards roared to their first-ever four-game sweep of division rival Milwaukee over the weekend. They've just completed a 7-3 run against their three chief NL Central rivals, the Pirates, Reds and Brewers. They now head to Wrigley Field looking to extend their current seven-game road winning streak, the franchise's longest since July 2004.
None of this should be happening, of course.
This is a team that glumly announced on the eve of spring training that ace Chris Carpenter would not be pitching this season.
Friday, the Cards announced that closer Jason Motte, who tied for the NL lead with 42 saves last season, will undergo Tommy John surgery and will miss the rest of this season.
Also on Friday, they optioned the guy who would have been their first choice to replace Motte, Mitchell Boggs, to Triple-A Memphis. Boggs, an excellent set-up man last year, couldn't find the strike zone and left with a smoking 12.66 ERA.
Yet despite all of this … St. Louis' 3.16 ERA led the NL on Sunday and ranked second in the majors, behind only the Rangers (3.06). Cardinals starting pitchers led all major-league rotations with a 2.25 ERA.
Adam Wainwright, Jake Westbrook (NL ERA leader at 1.07), Shelby Miller (1.96, eighth) Jaime Garcia and Lance Lynn have been dominant. Edward Mujica (eight saves in eight opportunities) has been a star. Trevor Rosenthal leads all NL relief pitchers with 23 strikeouts (and a 32.1 swing-and-miss percentage). Another power arm is on deck in Carlos Martinez, 21, who was recalled from Double-A Springfield on Friday.
And, a tip of the cap to pitching coach Derek Lilliquist, who hasn't missed a beat following the departure of Dave Duncan, whom many believed should be the first pitching coach inducted into the Hall of Fame.
Meantime, though Cardinals hitters rank 11th among the 15 NL teams in home runs (and eighth in on-base percentage), they're second in runs scored.
And, oh yeah, they long ago lost shortstop Rafael Furcal for the year. Another Tommy John surgery.
But this amazingly resilient club somehow always comes up with three different answers to every impending catastrophe. And as this season grinds on, there may be another: As noted this weekend by Joe Strauss, the excellent St. Louis Post-Dispatch columnist, the idea of Carpenter helping out as a reliever yet this season is beginning to gain traction within the organization.
Fair warning, from the pitching-fertile fields of St. Louis, for the rest of the division.
2. Late and close, Orioles still win: In one of the most underplayed numbers in a game that hardly underplays numbers ever, the Orioles, after clipping the Angels Sunday, now have won an incredible 107 consecutive games in which they have led after the seventh inning. It is the second-longest such streak in the Expansion Era (since 1961), according to the Elias Sports Bureau, after the Yankees of 1998 and 1999. And though the Orioles do not have Mariano Rivera (as those Yanks did), they do have Jim Johnson, who led the majors with 51 saves last season and was tied with Rivera for the AL lead with 11 this year.
Now, in one of those crazy twists that make us love this game, colleague Danny Knobler points out that the O's head home to open a series against Kansas City on Tuesday … and the Royals lead the majors this season with four wins in games in which they trailed after the seventh inning.
3. Doc Halladay and the doc: After he surrendered nine earned runs in 2 1/3 innings, including allowing somebody named Adeiny Hechavarria to pop for seven RBI (Adeiny Hechavarria … that isn't a dessert topping?) … the Phillies placed Roy Halladay on the disabled list and will send him to be examined by Dr. Lewis Yocum. Sheesh, the Padres' plan with scuffling starter Clayton Richard -- they disabled him Sunday with an "intestinal virus" -- sure sounds a lot less foreboding.
4. Suggested new home for the Cubs: If the Wrigley Field scoreboard dispute cannot be resolved and owner Tom Ricketts really is serious about his threat, may we suggest a parcel of land near the old Chicago stockyards for a new ballpark? Because for most of their history, the Cubs' meat also has been packed. And smoked.
5. Hamstrung Dodgers: So Hanley Ramirez returns ahead of schedule … and yanks a hamstring in his fourth game back. A year after Matt Kemp returned ahead of schedule from a hamstring injury … and re-injured the same hamstring. And now the Dodgers are estimating Zack Greinke (fractured collarbone) is roughly three weeks ahead of schedule and could return in early June. So you know what that means. Forget the collarbone when he returns -- the Dodgers had better wrap his hamstrings. Tightly.
6. The 'U' is for Ugly: Know what would be even more impressive and unexpected than Cleveland's six-game winning streak that ended Sunday? Ubaldo Jimenez not self-imploding, not even once, over a six-start stretch. If even Scott Kazmir could win his first big league game since Sept. 19, 2010, on Saturday. …
7. Josh Hamilton and wind resistance: What is happening in Anaheim continues to defy belief. Manager Mike Scioscia gave Hamilton a "mental" day off Saturday after the suddenly Human Whiff Machine struck out five times in eight at-bats against the Orioles on Thursday and Friday. Hamilton, 1 for 4 as the Angels dropped to 11-20 with Sunday's loss, now is batting .208/.255/.296 with 38 whiffs in 125 at-bats.
8. Pittsburgh Lumber Co. Revisited: Remember when Pittsburgh opened the season with no homers in its first five games? The Pirates now have belted homers in 15 of their past 17 games, including 17 in their past seven and 12 in their past five. Take a bow, Starling Marte and Russell Martin (11 home runs combined). Marte also was tied for the NL lead in hits (39) on Sunday.
9. Who ya got? The Braves' Tim Hudson got his 201st career win on Sunday … matching Halladay's career total. Which prompted this great question from colleague Danny Knobler via Twitter: Who winds up with more career victories? Hudson is 37, Halladay 35. Now ... go!
10. And don't even get him started on brisket: Cardinals starter and sauce boss Adam Wainwright had this to say to Derrick Goold of the St. Louis Post-Dispatch (and mark me down as being in complete agreement): "Bad barbecue makes me want to fight somebody. When I have a really bad rib or a really bad pulled pork, it just makes me angry. It's such a great piece of meat to ruin."
The World Series champion and big-time wrestling fan was on hand Sunday night

The Brewers have very few payroll commitments moving forward

The new, lighter hats will replace embroidered logos with beveled rubber badges
Chipper Jones and Jim Thome join holdovers Trevor Hoffman and Vladimir Guerrero

Another team rumored to be interested in Stanton has confirmed their interest

Chris Woodward has spent the last two seasons with the Dodgers