Weekend Buzz: Derek Jeter, home runs and ... Cooperstown?
News of Derek Jeter's welcome-back home run reached Cooperstown in about, oh, 1.2 seconds. And that's only the start of an action-packed Weekend Buzz column this week that includes the Nationals' implosion, Zack Greinke ripping Ryan Braun, trade deadline and more.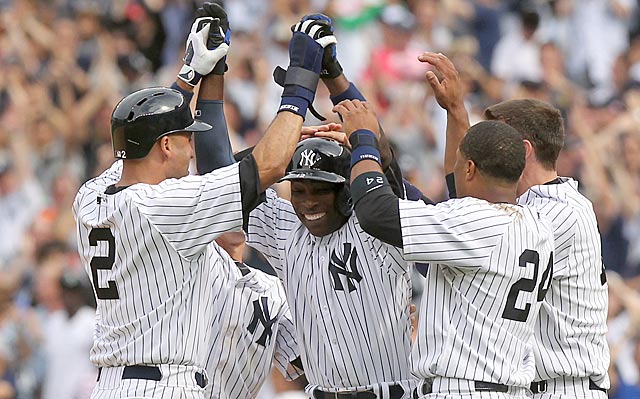 COOPERSTOWN, N.Y. -- The Weekend Buzz while you were losing your Royal Baby Name Fantasy Pool. ...
1. St. Derek: Derek Jeter said hello again with a first-pitch home run Sunday in his first at-bat back from the DL, and here's the impressive thing: The pitch went from Matt Moore's hand to Jeter's bat to the right-center seats in Yankee Stadium to Cooperstown in about 1.2 seconds flat.
And you, Alex Rodriguez. Even if you are able to avoid the Biogenesis Suspension Police --and the odds of that are roughly equivalent to those of Jeter ever making a false move in public, right? -- what will you do upon your return?
You can't script this stuff. Which is why in the seconds after Jeter's home run dropped and Twitter exploded, wizened old baseball men and children alike who were gathered in a field outside of the Clark Sports Center awaiting the Hall of Fame Induction ceremony passed along Jeter's feat with glee and wonder.
"Do you BELIEVE that?"
"Did you HEAR that?"
"Jeter did WHAT?"
"He's a movie is what he is," Yankees manager Joe Girardi exclaimed to reporters, and doggone if Pride of the Yankees hasn't already been taken.
On an already dreary day in the Ghost Town of Cooperstown, Jeter's unparalleled knack for rising to the moment already had folks here looking to better times.
That weekend in the not-too-distant future when Jeter will be enshrined?
"Oh my God," Hall of Famer and ex-Yankees great Goose Gossage said. "You better book it now. That will be huge."
"Jeter will be unlike anything we've ever seen," Cooperstown native Bob Snyder said at Stagecoach Coffee on Pioneer St.
"I guess it will be bedlam," Maria Hill, manager of Mickey's Place sports memorabilia on Main St., said. "Like when Cal Ripken Jr. was here."
Gossage, meantime, couldn't remember the last time he's even spoken with Rodriguez when in spring camp with the club as a Yankees' guest alumni coach.
"He's so different," Gossage said. "I haven't associated with him [in years]. We have nothing in common."
Maybe the only thing more astounding than Jeter's mountain of memorable moments is the way he and A-Rod continue to lurch forward as complete polar opposites.
Remember those heady days in the '90s when Jeter, A-Rod and Nomar Garciaparra all were young and about to re-define the shortstop position?
2. Tick, tick, trade deadline: We're now 72 hours away from the July 31 non-waivers trading deadline, and do you know where Jake Peavy is? Our Jon Heyman reports the Orioles as the latest entrant into conversations with the White Sox. The Braves and Athletics also are very interested, but the White Sox are not interested in paying a large portion of the $24 million still owed the right-hander. Stay tuned. Peavy is. He reportedly cleaned out his locker in Chicago on Sunday as the White Sox finished their homestand.
3. On big pile of rubble ... or bust? No statement looks as ludicrous in hindsight now as the one Nationals manager Davey Johnson uttered this spring. You know, "World Series or bust." Already viewed as arrogant -- rightly or wrongly -- by many other organizations entering 2013, the Nationals are learning the hard way this summer that maybe this game isn't as easy as they thought.
Phillies lefty Cole Hamels reiterated this spring in reference to Washington, speaking from experience, how difficult it is to defend a division title. Not only are the Nats proving that, they're also raising new questions as to the player development portion of their program. Stephen Strasburg, Danny Espinosa and Drew Storen all have regressed this year, and things got real ugly when the Nats demoted Storen on Friday after calling on him to pitch with the flu. Firing hitting coach Rick Eckstein was a scapegoat move, and general manager Mike Rizzo came out swinging on Johnson's future, saying there is "no chance that he won't be the manager until the end of the season."
Which coincidentally pretty much matches the odds the Nationals have of playing in the postseason.
4. The Angels, Pujols and public transportation: While on the subject of clubs with high expectations splash-landing in the toilet ... nice weekend for the Angels. Albert Pujols finally lands on the disabled list with the plantar fasciitis that has been plaguing him all season, and Pujols and Josh Hamilton wind up taking BART to O.co. Coliseum in Oakland when the Angels' second bus had to abort its mission Friday because the Bay Bridge was shut down. Some signs telling you where your season is going are obvious.
5. David Ortiz smashed the dugout telephone: Shocking thing is some innovative cell phone company hasn't scooped him up yet as a spokesman.
6. The Dodgers are 26-6 since June 22: How hot are they? So hot that Brandon League was the winning pitcher in back-to-back games last week.
7. Phillies sign Cuban right-hander Miguel Alfredo Gonzalez: For $60 million over six years. No wonder Cliff Lee came up with a stiff neck and had to be scratched from his start the other day.
8. Manny Machado's defense: Wow. I mean, wow! No, really. WOW!
9. Another player rips Ryan Braun: This gets more heartening every day. Because as I wrote last week, the best way for baseball to bleach out the cheaters is if the clean players shoulder some of the responsibility. And to that end, kudos to Zack Greinke, a former teammate in Milwaukee, for saying this to the Los Angeles Times about Braun:
"He lied to us. He forced us to lie for him, threw people under the bus in order to help himself out and didn't care, blamed others for his mistakes ... It's just the person. Just the fact that he was willing to use anyone that got in his path. The closer you were to him, the more he would use you. It's just disappointing that a human being could be like that."
10. Tim Hudson's ankle: Godspeed in recovery to a class act.
Neither Josh Donaldson nor Brian Dozier have talked about a new contract extension

Francisco leads the Dominican Winter League with seven home runs

Thome deserves enshrinement and here's why the case against him does not hold up
The Twins have already fortified the bullpen with Addison Reed, and now they want to address...

The Orioles likely want pitching, and the Indians have plenty of it

Halladay died in a November plane crash off the coast of Florida