Weekend Buzz: Dodgers' decision on Don Mattingly among first-half bests
The Dodgers stay this red-hot, Don Mattingly might move from the firing line to the NL Manager of the Year by season's end. Looking at that and other first-half bests and worsts as baseball sails into the All-Star break.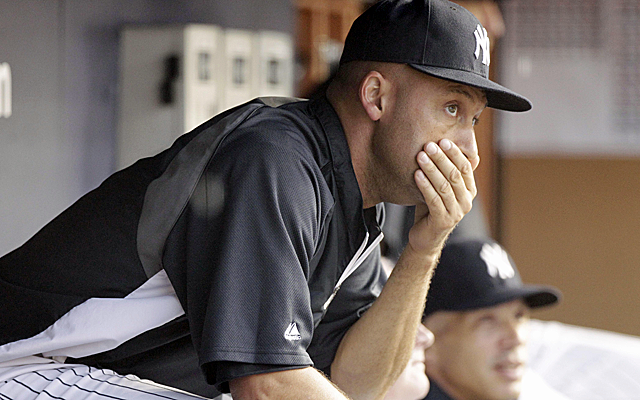 The Weekend All-Star Break Buzz while you were cutting your hair short just like no-hit king and style-setter Tim Lincecum. …
1. Best no-decision of first half: The Dodgers not firing manager Don Mattingly. Kudos to president Stan Kasten and general manager Ned Colletti for doing what few folks actually do in this instant-gratification, poll-driven, which-way-is-the-wind-blowing society. They exercised patience and restraint.
It was mere weeks ago when Mattingly was so close to being fired that he was last seen at the end of a plank on a pirate ship. At least, that's pretty much what everyone wrote, said and thought. Now, the guy could wind up being NL Manager of the Year, and wouldn't that be something?
The Dodgers have won 14 of their past 17 games. They have moved from a season-worst 12 games under .500 after a June 21 loss to the Padres to one over at 47-46 heading into Sunday's first-half finale. Over the past 21 games, Mattingly's crew is 17-4 (.810), the majors' best record.
Against NL West opponents, the Dodgers are 14-3 in their past 17 games. On June 22, they were a season-worst 9½ games out of first place. Sunday, they were 2½ back. That's a net gain of seven games in the standings in 22 days.
Matt Kemp's miserable season has become an afterthought. Yasiel Puig is getting all the love, but Hanley Ramirez has been every bit as important to the Dodgers since early June. From June 1 through Sunday, Puig (.392) and Ramirez (.389) ranked 1-2 in the majors in batting average. They also ranked 1-2 in on-base percentage, Ramirez at .444 and Puig at .442.
Newly acquired starter Ricky Nolasco (Marlins) adds depth behind Clayton Kershaw and Zack Greinke, who ran his record to 8-2 and lowered his ERA to 3.49. And even with Puig nursing a sore hip, Kemp back on the disabled list, Carl Crawford nursing a sore back and Mark Ellis also out of Sunday's lineup with a sore leg -- four of eight position players! -- the Dodgers are as healthy as they've been all year.
What is this Mattingly, a magician?
"Teams that score, score and score but don't have pitching, it wears you out," he told reporters after Greinke's 1-0 beauty over the Rockies on Saturday night. "You can't keep scoring like that. A win like this, it tells you you don't always have to score five or six."
Even with Greinke missing several weeks earlier with a broken collarbone, Dodgers starters rank third in the majors with a 3.40 ERA.
And Greinke is just hitting his stride.
2. Worst no-decision of the first half: Yankees general manager Brian Cashman not deciding to extend icon Derek Jeter's injury rehabilitation assignment at Triple-A Scranton/Wilkes-Barre.
Did the Yankees panic and rush Jeter back too soon after both Brett Gardner and Travis Hafner left Wednesday night's game? Is that the reason that Jeter strained his quad in his very first game back on Thursday and is out again?
"I guess it's possible," the beleaguered Cashman says. "I guess it's all open to questions."
Anything is possible with these wounded Yankees. But, seriously, the way things are going, let's give Cashman a break. Jeter probably would have been injured whenever the GM brought him back.
Jeter, Mark Teixeira, Curtis Granderson, Kevin Youkilis all were disabled earlier this year. All returned and then all were injured again. Almost immediately.
"People coming and going and coming," starter CC Sabathia says. "I don't know. One of those years. I've never seen anything like it."
How bizarre is it in the Bronx?
Jeter was summoned late Wednesday night, strained his quad on Thursday, was embroiled in a discussion about whether to place him on the disabled list on Friday and then couldn't even make it to Yankee Stadium on Saturday.
"He's under the weather," manager Joe Girardi said. "Stomach bug. We kept him home."
3. Best hair of the first half: Lincecum's as he was sticking it to the Padres in Petco Park on Saturday night. What a performance. What a moment. It took him an astounding 148 pitches to throw his first no-hitter -- he struck out 13 Padres in the process -- but you won't find a Giant who won't say it was worth it.
And, by the way, even after all of that heavy lifting, Lincecum, who never, ever ices his arm, stayed with that practice.
"No," he quipped to San Francisco reporters on Sunday when asked whether he iced. "Not even in the drinks I didn't have last night."
4. Worst jittery moments of the first half: Waiting for the shoes to drop in this Biogenesis investigation. Will Alex Rodriguez receive a lifetime suspension? Will MLB finally nail Ryan Braun's arrogance to the wall? Will the Rangers suddenly need an outfielder when Nelson Cruz is suspended? And how long will the appeals take, anyway? Will we be poring over the arbiter's ruling on Christmas Eve after all of these guys play out the rest of this season?
For everyone nostalgic for the Balco days, this one's for you.
5. Best changing of Sox in the first half: The Red Sox scooped up reliever Matt Thornton from the White Sox over the weekend. Boston needs a lefty reliever with Andrew Miller out for the season, and the Sox especially need one with a stretch of 10 consecutive games against AL East rivals out of the gate following the All-Star Game. And they especially need reinforcements with the hard-charging Rays and dangerous Orioles both looking like they're in it for the long haul.
6. Best pitcher available in first half: Matt Garza is pitching himself toward a feeding frenzy at the July 31 trade deadline, and timing couldn't be better for the Cubs. Garza is 5-0 with a 1.24 ERA over his past six starts. He's clearly the No. 1 target at the trade deadline. Keep an eye on the Rangers.
7. Best peg-leg question of the first half: Is this finally the year the Pirates do NOT collapse in August and September? Only the Red Sox and Cardinals have better records than the Buccos. Starling Marte is blossoming. Pedro Alvarez is thumping. With Francisco Liriano, Jeff Locke and Gerrit Cole, the rotation is stronger. Mark it down: The Pirates finish with their first winning record since 1992, and this is the year that they remain in contention down the stretch. Ahoy, mates!
8. Worst finish to the first half: The Braves within the past few days lost both Upton brothers, Justin (calf strain) and B.J. (adductor strain), Jason Heyward (hamstring) and Freddie Freeman (thumb). Nobody needs the All-Star break more than the NL East leaders.
9. Worst in show of first half: Not only were the Padres harshly reminded during Lincecum's no-hitter that they remain the only franchise in the majors to never have thrown a no-no, but it was their 14th loss in 15 games. Even less reason for the 22 percent of those in San Diego County who still cannot get them on television to pay attention.
10. Worst joke of the first half: The Astros extended second baseman Jose Altuve for four years at $12.5 million. Do you think they shorted him?
Francisco leads the Dominican Winter League with seven home runs

Thome deserves enshrinement and here's why the case against him does not hold up

The Twins have already fortified the bullpen with Addison Reed, and now they want to address...
The Orioles likely want pitching, and the Indians have plenty of it

Halladay died in a November plane crash off the coast of Florida

The power-hitting outfielder is headed to Toronto