Weekend Buzz: Fans, smarter than ever, mostly get All-Star picks right
In our annual Grade the Fan Vote Weekend Buzz column, there are quibbles here and there but little of significance. With Fantasy Baseball, Sabermetrics, the Internet, television, satellite radio, today's fans might be the smartest ever.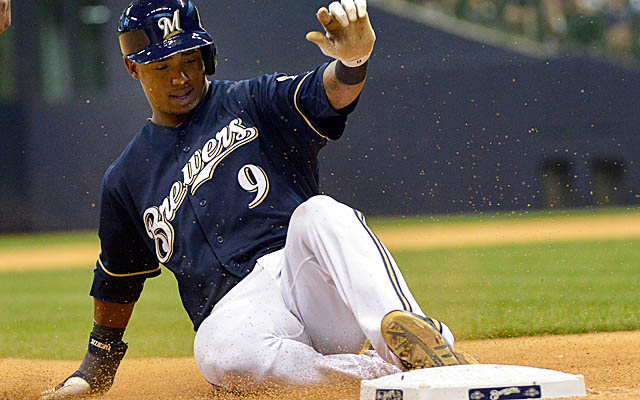 The Weekend All-Star Buzz while Los Angeles Dodgers ' Don Mattingly was exacting his revenge on San Francisco's Bruce Bochy, and now Mattingly has moved from firing line to genius in just a few weeks, right?
Grading this year's All-Star voting, I mostly left the cap on my red Sharpie. Congratulations, fans, you were correct on 11 of 17 picks. Last year, you only got six of 17. Look out, the SATs are next. …
First base:  Chris Davis , Baltimore Orioles  
My pick: Davis
Talk about getting out the vote. The Orioles did it better than MTV ever dreamed of. Even with your imagination running out of control while you were knee-deep in the ribs at Boog's Barbecue, did you ever figure that Davis would be the leading vote-getter this year? Any year? Quick, line him up alongside Ken Griffey Jr., Cal Ripken Jr., Barry Bonds and Joe Mauer and put it on Instagram! Not sure, but I think Davis just smashed another homer while I was typing this sentence. He's got 33. Just call him Crush Davis, and tell him congratulations.
Second base:  Robinson Cano , New York Yankees  
My pick:  Jason Kipnis , Cleveland Indians
Yes, this is coin-flip territory. But Kipnis is having one Rock and Roll Hall of Fame summer, and the message isn't carrying too well across Lake Erie to the rest of the land. Cano, Boston's Dustin Pedroia and the Los Angeles Angels ' Howie Kendrick are deserving as well. But Kipnis leads all AL second basemen in OPS (.904), and he's played a significant role in Cleveland's reconstruction. If you want to go Pedroia, that's an acceptable answer, too. One very demerit-inducing trend regarding Cano: He's a far worse player at home in New York than on the road this year. In 44 games on the road, he's hitting .326 with 13 homers and 33 RBI. In 43 games at home, he's at .255, 7 and 25. Jay-Z might want to address this with his new client. Next thing you know, Cano will be in a Visa commercial addressing his New York nightlife.
Shortstop:  J.J. Hardy , Orioles 
My pick: Hardy
Put J.J. Hardy into the trivia answer department right alongside Cleveland's Asdrubal Cabrera . The question? Name a couple of the rare players who started an All-Star Game at shortstop in place of Derek Jeter over the past 15 or so years. Cabrera cracked the American League lineup in 2011 in Arizona, and Hardy is our man now. A well-deserved encore for the Orioles shortstop, who was an All-Star way back in 2007 with the Milwaukee Brewers .
Third base:  Miguel Cabrera , Detroit Tigers  
My pick: Cabrera
No question here it's Cabrera, and man, is this a tough position to crack. The Orioles' Manny Machado (who makes the club as a reserve) and the Tampa Bay Rays ' Evan Longoria , the Oakland Athletics ' Josh Donaldson and the Texas Rangers ' Adrian Beltre (who didn't) … it's almost like shortstop in the AL in the 1990s when you had a young Jeter, Alex Rodriguez and Nomar Garciaparra. Somebody deserving is going to get hosed. Speaking of which, how does Donaldson not make the team? Was Angel Hernandez in charge of choosing the reserves?
Catcher: Joe Mauer, Minnesota Twins  
My pick: Mauer
No other choice here. The Kansas City Royals ' Salvador Perez , the Indians' Carlos Santana , the Houston Astros Jason Castro , the Orioles' Matt Wieters and the Toronto Blue Jays ' J.P. Arencibia all are having nice seasons, but nobody is more deserving than Mauer (even if Target Field has stripped him of much of his power). Hard to believe this will be Mauer's first start since 2010.
Outfield:  Mike Trout , Angels; Adam Jones , Orioles; Jose Bautista , Blue Jays 
My picks: Trout, Jones, Bautista
Easy. Except for the case of the Rangers' Nelson Cruz, but I'll sign off on Joey Bats' fourth consecutive nod. And look, Jones is the first Orioles outfielder to start the Midsummer Classic since Brady Anderson in 1997. Meantime, Trout's heavy lifting continues for an Angels' organization that has become the place where veteran All-Star careers are laid to rest. Like new cars the second they're driven off of the lot, the depreciation started on non-All Stars Albert Pujols and Josh Hamilton the second they signed gazillion-dollar contracts in Anaheim.
Designated hitter:  David Ortiz , Boston Red Sox  
My pick: Ortiz
He's 37 and on the verge of being named DH for Life in the All-Star Game.
First base:  Joey Votto , Cincinnati Reds  
My pick:  Paul Goldschmidt , Arizona Diamondbacks
Amazing true fact about this year's All-Star voting: None of the first-place teams in the NL --  Atlanta Braves , Pittsburgh Pirates , Diamondbacks -- had a starter voted in. Votto's on-base percentage (.433) is a work of art, but Goldschmidt might be the NL MVP so far. He's got 33 more RBI and six more homers than Votto. Yes, Votto's defense is great and he saved Homer Bailey 's no-hitter the other night, and the St. Louis Cardinals ' Allen Craig is in the conversation as well. But Goldschmidt should be the guy.
Second base:  Brandon Phillips , Reds 
My pick:  Matt Carpenter , Cardinals
Nobody is a bigger fan of Phillips than me, and he totally got screwed a year ago by not even making the team. That said, Carpenter's OPS is 144 points higher than Phillips' and the kid is having a knockout season. Phillips' lineage, though, is pretty cool: He becomes the first Reds second baseman elected to start an All-Star Game since Hall of Famer Joe Morgan in 1978. Does this mean there one day will be a FireBrandonPhillips.com website?
Shortstop:  Troy Tulowitzki , Colorado Rockies  
My pick:  Jean Segura , Brewers
Milwaukee's got a new Ignitor after Paul Molitor all of these years down the road, and it's the kid obtained from the Angels last July in the Zack Greinke deal. If you want to pick the Washington Nationals ' Ian Desmond with Tulowitzki on the disabled list, little argument here. But in his brief time as one of the few Brewers' shining lights, Segura, who leads the NL in hits, has developed into one of the most exciting players in the league.
Third base:  David Wright , New York Mets  
My pick: Wright
With 22 homers and 57 RBIs, the temptation is to go with Pedro Alvarez of the piping hot Pirates. But that .243 batting average and 103 strikeouts tilt things easily Wright's way. The Face of the Mets leads all NL third baseman with a .912 OPS, .519 slugging percentage and .393 on-base percentage. Plus, the game is at Citi Field. Case closed.
Catcher:  Yadier Molina , Cardinals 
My pick: Molina
Credit San Francisco Giants fans for knowing their baseball and backing off. Remember last year, when they showed us how well they know computers in San Francisco and stuffed the ballot box for their guys? Apparently, they're as down on the Giants as everyone else -- none of them made the starting lineup. Great as Posey is, Molina is the right choice for his all-around game.
Outfield:  Carlos Beltran , Cardinals; Carlos Gonzalez , Rockies; Bryce Harper , Nationals 
My picks: Gonzalez, Carlos Gomez , Brewers; Michael Cuddyer , Rockies
CarGo is a NoBrainerGo. Beltran is having a good year, but Cuddyer is having a superior year in right field. And the Brewers' Gomez is the pick over Harper in a heartbeat. Gomez is one of only six players in the majors with 10 or more homers and 15 or more steals, joining All-Stars Segura, Trout, CarGo, Kipnis and non-Star Alex Rios of the Chicago White Sox .
Gardenhire is familiar with the American League Central

"Homer at the Bat" is being memorialized by its own show in a unique way this weekend

It's Clayton Kershaw against Jose Quintana at Wrigley Field in Chicago
Five months is mid-to-late March, so this could impact the 2018 season

Cubs manager Maddon becomes the first manager ever ejected twice in one postseason series

Closer Wade Davis pitched two innings in Game 4 to help force a Game 5