Weekend Buzz: From pizzas to homers with Braves and Evan Gattis
The Weekend Buzz while you and Don Draper were becoming reacquainted as the excellent Mad Men fires up for another season. ...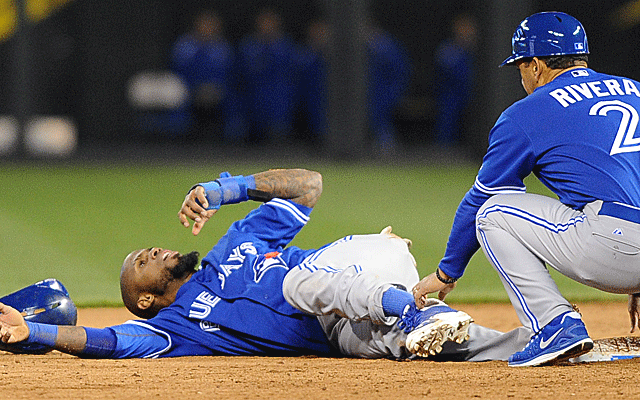 The Weekend Buzz while you and Don Draper were becoming reacquainted as the excellent Mad Men fires up for another season. …
1. From the dishroom to the ballroom: The thorough weekend statement delivered by the Braves in whacking division-rival Washington has its roots in pepperoni, skiing and custodial service.
In other words, meet Evan Gattis.
The Braves' latest slugger in a line descending directly from Henry Aaron wasn't even on the club's radar when spring training started. Even though they knew catcher Brian McCann (shoulder surgery) wouldn't be ready by opening day.
Then Gattis started swinging this spring, and it was a classic case of forcing himself onto the club.
The Hot-lanta Braves, smokingest team in baseball, are benefitting daily.
They own baseball's best record at 11-1, they're 6-0 on the road and they absolutely dismantled the Nationals who, if not the game's consensus best team entering the season, had only a few dissenters. Fredi Gonzalez's club is off to its best start since opening 13-1 in 1994.
Gattis pummeled Nats ace Stephen Strasburg for his fourth homer of the season on Saturday, knocked in two runs in Atlanta's 9-0 rout on Sunday and is hitting .324 with four homers and 10 RBI.
At 26, Gattis is 6-4, 230 pounds and has a story even more remarkable than his start. He signed with Texas A&M out of high school but wound up in a 30-day drug rehabilitation center and halfway house instead of college.
After that, he landed on an Oklahoma community college baseball team, left and roamed around the western United States for a couple of years. He told Dave O'Brien, the great Atlanta Journal-Constitution beat writer, that he was diagnosed with clinical depression at one point.
He worked at a pizza joint in Boulder, Colo., as a ski lift operator in Colorado and New Mexico and as a janitor in Dallas. He eventually found his way home to Texas and shook the rust off of his baseball career at the University of Texas-Permian Basin in Odessa -- same locale mined by author Buzz Bissinger for his best-selling Friday Night Lights.
The Braves picked Gattis in the 23rd round of the 2010 draft. With McCann and Freddie Freeman (strained right oblique) both sidelined, he couldn't be repaying their faith in him at a better time.
This winter, the Braves popped for the most expensive free agent in club histoy (B.J. Upton, $75.25 million over five years) and continued rearranging their pieces with an enormous trade (acquiring Justin Upton, B.J.'s brother, from the Diamondbacks).
Justin is off to a sensational start (.348, seven homers, 11 RBI), starter Paul Maholm (3-0) has not allowed a run in 20 1/3 innings and Chris Johnson went 8 for 14 this weekend.
The Braves now have drummed the Nationals in seven consecutive games going back to last season. Next up between these two clubs: A four-game series in Atlanta beginning April 29.
2. Hollywood Q rating: Los Angeles' Most Wanted Man, Carlos Quentin, will be on the suspended list when the Padres visit the Dodgers this week, so Chavez Ravine will have to wait until June 3 to extract its verbal pound of flesh.
By that time, Zack Greinke, out two months with a dislocated collarbone, will be edging closer to a return. And this weird private grudge match between the two still will not rank as the most bizarre turn in history.
Quentin-Greinke brings to mind an even more outrageous private duel turning ugly, when the Tigers' Al Cowens went after White Sox pitcher Ed Farmer on June 20, 1980, in Comiskey Park.
A year before, when Cowens was with the Royals, the outfielder was sidelined 21 games when Farmer broke his jaw (and several teeth) with a pitch. In the same game, Farmer drilled Frank White in the wrist, causing the infielder to miss 33 games.
Little more than a year later, having been traded to Detroit, Cowens dragged the unwitting Tigers into it -- much like Quentin involved the Padres in a fight they initially had nothing to do with.
Leading off the 11th inning, Cowens smacked a ground ball to shortstop.
Then, in one of the most bizarre things you've ever seen … instead of running to first, he charged straight to the mound. Farmer had turned around to watch the shortstop field the ball and was blindsided.
In the aftermath, Cowens, who would be suspended for seven games, skipped the rest of the series when the state of Illinois issued a warrant for his arrest. Farmer, though, declined to press charges -- as long as Cowens would shake his hand later that season.
Farmer remains with the White Sox as an exceptionally astute analyst. Cowens died of a heart attack at 50 in 2002. And, so far, nobody has issued a warrant for Quentin's arrest.
3. Alex Rodriguez and Biogenesis: Did A-Rod's representatives purchase damning receipts to make them disappear and protect him? Did they not? Who knows? The real story might never come out, but one thing is certain: It always is safer to err on the side of not believing A-Rod.
4. Saddest face of the weekend: Absolutely crushing to look at Jose Reyes shedding tears in the dirt at second base after hurting his foot. Here's hoping his absence is closer to one month than three. Both Toronto and the game are worse off without one of baseball's most exciting players.
 5. Athletics jealous of Braves: Before Atlanta, Oakland was the talk of baseball with a nine-game winning streak through Saturday. By the time the Tigers won two of three, Yoenis Cespedes (left hand) landed on the DL and Coco Crisp (strained left groin) sat Saturday and Sunday … it all seemed so long ago.
6. Yankees turn first 4-6-5-6-5-3-4 triple play in history: Derek Jeter must have an assist in there somewhere.
7. Happy 52nd, Angels: How bad is it for a club that equaled the worst start (2-8) in franchise history, matching the mark by the 1961 expansion team? The Angels optioned outfielder J.B. Shuck to the minors Friday afternoon … and he was back and hitting leadoff for them on Saturday night.
8. Crocodile tears and lefties: The Braves torched Gio Gonzalez for more runs than he has ever allowed in a Nationals uniform. The Indians blitzed the White Sox's Chris Sale for eight runs in 4 1/3 innings. The Tigers cuffed the Athletics' Brett Anderson for seven runs in 5 2/3 innings. So Sunday afternoon came this sweet Tweet from Anderson: "Gio, Chris Sale & myself need to go and have a good long cry and then get ready for our next starts. #leftyssticktogether."
9. Masterful in Cleveland, Mon: Not only has Justin Masterson now worked 19 consecutive scoreless innings, and not only does he have three of the Indians' five wins … did you know he was the first Jamaican-born pitcher in big league history?
10. Clay and mettle: Clay Buchholz takes a no-hitter into the eighth against the Rays, and the Red Sox maintain their grip on first place in the AL East. Too early to nominate John Farrell for AL Manager of the Year?
Even more relievers signed on the final day of the Winter Meetings

Keep tabs on the top 50 free agents right here

The league is not happy Ohtani's medical information leaked
Kansas City and Baltimore were quite busy at the Rule 5 Draft

Piscotty's mother was diagnosed with ALS earlier this year

From the rebuilding Marlins to the aggressive Angels, here's how the most active teams made...