Weekend Buzz: Harvey, Moore, Miller and Corbin usher in new generation
Suddenly, Justin Verlander is getting cuffed around and Matt Harvey is dealing. David Price is hurt and Matt Moore is leading the Rays' staff. Shelby Miller, Patrick Corbin ... new aces are blazing quite a trail so far in 2013. ...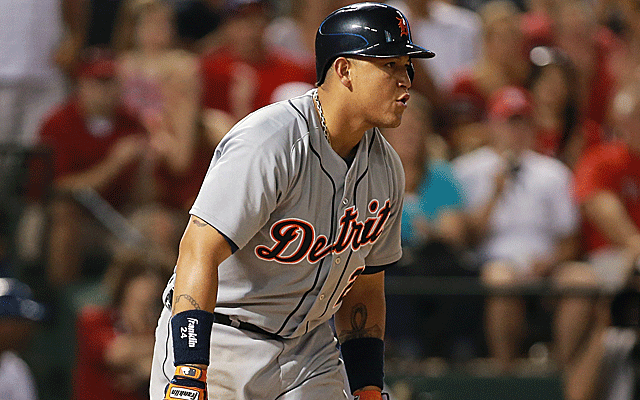 The Weekend Buzz while you were grieving for Kanye West's $750,000 Lamborghini after its bout with Kim Kardashian's gate. …
1. Generation Mmmm: Not to go all PC on you, but what Patrick Corbin is doing in Arizona right now is proof that to be so young and dominant in the majors this year requires neither ownership of the letter "M" nor even the word "Matt" in your name. It only sometimes looks that way.
Watching the sizzling slate of starts from the Mets' Matt Harvey, the Rays' Matt Moore, the Cardinals' Shelby Miller and Corbin, in particular, the impressive thing with this summer's precocious collection of young arms is how seamlessly they can make old standbys start to look passé.
This isn't the best time to have Cy Young award on your resume, as the Tigers' Justin Verlander is cuffed around, the Jays' R.A. Dickey disappoints, the Rays' David Price is hurt, the Giants' Tim Lincecum is lost and even the Mariners' Felix Hernandez was scorched by the red-hot Indians on Sunday.
As those guys work toward regaining their balance, there suddenly is an entirely new list of must-see, developing aces around a game that is trending younger and younger given the (supposed) absence of steroids and amphetamines.
Harvey, 24, nearly hung a perfect game on the White Sox two weeks ago. Four days later, Miller, 22, surrendered a leadoff single and then retired 27 consecutive Rockies in a row.
Moore, 23, shut down the Orioles on Sunday to move to 8-0 with a 2.29 ERA. Coming into the day, Moore's .172 opponents' batting average ranked second in the majors. Harvey was first at .149.
As Sunday dawned, Miller was tied for the NL ERA lead at 1.40 with the Dodgers' Clayton Kershaw (now there's a Cy winner we can still count on). Corbin (1.52) and Harvey (1.55), who stiff-armed the Cubs on Friday to run his record to 5-0, were next in line.
Who knows, on his way to drawing comparisons with Mets legend Doc Gooden … Harvey might wind up being better than Gooden.
"I saw that he had four pitches, and every single one of this pitches, in my opinion, is in the top two in the game, if not all four of them being the best in the game [individually]," said White Sox designated hitter Adam Dunn, 0 for 4 against Harvey in the kid's near-miss of a perfecto May 7.
"I hate to put this on him already, but he's up there stuff-wise with the best I've faced maybe … ever? He may be No. 1."
According to the Mets' media relations staff, Harvey joined Nolan Ryan (1986) and Kerry Wood (1998) as one of only three pitchers since 1916 with at least nine shutout innings, only one hit and at least 12 strikeouts in a game.
According to Bill James' Game Score, it was the second-greatest nine-inning game ever thrown by a Mets pitcher. Only Tom Seaver scored higher.
Moore, aside from his stingy opponents' batting average, was holding hitters to an .043 batting average with runners in scoring position.
"It's like he's got two extra gears," raves one scout.
It's like all of these kids do. Corbin has started 2013 with an Arizona record eight consecutive starts of at least six innings pitched and two or fewer runs allowed. He's doing it by firing strikes: Into Sunday, his first-pitch strike percentage (71 percent) was tied with the White Sox's Jake Peavy for the major-league lead.
2. The Strasburg Line: The way Harvey, Moore, Miller and the rest are going, even the Nationals' Stephen Strasburg has become yesterday's news. Here Harvey is, flirting with a perfect game, and here Miller is, setting down those 27 Rockies in a row … and there Strasburg was, working into the eighth inning for the first time in his life Thursday night in San Diego in his 54th start.
"I was shocked to hear that," said White Sox closer Addison Reed, a teammate of Strasburg's for two years at San Diego State under coach (and Hall of Famer) Tony Gwynn. "I pay attention when he starts, and I didn't know that.
"I guarantee you, that's one of hundreds of times he'll go into the eighth inning. This will be one of many."
3. Andy Pettitte disabled, Yankees laugh: Well, check that: The Yanks would never do that. Not directly at Pettitte, anyway … or Derek Jeter, or Curtis Granderson, or Mark Teixeira, or Ivan Nova, or Alex Rodriguez (well, they may chuckle a wee bit at him). But in a season long since turned funky, the first-place Yankees continue to laugh in the face of injuries that would have zapped lesser teams. And proving they have a sense of humor, they even traded for infielder Reid Brignac on Saturday.
4. Look, Justin Upton coaches, too! A day after Upton belted a grand slam to propel the Braves past the Dodgers, Evan Gattis and Andrelton Simmons each credited his advice regarding Kenley Jansen's cutter as aiding their home runs that downed the Dodgers on Saturday. Would love to write "And on the seventh day, Justin rested" right about now … but there he was in Sunday's lineup, surely on deck for something else great again in the near future.
5. Gold in the desert: Future All-Star Paul Goldschmidt is hitting .426 with seven homers and 17 RBIs so far during his merry month of May, leading the majors for the month with 50 total bases and a .926 slugging percentage. The way he and Corbin are going, it's difficult to believe the Dbacks only led the NL West by one game into Sunday.
6. Batting Practice Blanton: The Angels' "right-hander" has served up an incomprehensible 86 hits in 50 1/3 innings so far this season. His 15.38 hits-per-nine-innings so far is the highest ever for a full-time starter, exceeding the immortal Les Sweetland (14.60) of the 1930 Phillies.
7. Monster Mashing Cabrera: The Tigers' Miguel Cabrera checked in with 63 hits in 41 games before Sunday night's special in Texas, putting the AL MVP on pace for 249. That would rank as the eighth-most ever in a single season, behind Ichiro Suzuki (262, 2004), George Sisler (257, 1920), Lefty O'Doul (254, 1929), Bill Terry (254, 1930), Al Simmons (253, 1925), Rogers Hornsby (250, 1922) and Chuck Klein (250, 1930). It also would be the third-highest total ever by a right-handed batter, following Simmons and Hornsby.
8. Hi, it's me – David: There are no do-overs in baseball, so all the Twins can do is watch the man they once released continue to torture them. And Boston's David Ortiz was at it again over the weekend, blasting two homers in Minnesota on Saturday. While Target Field may play huge to Joe Mauer and Justin Morneau, it sure doesn't to Ortiz, who now is 20 for 41 with five homers and 16 RBIs there.
The Twins tell their pitchers not to let Ortiz beat them. And? "He keeps sending souvenirs," manager Ron Gardenhire quipped to reporters.
9. Elevates the Athletics, too: Odd letter to the editor in Saturday's Los Angeles Times in defense of Angels owner Arte Moreno. Odd because it was written by Oakland owner Lew Wolff.
"He unhesitatingly risks his own resources to seek a World Series for his fans, his team and his family. His market and all of MLB is elevated by Arte," writes Wolff, whose A's were 5 ½ games ahead of the Angels on Sunday.
10. Next up, Ten Cent Beer Night? On Dollar Dog Night Friday, the Indians said a grand total of 66,726 hot dogs were consumed during the game against the Mariners. Sort of makes you thirsty, doesn't it? Come on, Indians. We dare you.
In the last several years, lots of droughts have ended in MLB

The most likely scenarios are Dodgers winning in five or six games

Despite a seven-game ALCS, the Houston rotation lines up nicely for the World Series
Sabathia and the Yankees are a perfect fit for each other

Bregman threw out Greg Bird at the plate to preserve the Astros' lead

The 2017 World Series begins Oct. 24