Weekend Buzz: How can you not see Dodgers winning the NL pennant?
Best decision of the year? The Dodgers not firing Don Mattingly. Or finally recalling Yasiel Puig. Or moving Hanley Ramirez back to shortstop. Or ... hey, is there a move the Dodgers have made this year that hasn't paid off? The Braves, Pirates, Cardinals and the rest had better bring their 'A' games this October. ...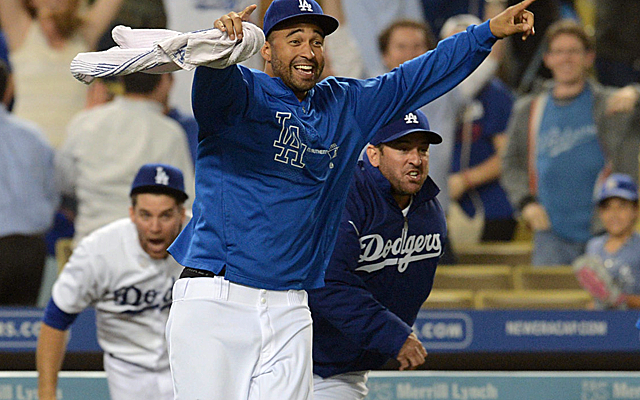 The Weekend Buzz while you were taking your daughters and friends to see Taylor Swift's Red Tour. …
1. These Dodgers No Boneheads: This just in – the Dodgers have l-l-l. … Ahem, let's try that again. They've lossss. … Wait. What?
Really. Sunday in Philadelphia. Their 10-game winning streak came to an end, 3-2. The word is "lost."
Until Ryne Sandberg wrangled his first victory as a major-league manager, last time a team reeled off 42 wins in a span of 50 games, it was just months after the bombing of Pearl Harbor. The Cardinals did it during one scorching span in the summer of 1942.
Only two clubs in history have compiled better records over a 50-game span than the Dodgers' 42-8 through Sunday's loss t the Phillies: The 1906 Tinker to Evers to Chance Cubs and the 1912 New York Giants of John McGraw and Fred "Bonehead" Merkle.
It is easier to buy Grumpy Cat on the New York Times best-seller list than what the Dodgers have accomplished since June 22, when their 30-42 mark was tied for the fourth-worst record in the majors.
That, of course, was before Yasiel Puig became a full-blown cartoon character (albeit, one who still misses cutoff men) and Matt Kemp landed back on the disabled list for something like the 12th time this season. And maybe not coincidentally, it was only a few days after manager Don Mattingly finally pulled the plug on Brandon League and named Kenley Jansen closer.
Now? You cannot seriously look at the National League and not pick the Dodgers to win what would be their first pennant since Kirk Gibson and 1988.
You cannot envision Clayton Kershaw, Zack Greinke, Hyun-Jin Ryu and Ricky Nolasco in a short series in October and not think these Dodgers are strong favorites to win their first World Series since Tommy Lasorda moved his belongings (and Frank Sinatra) out of the manager's office.
Mattingly's crew has become something out of a Dr. Seuss book: They win here, there, everywhere. That 15-game road winning streak ended, but they've still won 19 of 21 away from Dodger Stadium since July 7. They're a Ron Guidry-like 25-4 since the All-Star break (OK, so that line worked better before Sunday's loss). They're 12-1 in their past 13 one-run games.
Not only has Puig become a breakout star, Carl Crawford displayed his value and a fierce debate developed over whether Puig, Adrian Gonzalez or Hanley Ramirez is the team MVP, the club's pitching has ascended into elite status.
Kershaw produced his seventh scoreless start of the season Saturday, raising his record to 12-7 and lowering his major league-leading ERA to 1.80. Before handing him this year's Cy Young award – c'mon, for aesthetic purposes, let's at least wait until the season is finished – chew on this: Kershaw's career ERA now is 2.63, lowest by a starter with at least 1,000 innings since 1920. One of his mentors, Sandy Koufax, surely is smiling somewhere today.
Since that June 22 date, into Sunday, the Dodgers' 2.45 ERA was the majors' best. The starters' 2.54 ERA led the majors, and the bullpen's 2.24 ERA ranked second in the majors. The Dodgers have produced eight shutouts during this time, and they haven't even gone into full Fear the Beard mode yet and activated Brian Wilson.
All that talk about needing time for the pieces to fit? It's paying off.
All that perseverance during a rash of injuries? The ice bags are melting.
All of that patience shown when Mattingly seemed one phone call away from being fired? Best move of the season.
Question isn't, "Can these Dodgers win the World Series?" Question is, if this doesn't stop soon, how can they not?
2. Alex Rodriguez is a Bonehead: We still have not heard one denial that he gobbled performance-enhancing drugs like Apple Jacks. And now his legal team, whose clear strategy is to change the subject by creating a circus atmosphere, accuses the Yankees of not telling A-Rod how badly his hip was hurt last year in an effort to get out of the contract. Which, by definition, also accuses the Yanks of willfully torpedoing their own season last October. Love the part where his lawyer tells the New York Times the Yanks "rolled him out there like an invalid."
3. A-Rod, Ryan Braun go Gonzo: Now Ryan Braun is on-deck to issue his long-awaited apology. Braun, A-Rod, it's all straight out of the late Hunter S. Thompson, who famously observed, "When the going gets weird, the weird turn pro." Uh-huh.
4. Kirk Gibson livid over Braun's cheatin' heart: The manager of the club that was bounced from the first round of the 2011 playoffs by Braun's Brewers remains seriously steamed. And all the credit to Gibson for continuing to pepper Braun with sorties. "There were other times in my career when I did overcome cheaters," Gibby told reporters over the weekend, while awaiting "unrehearsed" answers to some hard questions.
5. So long, Charlie Manuel: He is such a baseball character, guaranteed there are infield-dirt stains underneath his fingernails. And all you need to know about the kind of guy Manuel is is this: On the day after he was fired by the Phillies, he honored a longstanding commitment at a Philadelphia-area mall to sign autographs.
A "people's person" to the end, Manuel's 780 wins are more than any other manager in Phillies' history. The 2008 World Series stamps him as one of the greatest managers in the history of the organization.
My favorite scene with him came moments after that World Series triumph, when he stepped into the media interview room and immediately called out to Paul Hoynes, the longtime Cleveland Plain Dealer Indians beat writer who covered Manuel's first big league managerial stint.
"Hoynsie, I'll ask you something," Manuel cackled. "Why don't you go back to Cleveland and tell them that we won a World Series, all right? OK?"
As if Cleveland had no televisions, radios or Internet service. It was at once charming and hilarious, and a deep revelation. Beneath Manuel's rare country-bumpkin/baseball-savant exterior was a fierce pride. Godspeed, Charlie. And see you behind some batting cage next spring training.
6. Expanded Instant Replay coming in 2014: Baseball's next gigantic task: Ensuring that managers arguing with umpires doesn't go the way of flannel uniforms and Disco Demolition Day.
7. Miguel Cabrera aiming at back-to-back Triple Crowns: The Taylor Swift of baseball.
8. Max Scherzer proving wins matter: Yes, yes, pitcher wins are overrated. Ahem. Unless you become only the fifth pitcher since 1912 to win at least 18 of 19 decisions. Then it's pretty cool.
9. Stephen Strasburg no match for Waffle House: Since opening one in Turner Field on July 26, the Braves are 13-3. Maybe it was the smell of butter and syrup that caused the Nationals' erstwhile ace to drill Justin Upton and then throw two pitches behind Andrelton Simmons before being ejected from Saturday's 15-inning marathon. Overall, the Braves are 19-3 since the opening of the grand Waffle House.
10. Buzzard's Cubs' Luck: Manager Dale Sveum yanked Starlin Castro from a game for an egregious mental error in a week in which Alfonso Soriano clubbed five homers and popped for 18 RBI for the Cubs Yankees.
If the slow-play for Martinez, Hosmer and Arrieta sounds familiar, it should

The Nats will host the All-Star Game in 2018

The Orioles are looking to trade Machado heading into his walk year
The Cardinals have been linked for a while to the Baltimore star

Gallardo spent the first eight years of his career in Milwaukee

MLB revenues are at a record high right now, but teams aren't spending it on players