Weekend Buzz: Hunter's return ruined as Angels wax Tigers
The Weekend Buzz while you were B-ing strong from Boston, Mass., to West, Texas, and at all points in-between.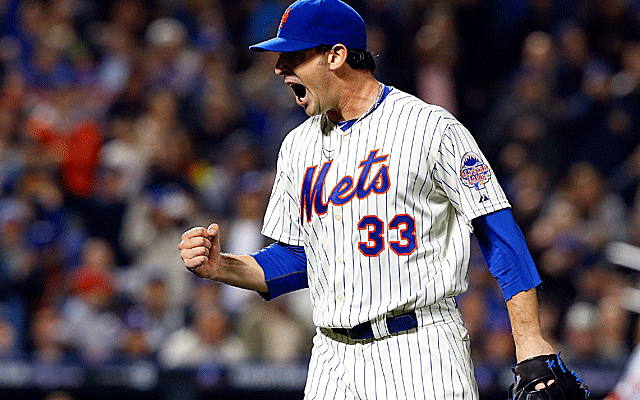 The Weekend Buzz while you were B-ing strong from Boston, Mass., to West, Texas, and at all points in-between. …
1. Motown Hit Parade: Jim Leyland could not have drawn it up any better. Austin Jackson and Torii Hunter, the Tigers' one-two hitters, breezed into Anaheim this weekend ranked one-two in the American League in hits.
Hunter led the AL with 26. Jackson was second at 25.
At that pace, Detroit's three-four hitters -- a couple of burly sluggers you may recognize, Miguel Cabrera and Prince Fielder -- are going to be feasting all summer upon RBI opportunities. Medium-rare, please.
"Those two guys get hot and we have those two big guys behind them, that's pretty darn good," Leyland, the Tigers' manager, was saying.
Then, almost as if he knew something, he continued: "But seven through nine have to do something, too. You can't expect those guys to stay on the pace they're on.
"Generally, that's not going to happen."
This was Friday afternoon.
By the time the Angels had finished waxing the Tigers on Sunday, that pace had slowed. Generally.
While Hunter basked in the love for his homecoming -- standing ovations, mushy signs in the stands, love all around -- Jackson had a tough go. He was 0 for 14 in the three games, including an ugly 0 for 7 Sunday.
So the Tigers, after winning four of the first five games on their nine-game West Coast trip, head home with a few things still to discover about themselves.
Just when it looked as if maybe they would race out of the gate, they hit the skids as if it was early 2012.
The problem in Anaheim wasn't necessarily Detroit's seven, eight and nine hitters. The bullpen got blasted on Friday night (Octavio Dotel in particular), and starter Rick Porcello imploded on Saturday.
Hunter still led the AL with a .400 batting average on Sunday, and he and Jackson were atop the AL in multi-hit games (Hunter first with 11, Jackson tied for second at 8).
"They kind of set the tone for us, and so far they've been setting it real good," Leyland said.
Hunter, 37, is playing as if he's trying to earn his entire two-year, $26 million contract in two weeks. He was the Angels' MVP down the stretch last summer and might be even better now.
And he's got puppy-love eyes for Detroit.
"I didn't know they were this fun," he said of Michigan fans. "These people are into Tigers baseball. Tigers fans are big. They're huge.
"They've embraced me and accepted me."
The Tigers are loving Hunter right back, particularly the way he's immediately taken some of the younger players under his wing. Especially Jackson, who, among other things, found himself in courtside seats with Hunter this spring to watch Kobe Bryant and the Lakers play in Orlando, Fla.
"He's brought some leadership, I think, to basically a young outfield crowd of Jackson, Andy Dirks and Matt Tuiasosopo," said Tigers third-base and outfield coach Tom Brookens. "When I'd bring the guys together even in early spring when the minor-league invitees were still there, I'd make a point and then I'd make it a point to ask Torii how he felt about it."
You can hear the influence in Jackson.
"We're just trying to feed off of each other," he says.
You can hear the determination in Hunter.
"We push each other," he says.
Jackson, 26, loved the courtside look at Kobe this spring ("That was really awesome") and is picking things up daily from Hunter.
"It is pretty cool," he said. "He's a veteran guy with a lot of experience who is willing to share a lot of the experiences he's had. That kind of puts you at ease. Because a lot of things you're going through, he's been through."
Including heading into this next stretch. Until this weekend, it was a great 2 1/2 weeks for the guys who need to get on in front of Cabrera and Fielder. But there's also a long way to go.
2. The Red Sox, the FCC and you: Boston's pregame ceremony Saturday afternoon in Fenway Park was so pitch-perfect and so moving, even the FCC could not find fault with David Ortiz using a naughty word on television.
"This is our f------ city," Ortiz said. "And nobody's going to dictate our freedom."
Not long afterward, from the official Federal Communications Commissioner Twitter account, came this from chairman Julius Genachowski: "David Ortiz spoke from the heart at today's Red Sox game. I stand with Big Papi and the people of Boston -- Julius."
Good times never seemed so good (so good, so good, so good).
3. Rangers fans go West, big-time: Not to be forgotten, the city of West, Texas, is hurting badly after a fertilizer plant explosion killed at least 14 and injured more than 200 people. And as the Rangers hosted the Mariners this weekend, their great fans proved that West will not be forgotten.
During the three-game series, the Rangers said Sunday that they collected "tens of thousands of essential items for the West victims and residents that filled two large meeting areas at Rangers Ballpark in Arlington as well as hundreds of thousands of dollars in gift cards." Plus, some $40,000 in cash donations.
At the same time during one of the saddest and scariest weeks we can recall, events conspired to show how sports can be wholly insignificant in the moment … and yet, in the end, incredibly meaningful as a communal gathering place and mobilizing force.
4. What's Up Doc? Not since Dwight Gooden have the Mets produced as exciting a starting pitching prospect as Matt Harvey. And by the time the kid was finished with the Nationals on Friday night -- with Gooden watching in Citi Field -- he had done the seemingly impossible. He had turned Stephen Strasburg into yesterday's news.
5. Jean, Jean, Running Machine: Brewers shortstop Jean Segura swiped first base Friday night in one of the most bizarre plays you've ever seen. He chose a direction even the great Bob Uecker never thought of.
6. Grass fed, too? Great line from Torii Hunter in Anaheim this weekend. Even at 37, he thinks he can play beyond the two-year deal he signed with the Tigers: "I have good genetics. I'm no steroids freak. I'm organic."
7. Home-cooking in NL West: Psst … the secret as to how the Rockies and Giants are atop the division? Colorado is 8-1 in Coors Field (8-0 until Sunday's loss to Arizona). The Giants are 7-2 in AT&T Park -- and after sweeping the Padres this weekend, now have won 16 of their past 20 regular-season games at AT&T.
8. Choo, as in Ow! He's made of steel, Teflon ... or some awfully slow-twitch muscles and and no nerve endings. Whatever, new Reds leadoff man Shin-Soo Choo was hit by two more pitches Sunday against the Marlins, bringing his NL-leading total to an astounding nine. In 19 games! At his current pace, Choo will be hit by 77 pitches this season. The major-league record is 51, set by Hughie Jennings in 1896. Now you understand why Jennings' nickname was "Ee-Yah", right?
9. Stormy days for Dodgers: Stephen Fife started Sunday in Baltimore, but it was the late, great Barney Fife who once said: "A dog can't get struck by lightning. You know why? 'Cause he's too close to the ground. See, lighting strikes tall things. Now if they were giraffes out there in the field, now then we'd have trouble." With Zack Greinke, Chris Capuano and now Chad Billingsley on the DL, the $230 million Dodgers are resembling a herd of giraffes in a lighting storm. Trouble.
10. Where it began: Los Angeles, Saturday, on a 4:30 a.m. flight. Neil Diamond jetting all the way to Boston, showing up unannounced at Fenway Park and asking if he could sing Sweet Caroline that afternoon will remain as one of the coolest moments of the season. Was in the spring, and spring became the summer. …
Does the Jackson signing mean the Giants are out on Lorenzo Cain?

Acuna edged out Shohei Ohtani and Vladimir Guerrero Jr.

There's no reason to run over the cases for and against Bonds, so let's have fun instead
The coveted right-hander would certainly be a fit in Milwaukee

We rate the best mustaches from random baseball cards because, why not?

Colon wants to break a Dennis Martinez record