Weekend Buzz: Rangers, Cardinals sky high after tough decisions
The Angels have turned things around, winning eight in a row, but they remain a speck in the Rangers' rear-view mirror. Smart decisions in Texas and St. Louis continue to make life tough on their opponents.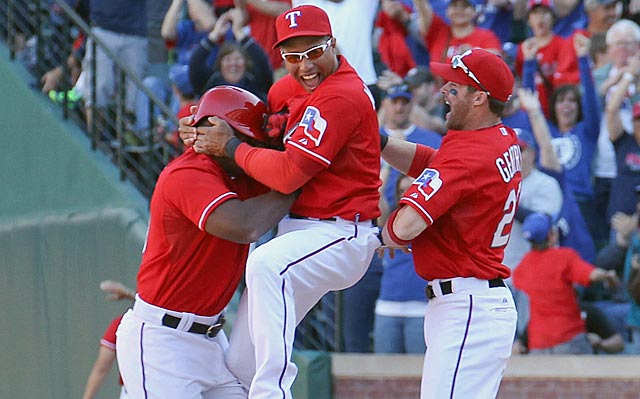 The Weekend Buzz while you were dusting off your copy of Alice Cooper's School's Out ("well we got no class, and we got no principles ...") and munching on graduation cake. ...
1. The Rangers, Cardinals and guardian angels: One of two Los Angeles managers officially is off the griddle (for now). But even while Mike Scioscia leaves all of the La-La angst for Don Mattingly, the Rangers and Cardinals (and Red Sox, even) are the ones looking smarter than ever.
Finally, Scioscia's club no longer is being fluffed into omelets by every single opponent on its schedule. Mike Trout is whipping the Angels into shape, hitting .366 with eight home runs this month, hitting for the cycle last week, launching toward the same stratosphere that he inhabited most of last summer.
But no matter what Trout is up to, answer these questions:
Would you rather have the Texas Rangers' collection of talent -- major and minor leagues -- or Josh Hamilton and C.J. Wilson?
Would you take what the St. Louis Cardinals have going on ... or Albert Pujols?
Alex Rodriguez once derisively was dubbed "The Cooler" because every team that he moved to -- first the Rangers, then the Yankees -- became worse in the immediate couple of seasons after he joined them than they had been before.
Pujols and Hamilton each has shown those same tendencies with the Angels as the Cardinals and Rangers continue to thrive even without them. And, maybe, partly because of their absence.
The Rangers went into Sunday owning the majors' best record at 32-17 (.653) despite the decision last winter not to mortgage their future with an over-commitment to Hamilton (and, after parting ways with Wilson, so they'd have money for Yu Darvish two winters ago).
The Cardinals on Sunday owned the game's second-best record at 31-17 (.646) even after parting with "franchise player" Pujols two winters ago.
The Angels -- proud owners of Pujols, Wilson and Hamilton after their peak years -- have won eight consecutive games and still trail the Rangers by 9 games.
Hamilton is emerging from his walking zombie start with three home runs during his past 12 games. But he was comatose long enough to remind why the Rangers made the smart decision not to commit to him for five more years, the length of time that he signed for in Anaheim.
Pujols, with two bad legs (a sore foot and a sore knee), clearly is not the middle-of-the-lineup presence that he once was.
You see this, and you think "yesterday's news."
You look up and see Jurickson Profar saying hello with a leadoff homer for Texas on Sunday, and you see a wide-open future.
Profar, by the way, at 20 years and 95 days, is the youngest player to start a game with a homer since Lou Klimchock of the Kansas City A's in 1958.
Oh, and before we leave Los Angeles, how about this:
Seven clubs are playing at a .600-or-better clip. Along with the Cards and Rangers are the Red Sox -- whose shipping of Adrian Gonzalez, Josh Beckett and Carl Crawford west last August clearly has contributed to the Dodgers' ongoing misery.
Buyer beware, indeed.
2. Angel is a Centerpiece: You will not find a more thrilling finish to a game than the Giants' Angel Pagan blazing around the bases on Saturday with a two-run, inside-the-park, walk-off home run. Not that you don't see this every day, but the last Giants player to pull off that feat was Hall of Famer Bill Terry back on Aug. 24, 1931, for the New York Giants, according to STATS, LLC. The play took two things once Pagan drilled the ball over the head of Colorado's Michael Cuddyer: Pagan's speed, and the best third-base coach in baseball, Tim Flannery.
3. Third-base box is where it's at: After all the blame that these poor guys get, great to see a couple of third-base coaches shine over the weekend.
There was Flannery, who was galloping home alongside Pagan.
"I know two things," Pagan told reporters. "I'm going to score, and Flannery is going to score with me. He's amazing. I'll be honest with you; I was running out of gas a little bit around third. He helped me get there."
Then there was the Phillies' Ryne Sandberg, manager-in-waiting for when Charlie Manuel retires. Michael Young, not exactly Usain Bolt, scored the go-ahead run from first base in Philadelphia's win over the Nationals on Saturday because of Sandberg was heads up in sending him just ahead of Bryce Harper's throw.
Manuel chided the Philadelphia media for questioning before the game whether Sandberg needs to be more aggressive.
"I think he was pretty aggressive there," Manuel told reporters. "That's a gutsy, aggressive move."
4. Donnie (still in) Baseball: A funny thing happened amid wild media speculation last week that Dodgers manager Don Mattingly was in his final days as skipper: He wasn't.
"I expect Donnie to be here for a long time," team president Stan Kastan said Friday. And while the definition of "long time" is open to interpretation, good for the Dodgers for staying the course.
"We'll fire people if we need to," Kasten said. "We don't want to."
5. Spoiler Alert: If you take a no-hitter into the ninth inning ... and it happens to be against the Twins ... and Joe Mauer happens to be due to bat ... forget it. He now has busted up three no-hitters in the ninth inning: The Tigers' Anibal Sanchez on Friday night, the White Sox's Gavin Floyd in 2008 and a combined no-hit bid by the Rangers in 2010. And get this: Since Mauer's debut, the Twins have been no-hit just once. It was last year, when the Angels' Jered Weaver got them ... and Mauer was looming on deck as the game ended. True story, colleague Danny Knobler looked it up.
6. Sweet Caroline, look who's back in Boston: No wonder Indians manager Terry Francona was greeted so warmly in his return to Fenway Park this weekend. The Red Sox waxed Cleveland in three of four games.
7. Please, no. Not a knuckle sandwich: Curtis Granderson returns from a broken bone, plays eight games, and now breaks a knuckle and is disabled again? That's just the way the Yankees roll in 2013. Prediction: The next washed-up has-been who will dramatically produce in Granderson's absence will be Roger Repoz. Or Don Buford.
8. Don't look, Ethel (boogity, boogity): Streakers. They were all over the place this weekend:
The rebounding Braves, like the Angels, were winners of eight in a row going into Sunday night's game with the Mets. They're playing Powerball: Their 64 homers tie for the second-most in the majors with the Rockies. The Orioles have 69.
The Reds won 12 of 14 until losing to the Cubs on Sunday, and their 31-17 record was their best start since 1995, when they won the NL Central.
The Twins lost 10 in a row and barely avoided the humiliation of being no-hit by Sanchez in Detroit on Friday, until finally beating the Tigers on Saturday. The Twins were outscored 64-28 during the streak.
The Mariners had lost eight in a row until Sunday, their worst streak since losing 17 in a row in July 2011, and the vultures that were circling Mattingly last week were last seen heading Eric Wedge's way.
The Royals, after being swept by the Angels, have lost five in a row, 16 of their past 20 and eight consecutive home games. The Royals have scored three runs or fewer in 13 of those 16 losses. That 17-10 start now is hard to remember, what with the White Sox having dumped Kansas City into fourth place in the AL Central.
The Cubs snapped a six-game losing streak with Sunday's win over the Reds, a rare victory moving them to 3-16 against the Reds since last August.
The Mets had lost five in a row and eight consecutive home games going into Sunday night's affair with the Braves. C'mon, Matt Harvey can't pitch EVERY game.
The Marlins now have lost six in a row. But you really don't care, do you?
9. Gausman Causway: Clearly, Kevin Gausman's time has arrived in Baltimore. He is a closer ... right? Right?
10. El Oso Blanco and my nephew: The Evan Gattis Story continues to be the stuff of fiction. Take his first career grand slam on Wednesday in Atlanta: Know who caught it? My nephew, on one bounce, one-handed. Kid you not. The day before, I flew across the country for his high school graduation. Braves officials were ushering Matt Gray, pride of Peachtree City, down to the clubhouse after his terrific grab. But, alas, Gattis never requested the ball. So they took Mr. Gray back to his seat, where he watched the rest of the game. He still can't believe Gattis didn't want the ball. If the Braves' breakout star changes his mind ... well, let's just say I know a guy who can deliver it to him.
Get 15 percent off any order of more than $75 at CBS Sports Shop

Need a gift for someone who loves baseball? We're here to help as the holidays approach

Several prominent Japanese-born Mariners and ex-Mariners have said they will help as well
Get your sports fans something that they'll wear all year

No, you're not imagining things. This MLB offseason has been very slow compared to the last...

Francesa will retire from radio next month, so he'll have plenty of free time next summer