Weekend Buzz: Red Sox, Dodgers both benefiting from megatrade
One year ago Sunday, the Red Sox and Dodgers rocked the baseball world with a shocking trade. Each franchise was completely changed, and for the better.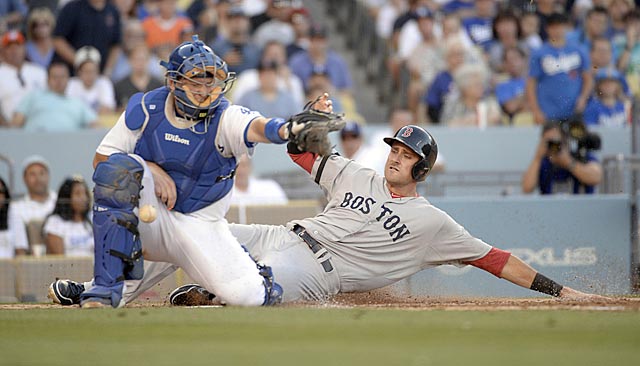 LOS ANGELES -- The Weekend Buzz while you were sorting through one of the English language's most depressing phrases, "back to school" ...
1. Anniversary Cake, mmm: Koji Uehara is a strike-throwing machine for Boston, one enormous reason why the Red Sox continue to blaze along in first place in the AL East. He now has thrown 20 2/3 consecutive scoreless innings, the longest such streak in the majors.
He also is an ancillary part of what remains, even 12 months later, one of the game's most fascinating topics: The historic Red Sox-Dodgers deal that happened one year ago Sunday.
No, Uehara technically was not a part of the trade that sent first baseman Adrian Gonzalez, outfielder Carl Crawford, pitcher Josh Beckett, infielder Nick Punto and roughly $10 million to the Dodgers for first baseman James Loney, infielder Ivan DeJesus Jr., right-handers Allen Webster and Rubby De La Rosa and first baseman/outfielder Jerry Sands.
But in being able to clear $261 million in the future contracts of Gonzalez, Beckett and Crawford, the Red Sox had a rare opportunity to essentially hit the "reset" button. Money freed up in the deal allowed them to distribute it to a handful of free agents this winter, including Uehara, Mike Napoli, Shane Victorino, Jonny Gomes, Ryan Dempster and Stephen Drew.
"Super fun" is the way Boston designated hitter David Ortiz describes this year from last year's train wreck. "I like to compete and win, and this is like a dream come true."
No way would either of these clubs be in the position they're in now without the astounding deal general managers Ned Colletti (Dodgers) and Ben Cherington (Red Sox) pulled off, with essential involvement from each side's ownership, of course.
It changed the path of both franchises.
"I think we would probably have made a run at Victorino if we don't get Carl," Dodgers manager Don Mattingly says, noting how much he liked Victorino during the center fielder's brief stay in Los Angeles during the second half of last season. "And getting Adrian, that changes you again."
Even with Yasiel Puig's incredible talent, Hanley Ramirez's scorching bat and Clayton Kershaw's spectacular season, Mattingly right now endorses Gonzalez as the Dodgers' team MVP.
"When we were struggling offensively, he was a guy who gave us offense," Mattingly says. "And when we got rolling, he was still there. He's not flashy. ... "
Sometimes steady is better than flashy. Gonzalez not only leads the Dodgers in home runs (17), RBI (81) and hits (143), he's hitting .342 with runners in scoring position -- and .435 with two outs and runners in scoring position.
Crawford (.292, five homers, 23 RBI) is back and healthy after physical issues during his two miserable years in Boston.
"On the inside, it's a good feeling all over again," Crawford says. "I can't really express how good I feel. I'm so thankful the Dodgers made that trade.
"Things can't always be good. But they can't possibly be that bad again. At least I'm happy."
With Sunday's 8-1 loss to Boston, the Dodgers suffered their first series loss since Pittsburgh took two of three from them in mid-June. They now are 14-1-4 over their past 19 series. They are 29-7 since the All-Star break and are 46-12 since June 22. Eleventh in attendance in the National League two years ago in the final year of the Frank McCourt debacle, the Dodgers this year lead the NL in attendance.
The Red Sox, following last year's 93-loss run at Barnum & Bailey, are tied for the major-league lead with 11 walk-off victories, their most since 1961, when Pinky Higgins' gang checked in with 12. They own the AL's fourth-best record, and some Sox people nominate first-year manager John Farrell as the team MVP for the way he's put things back together – including the coaching staff – after Bobby Valentine's destructive run.
Maybe so. But for both of these teams, talk of who's the MVP takes back-seat to the Monster Trade that will be spoken of as long as there is a Green Monster.
Since taking over as closer in June, Uehara owns a 0.32 ERA and a 0.43 WHIP. Yeah, you can picture a world in which these two clubs meet in late October.
"It can happen," Ortiz says, and why not?
2. Dodgers can do no wrong: Not when Vin Scully announces he will return for a 65th season in the booth next summer. That's sixty-fifth. 6. 5.
3. Max Scherzer cannot lose: He's now 19-1, but that's not why the Tigers are as serious a threat as anybody else to win the World Series. This is: They have the second-highest strikeouts-to-walks ratio of any team in AL history (after the 2006 Twins of Johan Santana and Francisco Liriano) at 3.27. Three Tigers starters rank among the AL's top 10 qualifiers, as STATS LLC points out: Anibal Sanchez (9.79, second), Scherzer (9.66, third) and Justin Verlander (8.60, eighth). Power pitching wins in October.
4. Nelson who? Predictions of the Rangers' demise with Nelson Cruz suspended, popular a couple of weeks ago given their underperforming offense, were greatly exaggerated. Instead of collapsing, the Rangers have hit the accelerator. They had won 19 of 24 games into Sunday, equaling the second-most wins in a 24-game stretch in club history. Replacement right-fielder Alex Rios was hitting .283/.309/.396 with a homer and five RBI in his first 13 games in Texas.
5. Derek Jeter back Monday: C'mon, Yankees. We've already fallen for this at least twice this season.
6. Roy Halladay returns from shoulder surgery: His first words upon starting Sunday: "What do you mean we're not in first place? And where the hell is Charlie Manuel?"
7. Hard Day's Night for Phillies, D-Backs: No truth to the rumor that Halladay's surgery was in the first inning of Saturday night's 18-inning marathon … and he had rehabbed and recovered by the end of it. But, wow. Included in Arizona's 12-7, 18-inning victory:
• The Diamondbacks tied the 2004 Phillies for the highest single-game walk total (18) since the Washington Senators' 19 on Sept. 14, 1971.
• At 7 hours, 6 minutes, it was the longest game in Diamondbacks' history. It was the fourth 18-inning game in Arizona history, and the Dbacks are 4-0 in those games.
• Trevor Cahill became the first pitcher to throw at least four innings within two days of a game in which he pitched at least seven innings since the Reds' Mario Soto on July 18, 1980, against the Mets, according to the Elias Sports Bureau.
• The Phillies used 10 relievers, including two position players: Casper Wells, who was tagged with the loss, and John McDonald. It was the first time a team used two position players to pitch was when the Cardinals used Felipe Lopez and Joe Mather against the Mets on April 17, 2010.
• The last time the Phils had used two position players to pitch was on July 22, 1945, in Wrigley Field when first baseman Jimmie Foxx and outfielder Rene Monteagudo pitched.
• The last MLB club to get 17 1/3 innings pitched from relievers in a single game was when the Brewers did it in a 25-inning game with the White Sox on May 8, 1984.
8. Throwing the Reds and Pirates to the Lyons: Fun times in the NL Central beginning this week: The Cardinals host the Reds on Monday night to start a run of 13 consecutive games against Cincinnati and Pittsburgh as things in the Central get really serious. St. Louis is sending rookie Tyler Lyons to the mound Monday in a promotion from his recent bullpen duties.
9. Padres tired of Edinson Volquez's act: In a surprise move, they designated him for assignment Saturday after one final crappy start Friday. You know who could use "Volky"? The Reds, who are down two starters in Johnny Cueto (lat) and Tony Cingrani (lower back strain). Of course, the Reds tired of Volky's act long ago by trading him to San Diego in the first place.
10. Angels' Kevin Jepsen undergoes emergency appendectomy: Yeah, and internally, half of the organization was blaming general manager Jerry Dipoto for causing it, while the other half was blaming manager Mike Scioscia.
The O's need rotation help, and Cobb is available for hire

The Red Sox and Cardinals are expected to make trade offers next

The free agent first baseman may be a fit in St. Louis
The front office changes in Atlanta continue

The Marlins are more likely than you think on our list

Judge finished a distant second in the balloting and he paid respect to the winner