Weekend Buzz: Some ugly baseball, and not just Marlins' orange jerseys
Scott Miller's Weekend Buzz provides a catch-up for while you were toasting the life and times of country music legend George Jones, who once drove a riding lawn mower to the nearest liquor store after his wife seized his car keys.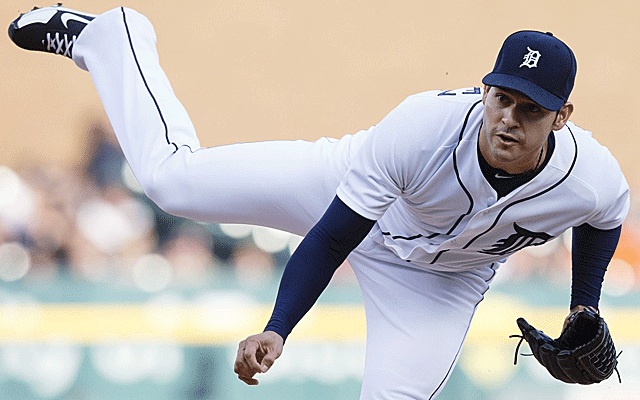 The Weekend Buzz while you were toasting the life and times of country music legend George Jones, who once drove a riding lawn mower to the nearest liquor store after his wife seized his car keys. …
1. These Days (I Barely Get By): There are some bad baseball teams out there right now. Exceedingly bad. Just mind-bending, pants-scorching, pupil-searing, Abner Doubleday-offending brutal.
Click the wrong button on your remote -- or, if you're a South Florida resident, take advantage of the wrong free offer -- and next thing you know, you've put yourself at risk for permanent scarring.
And that's not even because of the Miami Marlins ' bright orange jerseys, which send out enough UV rays all by themselves to blind the sun itself. It's the players in those jerseys.
The Marlins, Houston Astros and Chicago Cubs all look like they've spent too much time shopping in Macklemore's Thrift Shop. And, until this weekend, the San Diego Padres and Seattle Mariners , too.
Many folks thought the Oakland Athletics were a juggernaut two weeks into the season when they raced to a 12-4 start. Well, from the moment they ran their record to 6-0 against Houston, the not-so-Swingin' A's have lost eight of their past 10 games.
It is neither a surprise nor a secret that the Astros resemble a Double-A team -- as one scout who has seen them recently says -- but the depth of their pitching woes and swing-and-miss penchant remains breathtaking. Astros hitters led the majors with 244 strikeouts entering Sunday, and it wasn't even close. Only three other clubs had more than 200, and the closest was the Braves at 213.
They've now lost seven of their past nine games, and they hit .104 (5-for-48) with runners in scoring position this weekend in Boston.
Texas Rangers manager Ron Washington the other day described playing the Astros as "scary" because you never know when they're going to put everything together for a given game.
To his credit, he kept a very straight face when saying that. There must be a Texas state law requiring residents to stick up for each other. I mean, Erik Bedard is 0-4 with a 10.32 ERA in four starts. Forget the debate over whether the National League will have a DH anytime soon; when will MLB invoke mercy rules?
Which brings us to the Marlins. Whether or not owner Jeffrey Loria already is sabotaging rookie manager Mike Redmond is beside the point. The point is that nobody has run that boob out of baseball yet and that anybody would even accept free tickets and set foot in his morally bankrupt ballpark. We know that if Loria hasn't sabotaged Redmond yet, it's only a matter of time.
The Cubs? Even the Milwaukee Brewers were practically offering written apologies for building part of last week's nine-game winning streak with three W's over the sloppy Cubbies. The Brewers were out-hit in the three games 22-16 but, because of the Cubs' flubs -- six errors -- it didn't even matter.
Starters Carlos Villanueva , Travis Wood and Jeff Samardzija have a combined 2.52 ERA in 15 starts … but have just four wins.
2. Bluto's double-secret probation: The Padres and Mariners moved from the above list into an area in which they get the benefit of the doubt (for now) after this weekend.
Until finding a pulse in sweeping the Giants, the Padres started the season 4-2 against the Dodgers … and 1-13 against Everybody Else. Doing everything they can to fully extinguish baseball interest in San Diego, the Padres are still in the middle of a cable-television war that is keeping them off the air in 22 percent of San Diego County.
And threatening to sabotage the one constant of the past several years -- good pitching -- the Padres have scooted in the outfield fences.
When mighty Alexi Amarista powered one over the right-field fence on Sunday, it was the Padres' first homer that directly benefited from the shortened fences. Opponents had hit three.
"Three? That's all you counted?" reliever Luke Gregerson says.
Welll ... Unofficial count among Padre pitchers: Five.
"I'm a pitcher. I don't think the fences should have been moved in," Gregerson says. "I think it's an advantage for the other team.
"But that doesn't change the fact that we need to do our job and keep balls down in the zone to eliminate long fly balls."
The Mariners? They're the only team that has lost two of three to the Astros this season. And they've done it twice. Isn't it time to move on from Justin Smoak if this is all there is?
Then again, the M's beat the Los Angeles Angels three of four this weekend … so what does that say about the Angels?
3. Just don't end up like Denny McLain:  Anibal Sanchez set a Detroit Tigers record by striking out 17 hitters in a game on a memorable Friday night. "We're pissed off. We're embarrassed," Atlanta Braves second baseman Dan Uggla said. Then he went to the batting cages and struck out some more.
4. Reese Witherspoon Bad Citizen of the Week: The Pittsburgh Pirates ' Jonathan Sanchez drew a six-game suspension for drilling the Cardinals' Allen Craig after surrendering two homers and a base hit to start Friday night's game. "Do you know my name?" Sanchez should have demanded, Reese-like, because then MLB's discipline police might have given him a pass, understanding that this is the guy who never knows where the ball is going.
5. Reds' bats sequestered: If our government can pull the chains off the Federal Aviation Administration and work to stop flight delays, Dusty Baker should be able to call in a favor somewhere, right? Until this weekend, the Cincinnati Reds hadn't been held to one hit in consecutive games since July 5-6, 1900, according to the Elias Sports Bureau. Think that was Pete Rose's rookie year.
6. Magill, Magoo … who can keep track? When Matt Magill started Saturday instead of injured Stephen Fife, he was the ninth starting pitcher used by the Los Angeles Dodgers this season. Last time they needed nine different starting pitchers in the first 23 games was in 1942. Don Mattingly, meet Leo Durocher.
7. The New York Yankees , too: Catcher Francisco Cervelli broke his right hand, and starter Ivan Nova left Friday night's game with elbow pain. Derek Jeter told them they'd be back by opening day.
8. Big Papi lets his bat do the talking:  David Ortiz now has two homers, 11 RBI and is batting .516 in eight games since returning to the Boston Red Sox , and everyone seems to agree his RBI-to-profanities-on-national-TV ratio is getting back to where it should be.
9. Something smells: So the Toronto Blue Jays were swept by the Yankees in a four-game series this weekend. "It's frustrating. I'm giving you guys the same comments every stinking day, and I'm getting a little bit tired of it," Jays manager John Gibbons said Saturday. Or did he say it Sunday? Friday? Thursday?
10. Cespedes for the rest of us: Is it any coincidence that the A's lost eight of nine … then popped back to life on Sunday with the return of Yoenis Cespedes , whose two-run, game-tying homer in the ninth was one of those pivotal points of the season? No, it isn't.
Sale becomes the first AL pitcher to reach 300 strikeouts since 1999

Steve Balboni's long-standing record of 36 has finally fallen

Several players called for the netting to be extended down the base lines following Wednesday's...
Maria made landfall as a Category 4 on Wednesday

The players are trying to do their job and don't want to see anyone hurt

The child is receiving medical attention at an area hospital, the Yankees said in a statem...