Weekend Buzz: These guys a deal away from stretch-run stardom
News that the Rangers were poised to acquire Cubs starter Matt Garza over the weekend is only the latest sign the trade market is close to bubbling over. With July 31 only 10 days away, here are 10 players who could be dealt ... and the perfect landing spots for each.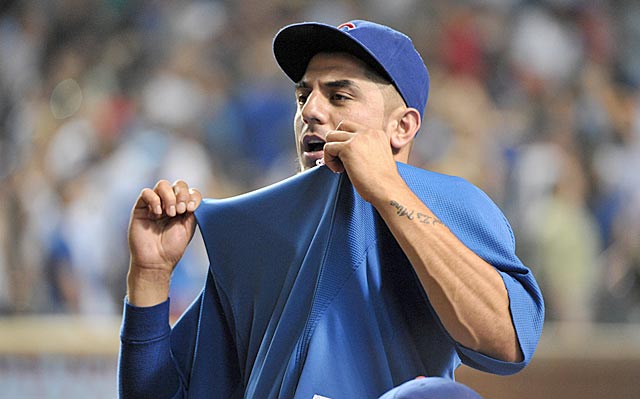 ARLINGTON, Texas -- The Weekend Buzz while you were seeing The Way Way Back (excellent) and 20 Feet From Stardom (a must-see for music lovers). The latest with the trade deadline approaching. ...
1. Matt Garza, Cubs: How do you like your trade rumors? Sunny-side up? Over easy? Scrambled? Runny? Uh-huh. Ten days from the deadline, this weekend reminded how easy it is to wind up with egg on the face this time of year.
Moral No. 1 of the Garza story: Who knows when the Cubs, Rangers and Red Sox are involved? Last year, the Cubs dealt Dempster to Texas, then he signed with the Red Sox over the winter as a free agent. Might Garza come close to following that path ... with only his rumor (not his bags) landing in Texas? Now the sure-to-be short-timer Cubs right-hander is set to start for Chicago against the Diamondbacks on Monday night.
One thing is for certain: Either Garza will be an ex-Cub by Monday night's series opener in Arizona, or there will be more scouts than cacti in the desert.
Manager Dale Sveum told Chicago reporters Sunday he is "100 percent" certain Garza will be pitching for the Cubs on Monday. But the manager also emphasized that the trade decision is out of his hands.
Hmmm, Moral No. 2 of the Garza story: Reporters aren't the only ones taking educated guesses in July.
Quality starting pitching, now as ever, remains the most cherished commodity on the July trade market, and the list of clubs looking for that is growing more quickly than a GM's Pinocchio nose this time of year. Count the Rangers, Red Sox, Indians, Orioles, Giants, Rockies, Dodgers and Pirates among those clubs (seeking starting pitching, not as having lying GMs!).
Where does Garza, 5-0 with a 1.24 ERA over his past six starts, land? With Clay Buchholz out since early June and now planning a visit to noted orthopedist Dr. James Andrews …
Perfect fit: Red Sox.
2. Jake Peavy, White Sox: Timing is everything in this game, and look who stepped off of the disabled list and straight into the trade rumor mill on Saturday. Peavy hadn't pitched since June 4 because of a fractured left rib, and while Garza and the Royals' Ervin Santana are strictly rental players (both are free agents after this season), a club acquiring Peavy would land a dogged competitor who is signed through 2014 ($14.5 million salary).
Peavy held the Braves to two earned runs and seven hits in six innings Saturday, and his fastball mostly was 93-94 mph.
The White Sox, nestled in last place in the AL Central for most of the year, already dealt reliever Matt Thornton to the Red Sox just before the All-Star break. They are motivated, and they'd be wise to strike quickly while Peavy is up and running.
Perfect fit: Rangers
3. Ervin Santana, Royals: The Royals are not necessarily motivated to move Santana, but an outing like the one he had Friday against the Tigers could produce an offer too good to refuse. Especially given the paucity of available starters.
Santana retired the first 10 Tigers he faced, and wound up declawing them over 7 1/3 innings on just two hits and no runs. He was so smooth that he received a standing ovation upon leaving by a Kauffman Stadium crowd starved for nights like that one.
Really, the Royals are the anti-Pirates this season. They, too, are a proud franchise down on its luck for, oh, a couple of decades. But unlike the Buccos, the Royals so far have not stepped up. They lost five in a row leading into the All-Star break. At 45-50, Kansas City is seven games behind Detroit in the AL Central. Tough gig for GM Dayton Moore, who knows the Royals must win soon (which is why he dealt Wil Myers to the Rays for James Shields and Wade Davis last winter).
If they fail to close the gap on the Tigers and Indians over the next week, the Royals -- much better this year -- might still be better off dealing Santana for young talent that can contribute to a winner next year.
Perfect fit: Giants
4. Bud Norris, Astros: Everything was cruising along fairly well for Norris and the Astros until he was mauled by the Mariners on Friday, hammered for six earned runs on six hits (and two walks) in 5 2/3 innings. And you know how it is at the trade deadline: Each start is magnified to cartoon proportions.
So, will that scare off some potential suitors? Let's say no, for two reasons: There is not enough starting pitching available (everybody, rinse and repeat that statement), and Norris is controllable for the near future. He will not be a free agent until after the 2016 season.
Colleague Jon Heyman has reported that the Astros are asking for two top prospects for Norris. Given what the Brewers soaked the Angels for last year in the Zack Greinke deal -- when Greinke was going to be a free agent in three months -- that is the least the Astros should get. Or haven't you noticed the way Jean Segura is playing shortstop for the Brewers (who also received two minor-league starters in that deal)?
Perfect fit: Indians
5. Alex Rios, White Sox: Finally, a hired-gun bat appears on this list. Rios can help somebody by providing instant runs. He's hitting .277/.332/.442 with 12 homers and 48 RBI, and he's signed through next season with an option for 2015.
That all sounds OK, right? Here's the issue: Rios is owed some $20 million. So unless the Yankees swoop in and drop a blank check on the South Side, the White Sox certainly will have to eat a sizable portion of that if they are to deal him.
Also, GM Rick Hahn surely gulped hard Friday night when manager Robin Ventura benched Rios in the fifth inning of Friday's loss to the Braves when he didn't run out a ground ball that turned into a double play. You can bet that sent a few interested clubs scurrying back to check the "makeup" section of their scouting reports.
Perfect fit: Pirates
6. Justin Morneau, Twins: He's nowhere close to the player he was from 2006-09, when he averaged 30 homers and 118 RBI per season, but Morneau happily seems to have made it past his concussion issues and is having a nice season for the Twins.
In a perfect world, this lifelong relationship would continue and Morneau would retire a Twin. But … his contract is up this year, the Twins stink and their rebuilding process just cannot include Morneau (unless savvy GM Terry Ryan has a secret and brilliant plan he's hiding).
Minnesota probably won't get much for him, but anything is better than nothing.
Perfect fit: Yankees
7. Francisco Rodriguez, Brewers: What a comeback K-Rod is authoring. Few folks probably realize it, given that the Brewers long ago fell into the deep end of Lake Michigan and disappeared. But the former Angels star closer is 10 for 10 in save opportunities this summer since ascending to replace John Axford and Jim Henderson.
Rodriguez has produced a 1.14 ERA and a 1.01 WHIP this season and a 26/8 strikeouts to walks ratio. Lots of teams are looking for relievers, including the Tigers, Orioles, Diamondbacks, Red Sox and Dodgers.
Perfect fit: Tigers
8. Glen Perkins, Twins: Good thing we're not a GM, because if we were, Perkins would be No. 1 on our short list because of two things that happened over the weekend.
He collected a save Friday night against the Indians while pitching most of the inning with his fly down. He didn't notice until two were out, and then he had the onions -- so to speak -- to maintain his focus and seal the deal without melting into a puddle from embarrassment.
Second, when the Indians' official Twitter account twice referred to him as "Scott" Perkins, he had no problem correcting them in the public Twitter domain. You can get saves plus entertainment with this guy.
Perfect fit: Diamondbacks
9. Michael Young, Phillies: Remember the window that is close to closing? The one we talked about this spring regarding the Phillies? Now Ryan Howard and Ben Revere are down and the Phils are a game under .500. Two things are at odds here: It is not the Phillies' nature to give up ... and they are not going to win this year.
Perfect fit: Reds
10. Raul Ibanez, Mariners: Who wouldn't want this guy? He can still hit, he's great in the clubhouse, he's a gentleman ... and the Mariners need to move on and get younger. He's got postseason experience, he's smart and, most of all, in only 75 games for Seattle, he's got 24 homers, 56 RBI and a .565 slugging percentage.
Perfect fit: Orioles
The Giants rotation is suddenly in shambles after injuries to Bumgarner and Jeff Samardzij...

Wright gets 15 games while MLB ruled there was insufficient evidence in the Sano case

Cabrera said that he's been like that his entire career, which makes it better?
The Phillies haven't had a winning record since 2011, but are they primed for a turnaround...

Souza is tasked with replacing J.D. Martinez in the Arizona lineup

Samardzija had the MRI done on Thursday following a poor start