Weekend Buzz: Tigers running away with AL Central
Jim Leyland's Tigers are making a statement and threatening to pulverize the rest of the division. Meanwhile, Weekend Buzz would be remiss if we didn't cover Chris Perez's dog and Milwaukee's inexplicable hatred for Cliff Lee, too.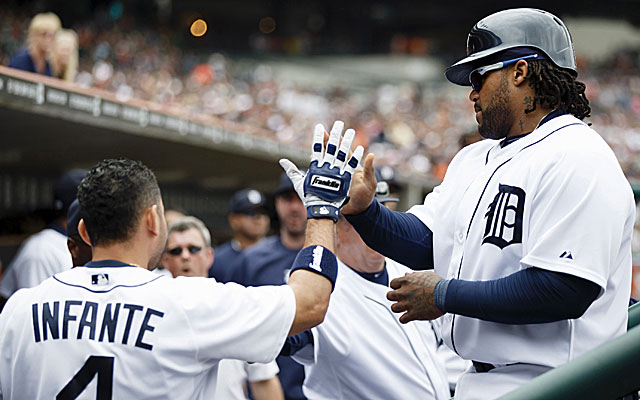 The Weekend Buzz while you were screening your dog's mail. …
1. Sock it to 'em, Tigers: The rout is on in the AL Central, where Detroit now leads by 5 1/2 games.
What, exactly, is notable about that?
Detroit never led by 5 1/2 games all of last year.
Fact is, the biggest lead the Tigers held while winning the AL Central last summer was three games. So is now when Jim Leyland's crew makes like Joe Louis and delivers a TKO?
The Indians, leading the division as recently as May 31, have lost seven in a row and 15 of their past 19 games.
The White Sox recently snapped an eight-game losing streak and, despite defeating Oakland on Saturday and Sunday, have lost 10 of 13.
The Royals have won five consecutive games but are fighting to climb out of a hole dug when they lost eight in a row May 22-29, which was part of a stretch in which they lost 12 of 13.
The Twins lost 10 in a row from mid-to-late May.
Right now, these are the Tigers and this is the division that many expected to see for the past two years. With this starting pitching and the Miguel Cabrera-Prince Fielder one-two punch, they should be flipping out divisional lights nightly.
Pitch around Cabrera? Good luck. Since May 19, when pitchers walk Miggy, MLB.com's Bobby Nightengale points out that Fielder is 10 for 15 with 13 RBI.
Even with Justin Verlander more mortal than he's been in years, Tigers starting pitchers have recorded quality starts in 15 of their past 16 games -- including Jose Alvarez's stunningly strong spot start for Anibal Sanchez on Sunday. Tigers starters are 9-4 with a .247 ERA and 134 strikeouts during that stretch.
Overall, Tigers starters lead the AL with 31 wins, 418 strikeouts and a 3.48 ERA.
The Tigers now have won 32 of their past 42 games against the Indians in Comerica Park dating back to 2009. And their lead is more than twice as large as the other two AL divisions combined (two games). Only Atlanta's lead over the Nationals in the NL East is larger in all of baseball.
Last year, the Tigers didn't push their divisional lead to three games until the final day of the sason. Two years ago, they didn't lead by as many as 5 1/2 games until the end of August.
Now, the division's other four teams are bunched within 2 1/2 games of each other. But nobody is close to the Tigers.
2. Chris Perez's dog needs rehab, too: Indians closer Chris Perez, currently rehabbing a sore right shoulder, and wife Melanie were charged with misdemeanor drug possession when a package containing marijuana was delivered to their home last week. The package came addressed to the couple's dog, Brody.
Now I don't know about you and your pooch, but whenever mail arrives at my house addressed to "Slugger Miller," unless it is from the vet, it goes straight into the trash. Aside from scratching himself and sniffing the yard for lost bones, I have no idea what he does in his spare time. But the last thing I want is the cops joining him in sniffing around.
3. Woof, woof, it's Biogenesis: Ryan Braun still says he's innocent. Alex Rodriguez is still a long way from playing. Tony Bosch is still a lowlife. And nothing has been sent to Perez's dog, at least, not that anybody knows of. There. There's your latest Biogenesis update.
4. Mutt of the Week: Nobody wants to watch the Mets and the Marlins play for nine innings, let alone the 20 interminable innings it took to finish Saturday's game. The Mets went 0 for 19 with runners in scoring position and stranded 22 runners. Since 1974, only two other clubs have gone hitless in at least 19 at-bats with runners in scoring position: The Red Sox on April 24, 2004 (0 for 19 vs. the Yankees) and the Pirates on June 11, 1977 (0 for 19 vs. San Diego).
"It was amazing," Kevin Slowey, the winning pitcher for the Marlins, said. "It was an amazing game."
Not so for the Not-So-Amazin's, who now have lost eight of 11 this season against Miami.
"Productive outs, moving runners along, using the whole field … we're not doing a lot of things that got us to the big leagues," Mets manager Terry Collins told reporters.
So following Sunday's loss -- the Mets' fifth consecutive to the lowly Marlins -- the Mets removed Ike Davis, Mike Baxter and Robert Carson from the big leagues, shipping them to Triple-A Las Vegas. Where Davis and Co. undoubtedly will find the competition even stiffer than the Marlins have provided.
5. Dog Days in Toronto, too: The Blue Jays and Rangers not only played 18 innings while the Marlins and Mets were slogging to 20, it was the third time in nine days Toronto played extra innings … and the second time in nine days the Jays played at least 17 innings.
As Rajai Davis said after stroking the game-winning single for Toronto, one feeling was evident for the Jays at the end of this one.
"Relief," Davis said. "A lot of relief. Thank God. Wow."
6. Who needs Matt Kemp? Yasiel Puig became the second player since 1900 to belt four homers in his first five games, according to the Elias Sports Bureau. The other? Mike Jacobs of the Mets in 2005. Yeah, the point is self-evident: Things could still go either way for Puig. But .464 (13 for 28) with four homers, 10 RBI and a cannon shot from right field to preserve a win last Monday with a 9-3 double-play is a pretty fair first week in the majors.
7. Father's Day comes early: Andy Pettitte collects the 250th win of his career and son Josh is drafted by the Yankees in the 37th round. After watching Pettitte surrender one run and three hits in 7 1/3 innings, one scout said: "Best I've seen him throw in three years. His cutter was good, but the key was his fastball location." Or, facing the Mariners.
8. Hitting Coach Royalty: Attempting to keep Detroit from running away in the AL Central, the Royals have won a season-high five consecutive games. Better yet, in the 10 games since Hall of Famer George Brett became batting coach, the Royals are 7-3 and have scored at least four runs in four of their past five games. Kansas City is 20-5 when scoring at least four runs in a game. Do you see a pattern here?
9. Arizona's Giant problem: The Diamondbacks' first-place lead in the NL West just got a little smaller -- 1 1/2 games -- after the Giants took two of three over the weekend. Which is business as usual, being that San Francisco now is 5-1 in Arizona this season -- and clubbed the Diamondbacks 16-7 combined over the final two games.
10. Milwaukee hates Cliff Lee's guts: Did you see what happened in Miller Park? Awful. A fan handed Lee Twizzlers when he was standing in the on-deck circle. Everybody knows those things are terrible. They taste like wax. Handing Lee a box of Red Vines clearly would have been a sign of affection.
The Angels knew about it and still wanted to sign the potential ace, of course

The Tigers asking price is supposedly very high, though

Your one-stop shop for all things MLB Winter Meetings-related
Bryan Mitchell also heads to San Diego in the reported deal

The super agent is aiming high for free-agent starting pitcher Jake Arrieta's payday

Marcell Ozuna figures to be the next Marlins star on the move