Weiner: A-Rod's appeal won't be done until season is over
If MLBPA head Michael Weiner is correct in his estimated time-frame, then A-Rod's going to play the entirety of the 2013 season.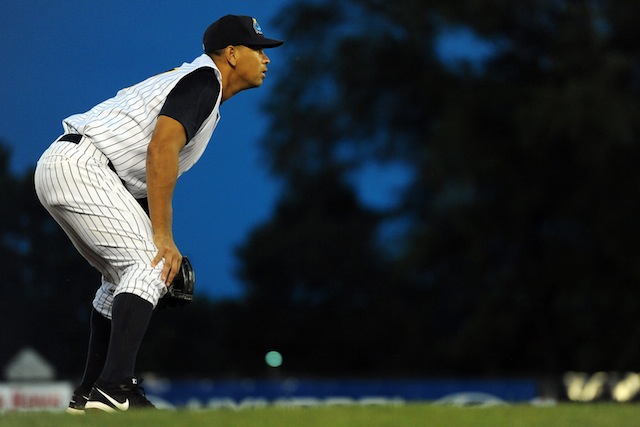 More A-Rod: A-Rod, 12 others suspended | Heyman: A-Rod to appeal | Impact on Yanks
As noted, Yankees third baseman Alex Rodriguez intends to appeal his 211-game suspension for his role in the Biogenesis scandal, and he'll remain on the active roster and eligible to play until his appeal is heard and ruled upon.
And that brings us to this comment from MLBPA head Michael Weiner:
Michael Weiner: "We're not going to get [appeal process] done before the season is over."

— Danny Knobler (@DannyKnoblerCBS) August 5, 2013
There's a very clear implication here, and the implication is that A-Rod will play the entire remainder of the 2013 season. That's significant, of course, because the Yankees are in the playoff race, and A-Rod, even at age 38 and with two surgically repaired hips, has the potential to give them a substantial upgrade at third base.
As CBSSports.com's Jon Heyman noted earlier on Monday, the time-frame of the appeals process is as follows:
The evidence is said to suggest Rodriguez bought or used steroids in 2010, '11 and '12. However, all of it will be heard at a hearing certainly within 20 days; the JDA actually calls for the "panel to convene a hearing as soon as practicable and, absent good cause show, no later than 10 days after grievance is filed.'' With only one case presumably to be heard, perhaps the hearing could be expedited.

Baseball's arbitrator, Fredric Horowitz, will then have 25 days to render a verdict.
And by the sounds of things, you can certainly expect A-Rod's appeal to be a vigorous one. First, here's A-Rod's official statement:
"I am disappointed with the penalty and intend to appeal and fight this through the process.  I am eager to get back on the field and be with my teammates in Chicago tonight. I want to thank my family, friends and fans who have stood by my side through all this."
And now here's Weiner's:
"We believe that the Commissioner has not acted appropriately under the Basic Agreement. Mr. Rodriguez knows that the Union, consistent with its history, will defend his rights vigorously. We must revisit the JDA's confidentiality provisions and consider implementing stricter rules for any breach."
And finally, A-Rod's attorney, David Cornwell:
"It is regrettable that the Commissioner's office has taken this unprecedented action.  Major League Baseball has gone well beyond the authority granted to its Joint Drug Agreement and the Basic Agreement. Consequently, we will appeal the discipline and pursue all legal remedies available to Alex."
For the time being, get used to seeing A-Rod in the Yankee lineup.
The Twins have already fortified the bullpen with Addison Reed, and now they want to address...

The Orioles likely want pitching, and the Indians have plenty of it

Halladay died in a November plane crash off the coast of Florida
The power-hitting outfielder is headed to Toronto

Martinez could add some power to a Boston lineup void of it

It's almost that time of the year again, time for the Tebow madness to return