Welcome to the Weird Series: Not a great one, but great fun
The Cardinals and Red Sox haven't played as perfectly as one might expect, but three interesting episodes have added to the drama.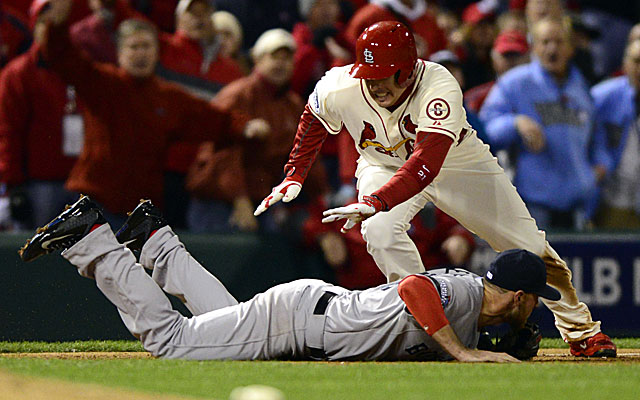 BOSTON -- One or two games to go in this Weird Series, and it's anyone's guess what might happen next.
A walk-off balk perhaps? Or should we call it a balk-off? (It's happened in baseball, so don't rule it out).
The distinguishing characteristic of this matchup hasn't necessarily been the great play of these two great 97-65 teams but the crazy plays. Here's my take on three of the more interesting incidents s far.
The Green Goo
Red Sox ace Jon Lester "sweats like a pig" (Red Sox manager John Farrell's words) and had something that looked suspiciously like a "booger" (Lester's own word) inside his glove.
Those were a couple of the defenses after something unusual and apparently green was spotted in his glove by some of the many high-powered cameras during his Game 1 gem. That's in addition to the main claim that he only uses rosin to aid his grip during cold weather, of course. That's funny because Lester isn't anywhere near the top of the list of the Red Sox I would have pegged for anything resembling hygiene issues. (Out of fairness I will hold my list.)
Besides those claims, Lester's best help actually came from the Cardinals, who not only refused to make an issue of the green goo controversy but said they'd be admonishing the Cardinals minor-leaguer who raised the complaint via twitter. Whether the Cardinals believed it's only rosin, didn't care whether it was rosin or preferred not to start an inquisition, they came off as especially good sports, as is their way.
Without a complaint, there wasn't enough reason for the umpires and/or on-field rules guru Joe Torre to push ahead with an inquiry. Whether it was or wasn't rosin, pine tar or some special sauce we'll never know. But after Lester similarly shut down the Cardinals again in Game 5 without any evidence of the goo, it certainly doesn't feel nearly as important anymore.
The Obstruction
MLB powers are saying they will look into the rule whereby a fielder's intent doesn't matter when he's blocking the path of a baserunner. And I'm all for that. There's no harm that can come from looking into something.
It's always worth talking about stuff.
But my suspicion is that nothing will come of it since this is an issue that seems to come up, oh, about once every half century or so. And no matter the intent, it's easier to see, call and remember that it's a fielder's obligation to haul his fanny out of the way.
Yes, Red Sox third baseman Will Middlebrooks was quite possibly just very unlucky to have fallen into the path of gimpy-legged Cardinals baserunner Allen Craig. As Middlebrooks said, "There's nowhere for me to go. I go to get up. He's on top of me ... I don't know. That's a tough one."
But while Middlebrooks might have been merely unlucky, the Red Sox can't  completely claim they were unlucky. It was a bad throw by Jarrod Saltalamacchia, clear down the left-field line. Even if you want to say it wasn't a horrible throw, it was bad enough that Middlebrooks couldn't even knock it down.
That kind of a throw/non-catch normally results in baserunners advancing at least one base, as Craig eventually did, though in this case with the assist of umpire Jim Joyce's correct call.
We will never know if the gimpy Craig could have hobbled home safely unimpeded. But my suspicion is that even he probably could have. Not that it mattered.
The reason I'm not sure anything will be done to change the rule is that it's more clear-cut this way, and not necessarily unfair to say it's the fielder's obligation to get the heck out of the way. Fielders know the rule, or should. And like I said, it doesn't come up very often.
The other issue I'd have here: How would an umpire know for sure what the intent of the fielder is? In this case, since it doesn't matter it's easy to assume Middlebrooks was doing the noble thing and just looking to get up to look for the ball he couldn't possibly corral. But how could we possibly know that?
"I can't say for sure the legs were being raised in an effort to impede the progress, but again, it's a tough way to have the game end," Farrell said.
That's 2 for 2 for Farrell. It definitely was a tough way to lose, and no one can be sure Middlebrooks was trying or not trying to impede Craig's progress, slow as it was.
I don't know what Middlebrooks' intent was. But I'll say this: putting aside that the ball was rolling into left field at the time, it's unusual for someone who's lying on his stomach to get up by raising his feet and legs.  I don't know what was in Middlebrooks' mind for that split second (he may not either), but raising his feet/legs served no purpose other than to impede Craig. While Craig didn't technically trip over Middlebrooks' feet, he did trip over Middlebrooks.
Anyway, there's no doubt Craig should have been allowed to score as things stand, and that shouldn't be viewed as lucky or unfair. He scored, and the umpires scored big, by making the correct call on the decisive play.
The pickoff
Oy. That most definitely was NOT the Cardinal way.
I give Cardinals rookie Kolten Wong credit for standing up and explaining his mistake for all the world to hear. He also tweeted, "All I want to say is I'm sorry #CardinalNation. I go out every day play this game as hard as I can and leave everything on the field."
His parents should be proud.
As for those great Cardinals coaches, they get a demerit this one time.
I'm not sure exactly what they told him, but whatever it was, it didn't get through. Wong should not be standing on first base as a meaningless run if he somehow thinks he's a meaningful run. Down 4-2 with two outs in the ninth inning, he was inserted because Craig (the key man again) couldn't reach second on an obvious double and can't navigate three more bases without considerable pain, not because the Cardinals were looking for Wong to steal a base or score on a double.
Wong didn't seem to fully grasp the situation when he initially spoke after Red Sox closer Koji Uehara picked him off to end Game 4, saying he wanted to get a good jump. Maybe he was excited. He certainly seems like a bright young man, but maybe he wasn't a math major at the University of Hawaii. No matter, he is a rookie excited to be on the field in the ninth inning of a game still in doubt. So he needs to know what he's doing there.
If he had to be affixed to first base, so be it. The batter was Carlos Beltran, by some measures the greatest power hitter in postseason history, with his 1.142 October OPS. Beltran has 16 October homers, and he was looking for No. 17.
More math: And maybe this will make Wong feel just a tad bit better (though maybe not). Even Beltran one of the best home-run hitters in postseason play, has homered only once out of every 11 at-bats in the postseason (176 at-bats). So the chances were only a little better than nine percent that he'd tie the score with a dinger.
That he never got a chance isn't all on Wong. Farrell and his coaches gave Uehera a chance to make the play by making the surprising decision to have first baseman Mike Napoli hold on Wong, a meaningless runner.
As Danny Knobler explained in this blog, the reason they did that is that Farrell never likes to give up 90 feet. Also, he figured Napoli would be playing no-doubles defense anyway, so playing on the line at the bag isn't all that different as playing the line 15 or 20 feet behind the bag.
For all the grief probably American League Manager of the Year Farrell has gotten for a few in-game moves (the lack of a double switch that caused Brandon Workman to bat against Trevor Rosenthal was the one glaring one), this was a brilliant call. As it turned out, anyway. And that's all that counts.
The Astros are still in control of the series, but have been unable to solve Yankees pitch...

The Astros and Yankees will play Game 4 in the Bronx early Tuesday evening

Yankee Stadium helped, but there's more to it than that
Aaron Judge and CC Sabathia had big games

Judge had an impact on both sides of the ball in Game 3

Ausmus most recently managed the Tigers, but won't be headed to Queens