Werth as MVP? Not yet, and not without a miracle finish
Jayson Werth has had a big year, but should he be in the MVP discussion? Only if the Nationals make a miracle run to the playoffs.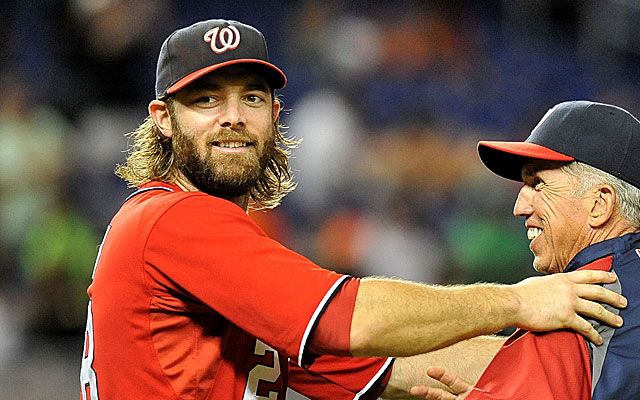 NEW YORK -- We've talked Yadier Molina for National League MVP, and we've talked Andrew McCutchen. We've talked Clayton Kershaw, even though his manager says Adrian Gonzalez is really the Dodgers' MVP.
"What about Jayson Werth?" an NL broadcaster I respect asked the other day.
Yes, what about Jayson Werth?
He leads the league in OPS. He leads the league in slugging percentage. He even leads the league in pitches seen per plate appearance, although I'm not sure that is going to win him the MVP.
He even, finally, looks comfortable hitting in one of the glamour spots in the order, batting cleanup and now third for the past month as the Nationals have been baseball's hottest team.
"You generally put your best hitter in the 3-hole," Nationals manager Davey Johnson said. "He's our best hitter. Werth's in a real good place right now."
But he's not the MVP. Can't be, not with a team that still counts as the most disappointing and underachieving in the league.
"What if they make the playoffs?" my broadcaster friend asked (and no, he doesn't work for the Nationals).
Fair enough. Miguel Tejada won the MVP in 2002 because he pushed the A's into the playoffs late in the year. Justin Morneau won in 2006 in large part because the Twins rallied in September and caught and passed the Tigers to win their division.
Jimmy Rollins won in 2007 after the Phillies' miracle September (and the Mets' ugly collapse) sent them into October.
So no, Jayson Werth is not the MVP right now. But if the Nationals do what the 2007 Phillies did (and the Reds do what the 2007 Mets did), the story could change.
The World Series champions aren't complacent

Stanton swiped at his old team on his way out

Your one-stop shop for all things MLB Winter Meetings-related
Matt Harvey could be on his way out of New York

The Nationals are looking to improve on the edges of their roster

Ellsbury is due at least $68 million over the next three seasons