What can Red Sox expect from Bogaerts and Bradley in 2014?
Two rookies -- Xander Bogaerts and Jackie Bradley Jr. -- may be playing prominent roles for the defending champion Red Sox this season. How might they fare?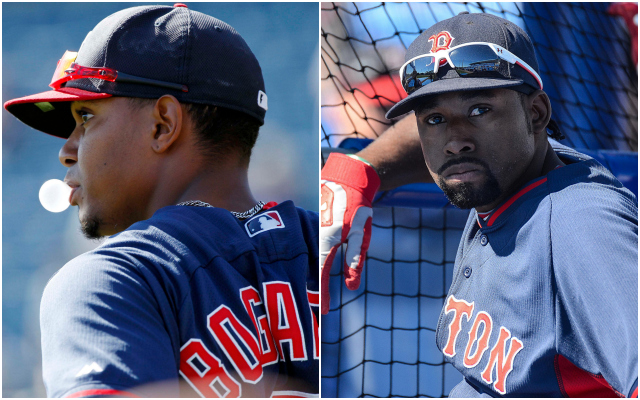 MORE: Spring Training | Scoreboard | Team previews
This offseason, the Red Sox -- owners of belt and title -- allowed starting center fielder Jacoby Ellsbury to sign with the Yankees and will almost certainly let starting shortstop Stephen Drew ply his trade elsewhere. To replace those two core, up-the-middle contributors, the Sox may turn to a pair of youngsters who are largely untested at the highest level. To wit, Xander Bogaerts, age 21, will open the season as Boston's starting shortstop, and 23-year-old Jackie Bradley Jr. may win the job in center.
Before we proceed, it's certainly worth noting that veteran reclamation project Grady Sizemore may beat out Bradley in center field. As our own Jon Heyman recently wrote, Sizemore has been healthy in camp and impressing onlookers with his still-intact skills at the plate and in the field.
With all that said, the guess here is that Bradley winds up as the primary center fielder over the course of the season (barring demotion-worthy struggles, of course). After all, in Sizemore we're talking about a player with a remarkable penchant for injury and a player who hasn't performed at a useful level, even on a rate basis, since 2009 and who hasn't appeared in the majors since 2011. I'm pulling for Sizemore on a human level, but I find it unlikely that health and excellence will intersect for him for the first time in half a decade. So for the sake of this exercise, let's assume Bradley does most of the heavy lifting in center this season. 
Now, one of the pressing questions before the Red Sox as they attempt to defend their World Series laurels: What can reasonably be expected from Bogaerts and Bradley in 2014?
First, know that each player is highly touted. Bogaerts was a top-20 prospect coming into 2013, and heading into this season Baseball Prospectus tabbed him as no. 2 prospect in all of baseball. He boasts solid range and a plus arm at short, and his bat has middle-of-the-order potential. If he rises to meet the press clippings, then Bogaerts will be a perennial All-Star. As his performance in 2013 postseason suggests, he's certainly got the poise to handle what's headed his way. 
As for Bradley, he struggled in 37 games for the Sox last season, but he's been a consensus top-30 prospect in each of the last two seasons. Principally, Bradley is a standout, potentially elite defender with good discipline at the plate. 
That bring us to their 2014 outlooks. To get an idea of how Bogaerts and Bradley profile this season, let's turn to the ZiPS projection system available at FanGraphs. For comparison's sake, we'll put their forecasts alongside the actual 2013 numbers of Ellsbury and Drew. To the digits ... 
2014 Bogaerts and Bradley vs. 2013 Drew and Ellsbury
Player, Year
AVG/OBP/SLG
HR
WAR
Bogaerts, 2014
.267/.331/.429
16
2.7
Drew, 2013
.253/.333/.443
13
3.4
Bradley, 2014
.245/.322/.375
9
1.5
Ellsbury, 2013
.298/.355/.426
9
5.8
As you can see, the Red Sox, per these WAR forecasts, stand to give back a few wins in going from Drew and Ellsbury to Bogaerts and Bradley -- five wins, to be precise. In a division like the AL East, that's a likely a severely damaging drop-off, absent improvements elsewhere on the roster. 
I'm not quite so pessmistic, however. First, a great deal of Drew's edge over Bogaerts comes via the former's outstanding defensive numbers from last season. On the other hand, there's a lot of noise in single-season fielding statistics, and the data aren't all that reliable unless taken in a larger sample. It may be that Drew was that excellent in 2013, or it may be that the system perceived him as being that excellent. Even with those assumptions built in, there's not a great deal of difference between Bogaerts and Drew. Given the uncertainties in the defensive component of WAR, I'm comfortable calling it a wash, while also noting Bogaert's higher ceiling as a hitter. 
In center, there's no doubt that Bradley's bat, at least right now, isn't going to compare to Ellsbury's in 2013, and the same goes for value on the bases. After all, Ellsbury is perhaps the best baserunner in baseball, while Bradley is merely solid. Here's a refrain that may narrow the overall margin, though: Much of Ellsbury's lofty WAR (he compiled that WAR in just 134 games) is owing to his glove-work. The same single-year caveats noted above apply, and I also think ZiPS is being too conservative with regard to its defensive outlook for Bradley this season. Defensive ability peaks early in a player's career, and Bradley, as mentioned, is widely regarded as a major asset with the glove. I don't have much trouble believing he'll approximate Ellsbury's fielding value, provided Bradley hits enough right away to hold down the job.  
Executive summary: I think the Red Sox this season will hold serve at short but lose a bit from the bottom line in center; however, I don't think it'll be quite as severe as ZiPS suggests. Long-term I have no doubt that the Sox will be fine and perhaps modestly improved in the aggregate with Bogaerts and Bradley manning those up-the-middle spots, but 2014 may be a somewhat different story.
Enough to dislodge the Sox atop the standings? Ask me in six months. 
Molina's deal expires after the 2020 season

Sheffield has the numbers to make it to Cooperstown, but he has received very little suppo...

Granderson heads north of the border for his age-37 season
What did the Pirates get in return for their franchise player?

Rivero could remain in Pittsburgh for some time to come

The White Sox, Angels, Athletics, Orioles and Marlins are the holdouts after Blue Jays fol...