What could go wrong? Plenty, but maybe the Marlins got this one right
It's the Marlins, so when they name a new manager something could always go wrong. They've changed managers eight times in Jeffrey Loria's 11 seasons as owner. But maybe they got this one right by hiring Mike Redmond to replace Ozzie Guillen.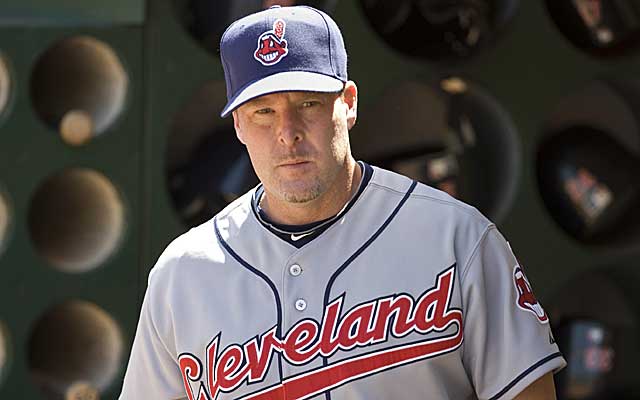 Mike Redmond is returning to South Florida as Marlins manager. (US Presswire)
What could go wrong?

Hey, it's the Marlins. Plenty could go wrong. Plenty has gone wrong.

But what if the Marlins got this one right by hiring Mike Redmond as their new manager?
They got the search part right, and that's progress. This time, instead of wooing Bobby Valentine and eventually hiring Ozzie Guillen because owner Jeffrey Loria wanted a big name, the Marlins assembled a group of candidates that any organization would be proud of.

Instead of looking for a splash with Guillen -- "a perfect fit," club president David Samson called him this spring -- the Marlins looked for smaller names with stronger reputations.

Redmond could have been a candidate with any team. The same goes for Bryan Price and Lloyd McClendon, and possibly for Luis Gonzalez and Larry Bowa, too.

Of the five candidates known to have talked to the Marlins, only Bowa had managed in the big leagues before. But all five have strong reputations in the game.
Related Info
Analysis

Other content
Redmond is young (41), and not far removed from his playing career (which just ended in 2010 with the Indians). But he spent the first two years of his "retirement" managing in the minor leagues with the Blue Jays, and getting strong reviews while doing it.
The Marlins are sure to get much praise for hiring him. Already, ex-Marlin (and ex-Redmond teammate) Cliff Floyd told CBSSports.com's Jon Heyman that Redmond was "born for this role."

What could go wrong?
Well, they are the Marlins. Plenty could go wrong.

While people involved say that the managerial search process was conducted professionally, the front office is still something of a dysfunctional mess. In August, Loria seemed ready to choose between Dan Jennings and Larry Beinfest, his perpetually feuding high-ranking executives (Beinfest was widely thought to be on the way out, with Jennings taking over as general manager), but by season's end Loria had decided to keep both of them.
When I told one former Marlins employee that I'd heard Jennings and Beinfest didn't speak to each other for nine months, his response was, "This year? Or every year?"

In Loria's 11 seasons running the Marlins, the team has changed managers eight times. He fired a guy who had just been named Manager of the Year (Joe Girardi, 2006), and then fired a guy who the rival Braves couldn't wait to hire (Fredi Gonzalez, 2010).

Now he's fired a guy who he still owes $7.5 million (Ozzie Guillen, 2012).

No Marlins manager under Loria has lasted more than Gonzalez, who made it through 3 1/2 years.

Redmond takes over a year after the Marlins' big free-agent spending spree, and at a time when the payroll is certain to go down. But with Loria and Samson in charge, internal expectations will never go down.

"There is no rebuilding," Samson said in August. "There's retooling."

The retooling has begun. The Marlins have traded Heath Bell. They've discarded Guillen and his coaching staff.

They've brought back Perry Hill, one of the most popular and most respected coaches in Marlins history.

They've hired Redmond, who may not be well-known by fans but is extremely well-known and well-respected in the business, and especially by those in the Marlins organization. 

With the Marlins history, plenty of people will ask why Redmond or anyone else would want this job.

It's simple. There are 30 of these jobs, and most of them don't come open under ideal circumstances. For all the Marlins problems, they do have some talent (Giancarlo Stanton, Jose Reyes, Josh Johnson, Mark Buehrle).

Now they have a manager.

Maybe they got this one right.
Days between playing and managing, since 1980
(minimum: 50 games managed, excluding player-managers)
 
Final game played
First game managed
Days
Larry Bowa, Padres
10/6/85
4/6/87
547
Lou Piniella, Yankees
6/16/84
4/8/86
661
John Wathan, Royals
10/6/85
8/27/87
690
Joe Girardi, Marlins
9/28/03
4/3/06
918
Mike Redmond, Marlins
7/2/10
4/1/13*
1004
Ozzie Guillen, White Sox
10/1/00
4/5/04
1282
Hal McRae, Royals
7/17/87
5/24/91
1407
Art Howe, Astros
4/19/85
4/4/89
1446
Don Baylor, Rockies
10/1/88
4/5/93
1647
Bob Boone, Royals
9/27/90
4/26/95
1672
A.J. Hinch, Diamondbacks
9/24/04
5/8/09
1687
Tony Pena, Royals
9/28/97
5/15/02
1690
Bucky Dent, Yankees
9/11/84
8/18/89
1802
Tom Runnells, Expos
6/6/86
6/4/91
1824
Our Latest Stories
Cozart's coming off a big season as the Reds' shortstop

The veteran slugger spent the last eight seasons with Cleveland

The Padres may be poised for an active winter
Yes, Bryce Harper is going to make a lot of money next winter

Outfield prospect Clint Frazier might be part of the talks

Boston wants to add two big bats to their lineup, not just one