What does Ichiro's future hold?
Mariners GM Jack Zduriencik backed off comments that he expects Ichiro Suzuki to return to Seattle in 2013.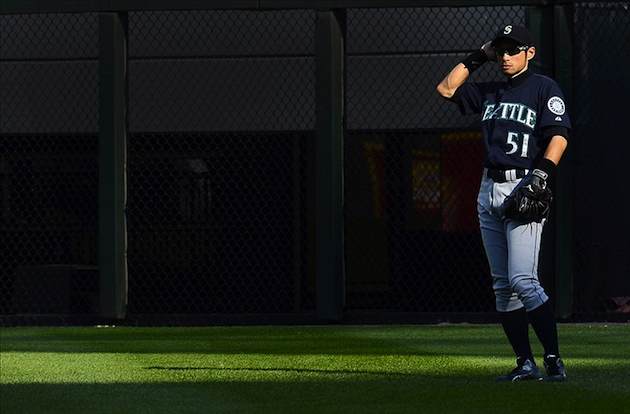 Could Ichiro Suzuki be wearing a different uniform next season? (US Presswire)
The Mariners are no strangers to seeing iconic players leave -- Ken Griffey Jr., Alex Rodriguez and Randy Johnson all left Seattle to play elsewhere, although Griffey did return to end his career. Another future Hall of Famer could also find himself in a different uniform next season. Ichiro Suzuki is a free agent after the season and general manager Jack Zduriencik backed off recent comments that seemed to indicate the Mariners would be bringing Ichiro back next season.

Fox Sports wrote Zduriencik said he expected Ichiro with the Mariners in 2013, ("He's going to be a Mariner," he told Jon Paul Morosi) but speaking to the Seattle Times, Zduriencik said he wouldn't comment on Ichiro's future.

"What we're trying to do is play the season and see what happens," Zduriencik told the newspaper.
Zduriencik said he had no desire to trade either Ichiro or Felix Hernandez at the deadline -- but any trade of Ichrio would require his approval.

Ichiro will turn 39 in October, and after several years of looking like he wouldn't age, time has caught up with him in recent years. Last season he hit below .300 for the first time, finishing the season hitting .272/.310/.335 and this season he's playing even worse -- hitting .258/.286/.345. He's never walked much, relying on hits for the majority of his on-base percentage. With a decrease in speed, his batting average on balls in play has dropped drastically. Over his first 10 years in the United States, Ichiro had a .357 BABIP. The last two years, it's dropped to .287, including a .273 mark this season.

Ichiro currently has 2,523 hits, so if he finishes on his current pace, he'd finish this season somewhere around 2,600 hits, leaving him two-plus years to get to 3,000 in the United States. He had 1,278 hits in Japan, so if he does get to 3,000 here, he'd surpass Pete Rose's mark of 4,256 hits -- which may not carry much weight here in the United States, but would be a major accomplishment in Japan.

That mark, though, could also be broken in Japan. Despite the shorter seasons there, he would be able to play longer there and break that record. He'd also be a big draw there, so a Japanese team could come calling and offer him more than a big-league club is willing to offer him.
It seems likely Ichiro will return to Seattle in 2013, but it may not be the certainty it once was.
For more baseball news, rumors and analysis, follow @EyeOnBaseball on Twitter, subscribe to the RSS feed and "like" us on Facebook.