What might have been: Illustrations of proposed Expos stadium in 2000
Before being turned into the Washington Nationals before the 2005 season, the Montreal Expos were hoping to build a stadium in downtown Montreal. Here's a conceptual picture of the proposed Labatt Field in 2000.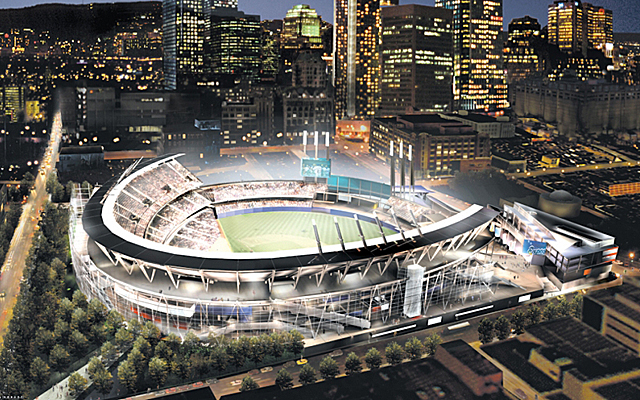 More MLB: Scoreboard | Standings | Probable Pitchers | Sortable Stats | Odds
The Montreal Expos haven't been around since morphing into the Washington Nationals before the 2005 season, but they definitely are not forgotten -- especially by the good people of Montreal. Groups like Expos Nation keep the name and hope that they'll one day have their team back alive. And if Major League Baseball ever does give Montreal a new version of the Expos, it's possible Labatt Park eventually will come to fruition.
Above is one of many pictures posted on stadiumpage.com -- seriously, click through and go check out all the pictures; it looks like the ballpark would have been beautiful -- from the conceptuals back in 2000.
From the website, details on the proposed ballpark:
In 2000, under the new Loria ownership, a new version of Labatt Park was unveiled. The park was designed by Provencher Roy and Associes Architectes and was to be located at the same block bounded by rues St. Jacques, Peel, Notre-Dame, and de la Montagne. The park had more modern, "steel and glass" design as opposed to the 1998 design's brick exterior. The park would have seated 36,287 fans. The project was delayed by funding issues and ultimately died with the Expos' move to Washington.
Ah, yes, another reminder that we can blame Jeffrey Loria for ruining both the Marlins and the Expos.
Hat-tip: "chriskol" on Reddit baseball
Colon wants to break a Dennis Martinez record

The Twins have been rumored to be interested in Darvish all winter

Rolen is one of the best third basemen of all time, but you wouldn't know it based on this...
Neither Josh Donaldson nor Brian Dozier have talked about a new contract extension

Francisco leads the Dominican Winter League with seven home runs

Thome deserves enshrinement and here's why the case against him does not hold up