What will the Phillies do with Lee, Papelbon, Ruiz, Utley and Young?
The Phillies appear to remain in trade deadline limbo with three weeks to go until the deadline.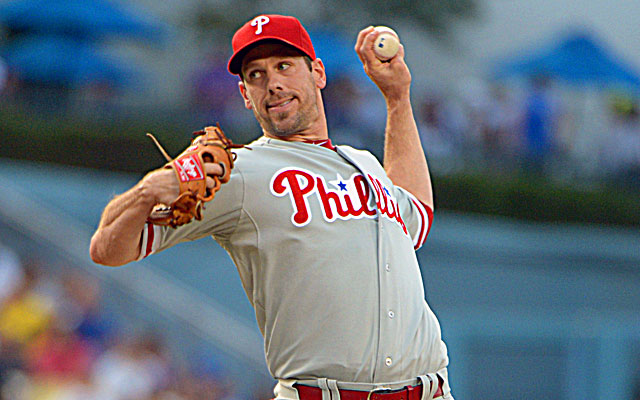 On the surface, Phillies general manager Ruben Amaro's text was unhelpful.
But the reality is, what he said has to be true: The Phillies almost surely have to remain in a trade-deadline holding pattern as long as they remain on the cusp of the race, and in fact edge a bit closer to it.
"Nothing new. Thanks,'' read the very concise text the other day from Amaro.
With the Phillies' performance slightly better lately, and a mindset and payroll suggesting a win-now M.O., it shouldn't be surprising nothing's immediately afoot on the trade front. No sense rushing into a sale for the ultimate talent-laden team caught in the middle, somewhere between a buyer and a seller.
(Update today: Amaro for the first time suggested to Phillies writers he could even even be a buyer of bullpen help -- though there's still time for them to go either way, or do a little of each, buying and selling.)
Folks have been expecting some sort of sale, but the Phillies have now won three straight and stand at 45-46, a semi-manageable seven games behind in the NL East and even better five games back in the wild-card race. So their feelings may sway a bit day to day.
The Phillies could go either way on a number of fronts, but here's what others believe about the key potential trade components (Cliff Lee, Jonathan Papelbon, Chase Utley, Carlos Ruiz and Michael Young) on what is perhaps the most fascinating team heading into the trade deadline.
1. Cliff Lee. Competing GMs remain fairly convinced Lee isn't going anywhere. While there may be talk of a Lee trade (and Lee might be willing to waive his no-trade to 21 other teams, as his main goal is to play for a winner as he talked about in this space two months ago), execs with other teams see a deal as highly doubtful. They believe that while it's possible the Phillies could eventually decide they don't have enough to make it to the playoffs this year that the Phillies remain reluctant to hinder their chances to win in 2014 and '15 by trading their ace.
The Phillies have pressed up to the luxury tax threshold the past couple years, so it's clear their overriding intention is to win. And they don't see how they could enhance their chances to do that by dealing Lee, whose contract runs through '15 (with an option for '16).
2. Jonathan Papelbon. Rival execs suggest they believe it's more likely the Phillies would seriously weigh a trade for closer Papelbon, but a couple execs also said they ultimately believe the Phillies will keep Papelbon, too, in part because he is tough to replace but also because his $13 million salary may prevent a return of significance. "They may have been the only ones to offer that a couple years ago, and while it looks a little better now (that Papelbon continues to thrive) it doesn't look that much better,'' one exec said.
If the Phillies do trade Papelbon, the two most obvious suitors would be the big-spending Tigers or Red Sox, his original team. The Phillies have been scouting Tigers prospects, according to Danny Knobler of CBSSports.com, though sources suggest the Tigers are ultimately fairly unlikely to take that plunge.
3. Carlos Ruiz. Execs could see the Phillies trading Carlos Ruiz if the team remains on the cusp of the race or falls further. "They'll move him,'' one opined, flat out. Phillies people don't suggest that, but there's also no evidence to date that they've tried hard to extend the free-agent-to-be catcher. The Phillies have a decent catching prospect in Tommy Joseph, who was acquired in the Hunter Pence trade at the deadline last year. The Yankees are at least one team that makes sense, and so might the Rays.
4. Chase Utley. Execs are split on whether long-time Phillies star Chase Utley will stay. "I'd say it's 60-40 he goes,'' one exec said. Others lean a bit more toward Utley staying. Amaro has said he hopes Utley remains a "Phillie for life,'' though some others wonder if they wouldn't mind getting a bit younger in spots. If so, this would be one place to do it.
There should be plenty of interest if Utley hits the trade market, as he has performed well when healthy this year. As reported here, the Dodgers would be a logical suitor for the Long Beach, Calif., product in season, and as Joel Sherman of the New York Post said, that holds true in the winter, as well.
5. Michael Young. The strong belief around baseball is that Young will be traded if the Phillies don't look likely to contend by the end of the month, and maybe even if they remain in a limbo situation. The Phillies could put Kevin Frandsen in at third, and have two good third-base prospects, Cody Asche, who's at Triple-A, and Maikel Franco, who's a bigger prospect but further away.
Young has a full no-trade which he negotiated upon accepting the deal to Philly, but it's hard to see him rebuffing a better chance to make the playoffs if it arises. The Yankees are interested, with the Royals, Orioles and possibly the A's making some sense depending on whether Brian Roberts shows he's healthy for Baltimore and rookie Grant Green proves ready in Oakland.
Gonzalez was reportedly killed in a car crash in Cuba

Our Black Friday FA shopping guide includes a starting pitcher, slugger, super sub, and re...

Get 15 percent off any order of more than $75 at CBS Sports Shop
Need a gift for someone who loves baseball? We're here to help as the holidays approach

Several prominent Japanese-born Mariners and ex-Mariners have said they will help as well

Get your sports fans something that they'll wear all year