What's behind early season struggles of Miguel Cabrera?
Tigers slugger Miguel Cabrera is off to rough start in 2014. Here's why.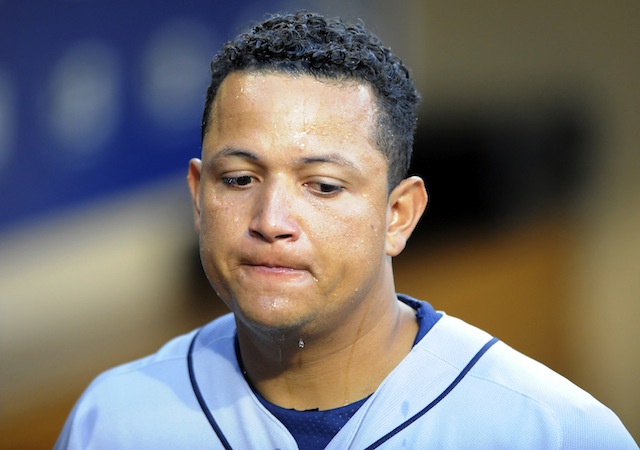 More MLB: Power Rankings | Expert Picks | Latest news & notes | Fantasy news
On Monday night against the White Sox, Tigers first baseman Miguel Cabrera went 0-for-4. In and of itself, that's nothing noteworthy, but the performance dropped the back-to-back AL MVP's 2014 slash line to a grim and uncharacteristic .206/.275/.333 with only one home run in 69 plate appearances
It's still April, of course, but should the Tigers be concerned about their superstar and the recent recipient of a $248 million contract extension? At this early juncture, there are but two sensible answers to a question such as this -- "no" and "maybe." In Cabrera's case, it's a strong maybe.
First, the notion of premature decline isn't out of the question for a player like Cabrera, even as great as he's been over the course of his career. He's a large-bodied corner defender with little speed or fielding ability, and that kind of profile tends to age poorly. Since Cabrera just turned 31, it's entirely possible that the downward cycle has begun.
Really, though, it's about more than just this narrow slice of 2014. In the latter part of last season, Cabrera suffered a run of back, hip, groin and abdominal injuries that badly sapped his power, both down the stretch and in the playoffs. Since Cabrera returned from his abdominal injuries in early September of last year, he's combined to hit .252/.351/.344, counting this season. Throw in his .262/.311/.405 line in the playoffs, and you've got a sample of almost 200 plate appearances. That's a lot of clustered struggles right there. You can dismiss those numbers last season because of the injuries if you insist upon it, but those are injuries of recurrence -- strains and twists and pulls. That is, they're not the kind of injuries that suddenly go away as a player of Cabrera's build gets deeper into his 30s.
As for this season in isolation, we find more cause for concern. Coming into Monday night, Cabrera was hitting exactly half of his balls in play on the ground. In a related matter, he was lugging around a groundball/fly ball ratio of 1.83 versus a career mark of 1.13. Of those none-too-frequent fly balls, only 8.3 percent -- i.e., one, as noted -- have left the park. That's in contrast to a career mark of 19.4 percent. Are Cabrera's struggles lost on opposing pitchers? Perhaps not: For the first time since 2006, more than half of the pitches Cabrera has seen have been strikes.
We also might be inclined to overlook these struggles in a player who wasn't as relentlessly consistent as Cabrera has been. After all, this is a player who went nine full seasons without enduring a bad month. Now, though, it's been since August of last year since Cabrera was in vintage form.
To be sure, Cabrera, even if deep decline is taking hold, is better than his present numbers. However, given his current batted-ball profile -- and keep in mind that these kind of measures tend to stabilize early in the season -- it's possible Cabrera is beginning to lose the ability to drive the ball in the air, at least to the extent that we've come to expect from him. That certainly wouldn't be unprecedented for a player who's in his 30s and not athletically built. That would, however, be worrisome for the team who owes said player almost a quarter-billion dollars over the next eight years.
A beardless Wilson says that he tried to outrun the police on the second day he had his driver's...

The Diamondbacks outfielder was not impaired, he was just going way too fast

MLB can unilaterally implement rule changes, which will also include limits on mound visit...
If the MLBPA wants to repair MLB's salary structure, it should push for more money for young...

Fans aren't happy Gerrit Cole and Andrew McCutchen have been traded away

Acuna is arguably the best prospect in baseball