What's next for Clayton Kershaw and his 36 straight scoreless innings?
Dodgers ace Clayton Kershaw, who's worked 36 consecutive scoreless innings, will get one more start before the break. Can he keep the streak going?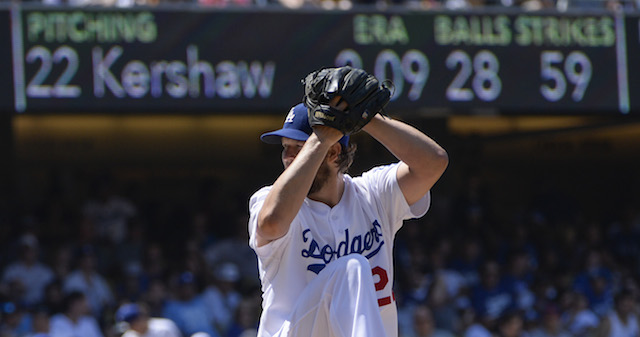 More MLB: Power Rankings | Expert Picks | Latest news & notes | Fantasy news
Dodgers uber-ace Clayton Kershaw enters Thursday night's start against the Padres with a streak of 36 consecutive scoreless innings. The record, of course, belongs to Kershaw's franchise label-mate, Orel Hershisher, who in 1988 pitched 59 straight scoreless frames. 
Any other pitcher, and we would probably be getting ahead of ourselves, but Kershaw is so utterly dominant right now (44 strikeouts and four walks over his past four starts, groundball percentage of more than 60.0, first-pitch strikes more than two-thirds of the time) that it's fair to consider him within hailing distance of the record. So let's take a cursory look at the near-term road ahead.
The good news as far as Kershaw's bid for history is concerned is that he's slated to face those punchless Padres on Thursday at Dodger Stadium in what will be his final start before the All-Star break. With on eye on Kershaw's streak, let's have a look at some relevant numbers ...
Padres on the road in 2014: .612 OPS (last in NL by huge margin)
Padres vs. LHPs in 2014: .604 OPS (last in NL by huge margin)
Current Padres hitters lifetime vs. Kershaw: .233/.304/.356 (includes postseason)
Kershaw career starts on 5 days of rest*: 424 2/3 IP, 2.84 ERA, 139 R, 3.38 K/BB
(*Thursday marks five days of rest since his suffocating of the Rockies.)
It's hard to dream up a more accommodating matchup for Kershaw. Predicting how many runs any pitcher will give up in any given start is of course a fool's errand, but Kershaw vs. the Padres in 2014 indeed announces itself with the pungent aroma of "potential shutout." The timing of Thursday's start means that Kershaw will be able to pitch in the All-Star Game on full rest. He'll presumably do just that. 
After that, Kershaw figures to start at some point in the three-game set in St. Louis just after the break. Dodgers manager Don Mattingly isn't laying out his post-break rotation just yet, but even if Kershaw starts on Tuesday in Minneapolis and requires full rest afterward (unlikely), he would still start the Sunday finale against the Cardinals. The point is that, barring injury, Kershaw's next start after facing the Padres will be against the Cards in Busch at some point during the weekend after the All-Star Game. On that point, some numbers ...
Cardinals at home in 2014: .716 OPS (9th in NL)
Cardinals vs. LHPs in 2014: .706 OPS (6th in NL)
Current Cardinals hitters lifetime vs. Kershaw: .266/.347/.373 (includes postseason)
Kershaw career starts on 6+ days of rest*: 123 1/3 IP, 1.82 ERA, 31 R, 2.79 K/BB
(*Even in the event that Kershaw starts the All-Star Game, he's almost certainly not going more than two innings, so the "6+ days of rest" refers to the time after his Thursday start against the Padres.)
This isn't the dismal attack of the Padres, but the 2014 Cardinals against a lefty at run-suppressing Busch are still rather middling. Sure, many of these hitters were central to the ritual abuse inflicted upon Kershaw in Game 6 of the 2013 NLCS, but that was one start after a full season-plus of innings. It's a tougher matchup, to be sure, but consider the low bar set by the Padres. 
Finally, Kershaw, if kept on regular rest following a Friday start in St. Louis (seven of Kershaw's 13 starts this year have come on the standard four days' rest), would potentially go for the all-time record on Wed., July 23, against the Pirates in Pittsburgh. Numbers!
Pirates at home in 2014: .743 OPS (2nd in NL)
Pirates vs. LHPs in 2014: .692 OPS (11th in NL)
Current Pirates hitters career vs. Kershaw: .243/.298/.383 (includes postseason)
The Buccos seem tailored to fare well at PNC, but they're slightly less passable against lefties than the Cardinals are. Against Kershaw, current Pirates have the worst OBP of any of the three likely opponents, but they have a touch more pop (highest SLG and Isolated Power). Consider this start, should it come to pass, to be perhaps Kershaw's stiffest potential challenge, at least on paper, when it comes to pursuing Hershiser's franchise and MLB mark. 
Finally, if Kershaw's start in St. Louis is instead on Saturday or Sunday, then he'll face the Giants in San Francisco -- rather than the Pirates in Pittsburgh -- likely on Fri., July 25, for his possible shot at the record. Let's look at those numbers ... 
Giants at home in 2014: .687 OPS (11th in NL)
Giants vs. LHPs in 2014: .738 OPS (5th in NL)
Current Giants hitters career vs. Kershaw: .164/.197/.214 (includes postseason)
While the Giants' relative success against lefties is noted, their offense at home and their "success" against Kershaw in past encounters trends against them. Those with a taste for rivalries will surely be hoping that Kershaw goes for the all-time mark against the Dodgers' most loathed arch-enemies. That said, there's a lot that needs to happen between now and a hypothetical then.
That is to say: Your move, Padres.