When Chris Carpenter pitched, Cardinals won
Few pitchers have as much impact on a team as Chris Carpenter has over the past decade with the Cardinals. When he stayed healthy, the Cardinals won. When he was hurt, they didn't win. Now the Cardinals face 2013 and beyond without their oh-so-important ace.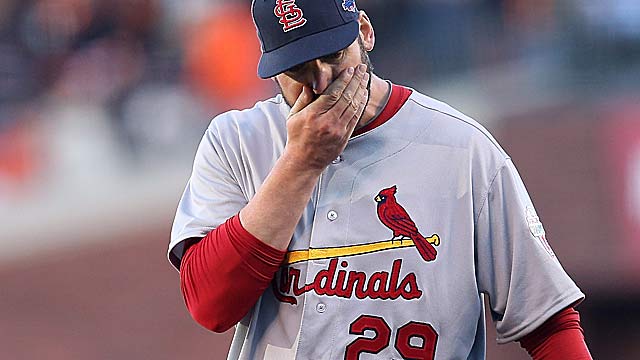 With Chris Carpenter in the rotation, the Cardinals won two World Series.
(US Presswire)
Without Albert Pujols and without Tony La Russa, the Cardinals made it to within one win of the World Series.

I was more impressed that they basically did it without Chris Carpenter.

I'll be even more impressed if they do it again, now that we know Carpenter is unlikely to pitch this season and might not pitch again.

For almost a decade, when Carpenter stayed healthy, the Cardinals won. When he didn't, they didn't win.

They won two World Series and made it to another with Carpenter in the rotation. They missed the playoffs entirely in 2007 and 2008 when he was hurt.

Without the expanded playoffs, they'd have missed again last year, when Carpenter was limited to three September starts. With Carpenter back for October, the Cardinals got past the Braves and Nationals, before faltering (when a hurting Carpenter also faltered) against the Giants.

One pitcher shouldn't have that much influence on a team's fortunes, not even a pitcher whose team won 64 percent of his starts (regular season and postseason combined) during nine seasons.

But La Russa always made the Carpenter/playoff connection when he was the Cardinals manager. La Russa referred to him as "perfect," in a 2009 column I wrote about Carpenter's impact.

Tuesday, at the news conference to announce Carpenter's uncertain future, current Cardinals manager Mike Matheny said, "He just did everything right."

You didn't need to spend much time around the Cardinals during the past decade to understand what La Russa and Matheny meant, and to understand at least a little of what Carpenter meant to his team.

I'm not sure he was ever the best pitcher in baseball. But there sure were a lot of times when you could argue he was the most valuable pitcher in the game.

The Cardinals won last year, but as Matheny said Tuesday, even the possibility of a Carpenter late-season return helped push them forward.

Now, days before spring training, they find out there's no real hope he'll pitch this season, and seemingly not much hope that he'll pitch again.

Do you like their chances of winning without him?
Gallardo spent the first eight years of his career in Milwaukee

MLB revenues are at a record high right now, but teams aren't spending it on players

Chicago added Tyler Chatwood earlier this offseason but might not be done adding to the ro...
The Dodgers and Braves pulled off a whopper on Saturday

Sabathia will reportedly spend a 10th season in the Bronx

Fowler suffered a knee injury at Chicago's Guaranteed Rate Field