When it mattered most, Indians failed with runners on
During the regular season, the Indians were fairly adept at producing with runners on base. Not so on Wednesday night.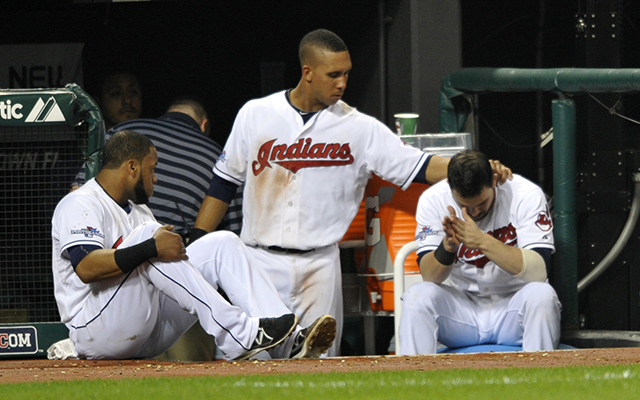 MORE: AL wild card quick hits | Knobler -- Home field not enough for Tribe
During the 2013 regular season, the Indians' offense, with runners on base, ranked third in the AL in OPS. They had three hitters -- Michael Bourn, Jason Kipnis and Michael Brantley -- who ranked, respectively, eighth, ninth and 17th in the AL in terms of percentage of runners driven in. All in all, the 2013 Indians proved capable when it came to plating runners during the regular season. 
On Wednesday night against the Rays in the AL wild-card game, however, they were anything but. The individual Cleveland hitters in the lineup combined to leave 18 runners on base. The opportunities were frequent, but the Indians squandered each and every one of them. Consider the blow-by-blow account ... 
• In the second, Ryan Raburn was stranded after a two-out double.
• In the third, Lonnie Chisenhall's one-out single was for naught. 
• In the fourth, a one-out double, single and then walk yielded a 3-6-1 double play. 
•I n the fifth, Yan Gomes laced a lead-off double, and then Chisenhall followed with a single. The top of the order then struck out, grounded out to the first baseman and grounded out to the pitcher. 
• In the seventh, back-to-back one-out singles were lost thanks to a fly-out and a strikeout. 
• And finally in the eighth, Carlos Santana's one-out single preceded another fly-out/strikeout combo.
The lesson? To the extent that there is one, it's that anything can happen in a single game. The other, more overarching takeaway is that no matter how many times we hear that a team has learned to focus or adjust or home in or change their approach or summon lesser gods or whatever with runners on base, there's simply no evidence it's any kind of repeatable skill. Good hitters tend to be good hitters in all situations over a large sample of games. 
Before Wednesday night, the Indians had good numbers in the kinds situations chronicled above, but that's not the same as demonstrating a skill. And if it's not a skill, it can vanish at any moment. That's what happened to the Indians against Tampa Bay, and that's in large part why their stay in the postseason was a brief one.
Sheffield has the numbers to make it to Cooperstown, but he has received very little suppo...

Granderson heads north of the border for his age-37 season

What did the Pirates get in return for their franchise player?
Rivero could remain in Pittsburgh for some time to come

The White Sox, Angels, Athletics, Orioles and Marlins are the holdouts after Blue Jays fol...

The Pirates have several attractive trade chips if they decide to go into a full rebuild