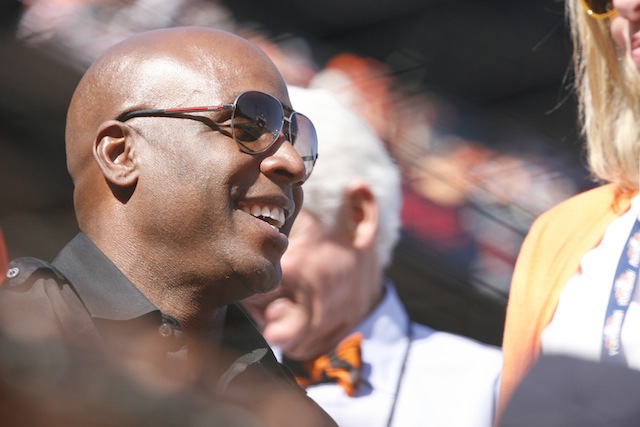 More Hall of Fame coverage: 2014 vote totals | Biggio heads up "near-misses"
The big news insofar as Wednesday's BBWAA Hall of Fame announcement is concerned is that Greg Maddux, Tom Glavine and Frank Thomas will be getting plaques in Cooperstown. One of the many subplots, though, is how the candidates most closely associated with the "steroids era" fared. Specifically, we're talking Barry Bonds, Roger Clemens, Rafael Palmeiro, Mark McGwire and Sammy Sosa. (No, I'm not listing Jeff Bagwell, Craig Biggio or Mike Pizza, mostly because I'm not into rank speculation.)
There are varying degrees of evidence against those first five names above, some of it circumstantial at best. The weakest case is probably against Sosa, whose link to PEDs is but a blind item in the New York Times in which anonymous sources say he tested positive in 2003. With that said, those five candidates -- Bonds, Clemens, Palmeiro, McGwire and Sosa -- fair or not are in some ways the hydra-headed "Mount Rushmore" of the maligned era in question. As Wednesday's results prove, the voters aren't growing more fond of them with time. 
To be elected by the BBWAA, a candidate must be named on at least 75 percent of ballots. Meantime, those falling below the 5.0-percent threshhold fall off the ballot altogether, which means their only hope for induction lies in possible future consideration by the Veterans' Committee. With all that in mind, let's take a look at how the members of this "Contentious Quintet" have fared in their time on the BBWAA ballot ...
BBWAA ballot percentages of "steroid era" candidates
Player
2007
2008
2009
2010
2011
2012
2013
2014
Barry Bonds
X
X
X
X
X
X
 36.2%
 34.7%
Roger Clemens
X
X
X
X
X
X
 37.6%
 35.4%
Mark McGwire
23.5%
23.6%
21.9%
23.7%
19.8%
19.5%
 16.9%
11.0%
Rafael Palmeiro
X
X
X
X
 11.0%
 12.6%
 8.8%
 4.4%
Sammy Sosa
X
X
X
 X
 X
 X
 12.5%
 7.2%
(X - Not yet on BBWAA ballot)
As you can see, all five candidates saw their ballot percentages fall in 2014. Sure, that likely has something to do with the incredibly crowded pool of worthies at the moment, but it's also an unfortunate trendline no matter the context. Palmeiro saw his percentage cut in half, and he's now off the ballot. Sosa may join him in exile after the 2015 vote. McGwire also sloughed off a great deal of support, and he's never going to make it, particularly now that his time on the BBWAA ledger is more than half over. 
As for Clemens and Bonds, their cases are not quite as grim, though they're still in tough spots. In part, that's because the "ballot bottleneck" isn't going anywhere for a while. Among current players on the ballot, just Craig Biggio and maybe Mike Piazza figure to go in next year, and they'll be joined by obvious first-timers Randy Johnson, Pedro Martinez and John Smoltz. The year after that, it's Ken Griffey Jr. Unless some space is cleared -- Tim Raines and Jeff Bagwell are each ahead of Bonds and Clemens in terms of percentages, and Mike Mussina and Curt Schilling may bound in front of them next year -- then it's going to be tough for them to become viable "momentum" candidates before their time on the ballot is up. That's especially the case considering they lost ground in 2014. 
Sure, changes to the voting demographic should help their cause, but that demographic is slow to churn given the BBWAA's lifetime voting privileges (a roundly terrible idea) and 10-year membership requirement for Hall voters. 
Given all of this, the key years for Bonds and Clemens may be the 2017-18 period. The onrush of obvious choices slows down somewhat, there will have been time to build up a larger baseline of support, and that's far enough down the road for some worthies to be cleared from the rolls. That said, I'd still say it's less than 50 percent that Bonds and Clemens make it to Cooperstown via the BBWAA route. 
If that's the case, then that will leave the Hall of Fame, a museum tasked -- as museums are -- with telling the story of its subject, with an incomplete tale to tell.