Where's Cardinals' phenom Miller?
The Cardinals lost Game 5 of the NLCS, and although rookie Shelby Miller warmed up, he didn't pitch. Again.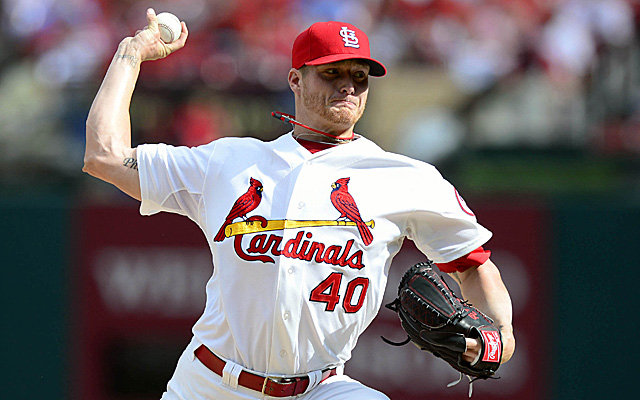 MORE: Game 5 grades | Game 5 quick hits | Game 5-ending audio
LOS ANGELES -- During the course of the Cardinals' 6-4 loss to the Dodgers in Game 5 of the NLCS, rookie right-hander Shelby Miller warmed up in the visitor's bullpen. That's notable because the normally pedestrian baseball act of warming up actually constitutes progress for the highly regarded phenom, who hasn't seen game action since Oct. 4 -- Game 2 of the NLDS versus the Pirates -- and hasn't made a start since Sept. 25. 
If the Cardinals were ramping down their late-season usage of a 23-year-old hard-thrower like Miller, then that would be understandable. However, if that's the case, then why is he on the NLCS roster? And why would manager Mike Matheny summon Edward Mujica, who's been dreadful since the middle of last month and who's previously confessed to feeling spent, to pitch the high-leverage seventh inning when the Cardinals were still within striking distance?
The most excellent Bernie Miklasz of the St. Louis Post-Dispatch has previously reported on Miller's current straits, and here's what he wrote earlier this week:
The Cardinals have downplayed this, but the organization has concerns over arm fatigue. The team didn't want to push Miller, who worked a career-high 173 innings this season. Given Miller's age (he turned 23 Thursday) and developing maturity, it would be stupid and irresponsible to take a risk if the team thinks he was showing signs of wearing down.  
That would make sense, but to repeat, and as Miklasz also asks, what's he doing on the roster? Is he a break-glass-in-case-of-emergency carry? No depth-based worries about having one of those and a compromised Mujica taking up two spots?
As for the pitcher himself, Miller after Game 5 denied feeling any fatigue down the stretch in the regular season and said he felt "fabulous" while warming up on Wednesday. He also denied any frustration toward how he's been handled thus far in the 2013 postseason. Miller did admit to feeling a bit out of his element when he pitched out of the bullpen against the Pirates -- "weird" and "different" is how he termed his relief detail.  
Miller also says the Cardinals haven't given him any indication as to how he'll be used over the remainder of the playoffs, whether that's a span of two more games or all the way through the conclusion of the World Series. Said Miller:
"I kind of don't have any idea. ... Obviously, I'd rather be starting," he said, "but I don't have any problem coming out of [the bullpen].

"I felt better today warming up than I have in a while. Physically, I feel just as good as I have all year." 
Miller went on to say that he "absolutely" felt -- and feels -- healthy enough to start in the current series. That didn't and almost certainly won't happen, though. "Right now," Miller said, "it's out of my hands."
At this point, a question of intent: Was his Game 5 warm-up ordered with an eye toward possibly pitching in Game 5, or was it just a throwing session to keep Miller loose and in a general state of readiness? Miller thinks it's the former. Earlier in the series, Miller, per Joe Strauss of the Post-Dispatch, was informed that he'd be filling a long-relief role for the time being. If that's the case, then it makes sense on that level that Miller never made it into Game 5 after starter Joe Kelly remained afloat. 
The larger point, though, bears revisiting, and it's the curious nature of the roster decision. This is a vital member of the regular season rotation who pitched to 3.06 ERA (119 ERA+), struck out almost a batter per inning and boasts a plus-plus fastball and hard curve that often functions as a wipeout pitch. If that's the end of Miller's story, then why isn't he being deployed properly now that the games matter the most? If that's not the end of his story -- i.e., if, contrary to what he says, he's not at his physical best right now -- then why's he on the NLCS roster?
As the series goes deeper and as the Cardinal staff -- seemingly shorthanded, at least on a de facto basis -- keeps on working and working, those questions may become more urgent back in St. Louis. 
There's no reason to run over the cases for and against Bonds, so let's have fun instead

The coveted right-hander would certainly be a fit in Milwaukee

We rate the best mustaches from random baseball cards because, why not?
Colon wants to break a Dennis Martinez record

The Twins have been rumored to be interested in Darvish all winter

Rolen is one of the best third basemen of all time, but you wouldn't know it based on this...