Which players are in line for the next mega-extension?
Following the Justin Verlander and Buster Posey extensions, we take a look at some players who could be next in line for huge extensions.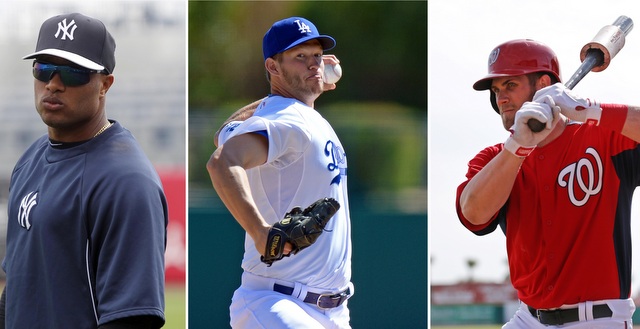 In the span of a few hours on Friday, two star players signed long-term contract extensions that figure to keep them with their current teams for the rest of their careers. First, Justin Verlander re-upped with the Tigers for seven years and $180 million. Then, Buster Posey signed a new nine-year, $167 million deal with the Giants. Paul Goldschmidt also signed a five-year, $32 million extension with the Diamondbacks on Friday, though he isn't on the same level.
Signing players to long-term extensions has gone from new fad to essential if clubs want to remain competitive these days. Some extensions work out better (Evan Longoria, Miguel Cabrera) than others (Ryan Howard, Nate McLouth), but that is true of every type of contract. Here are a few players (listed alphabetically) who could be next in line for a massive contract extension:
Elvis Andrus, Rangers: Scheduled to become a free agent after 2014, the 24-year-old shortstop is a defensive wiz who has seen his OPS+ climb in each of the last two seasons. Given his age, agent (Scott Boras) and dearth of quality shortstops, Andrus is going to be paid at some point relatively soon.
Robinson Cano, Yankees: Cano, 30, is scheduled to become a free agent after this season, and the Yankees will make every effort to retain him. In fact, GM Brian Cashman already acknowledged making a "significant" extension offer earlier in spring training.
Bryce Harper, Nationals: Harper is actually under contract through 2015 and unable to become a free agent until after the 2018 season, but this is obviously someone whom the Nats would like to have locked up sooner rather than later. The 20-year-old is poised to become a perennial MVP candidate.
Jason Heyward, Braves: Three years from free agency with a career 116 OPS+, the 23-year-old Heyward is the youngest and arguably best member of Atlanta's impressive outfield. The Braves might want to lock him up before he hits his physical prime and starts winning some hardware.
Clayton Kershaw, Dodgers: There's a good chance that Verlander's record contract for pitchers will be short-lived. The 25-year-old Kershaw owns a career 138 ERA+, one Cy Young award and two top-two finishes in the Cy Young voting. He'll become a free agent after 2014 and is line to become the first pitcher to land $200 million guaranteed.
David Price, Rays: Of all the players listed in this post, Price is the least likely to sign an extension, at least with his current team. The 27-year-old southpaw is fresh off a Cy Young award winning season and can become a free agent after 2015. Tampa Bay probably doesn't have the ability to offer him nine figures, making a trade at some point in the next three years likely.
Stephen Strasburg, Nationals: The Nats control their ace through 2016, though he's on a Verlander-esque career path and could command similar money in short order. Harper and the 24-year-old Strasburg could wind up costing the team $400 million combined if they wait too long.
Mike Trout, Angels: Trout, 21, won't become a free agent until after the 2017 season, but he already has one historic season to his credit. If anyone in baseball is worthy of a 10-year contract after just one season, it's Trout.
From the rebuilding Marlins to the aggressive Angels, here's how the most active teams made...

Plenty of other teams are involved, of course

Where might the Orioles third baseman land?
Kinsler will slot in at second base for the Angels

The Marlins got a better return for Ozuna than Stanton or Gordon

The two teams are going about things in very different ways