While Red Sox have turmoil, Braves have a playoff chase (and few thoughts of collapse)
The Braves and Red Sox were collapse-mates last September, but they reacted to it in opposite ways. The Braves changed very little, and gave the same group (and same manager) another chance. So far, they have no regrets. They hope they can say the same when this September is done.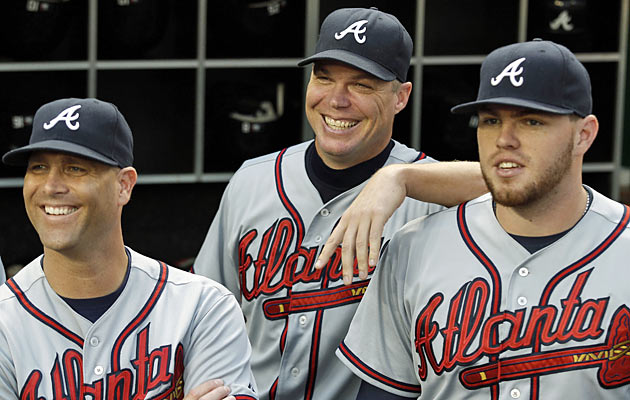 Chipper Jones (middle): 'We're still within shouting distance. We still have our sights set on the division.' (AP)
WASHINGTON -- The Braves know they still haven't been proven right.

But unlike their collapse-mates the Red Sox, they haven't yet been proven wrong, either.

There's no Bobby Valentine turmoil, because unlike the Red Sox, the Braves didn't react to September by changing managers. In fact, the Braves reacted to their collapse by barely changing anything.

And while the Red Sox have spent all of this season re-enacting September's horrors, the Braves have spent April through August 2012 re-enacting April through August 2011.
More on Atlanta Braves
Related links

Through 124 games a year ago, they were 72-52, 8 1/2 games behind the first-place Phillies and holding a five-game lead in the wild-card race.

Through 124 games this year, the Braves are 71-53, six games behind the first-place Nationals and holding a four-game lead in the wild-card race.

So far, the Braves have justified management's decision to show faith in this group, to give these same players (and the same manager) another chance.

So far.

"Unless we get to the postseason, that question will be raised," manager Fredi Gonzalez said Wednesday. "But I feel like we made the right decision as an organization."

They should get to the postseason. The computers at coolstandings.com put the Braves' chances at 89.4 percent, after Wednesday's 5-1 win over the Nationals.

Then again, those same computers said the Braves were 99.2 percent to make the playoffs as of Aug. 25 a year ago.

The collapse that followed is part of this group's legacy, but they don't seem to dwell on it (unlike the Red Sox). When Gonzalez brought it up after Wednesday's game, he did so only as a reminder that the Braves could catch the Nationals for the division title, and not that some team might come from behind again to steal away another playoff spot that should be theirs.

"Six is doable," Gonzalez said, referring to the deficit the Braves face, after losing two of three in Washington this week. "I don't have to remind these guys that we were the other way last year."

The focus on the division title makes more sense than ever, because of the new playoff system that only gives wild-card teams a one-game play-in. And even though the Braves came to Washington hoping to win at least two of three, Wednesday's win gave them an opening to keep looking at the team ahead of them in the standings, rather than at the teams behind them.

"We're still within shouting distance," Chipper Jones said. "We still have our sights set on the division. We're not going to concede it to them. We're still a couple of games and a sweep [in September's head-to-head series in Atlanta] away from catching them.

"It's been done before."

Was that yet another reference to last September?

Uh, yes, it was. It's not a taboo subject around the Braves. They seemed to decide quickly that it wasn't really representative of who they are -- "a fluke," Jones called it this spring -- and decided quickly that it wasn't a reason to make drastic changes.

They kept the cast the same, and went about re-filming the movie, believing that this time they could change the ending.

"We haven't regretted the decision," general manager Frank Wren said this week. "We feel we have a chance to go all the way. We have [38] games left to prove that.

"We're one of five teams with 70 or more wins. It's a talented group of players."

It's a talented group of players, with a confident (and non-panicky) front office and ownership group.

If they collapse again, they'll have been proven wrong (and would then surely make big changes).

But the Braves will take where they are now.

Unlike the Red Sox.
The superstar is one year away from free agency

The Angels knew about it and still wanted to sign the potential ace, of course

The Tigers asking price is supposedly very high, though
Your one-stop shop for all things MLB Winter Meetings-related

Bryan Mitchell also heads to San Diego in the reported deal

The super agent is aiming high for free-agent starting pitcher Jake Arrieta's payday