White Sox are off to another bad start -- or are they just plain bad?
The White Sox aren't scoring any runs, and the numbers are just plain ugly. But are they really this bad?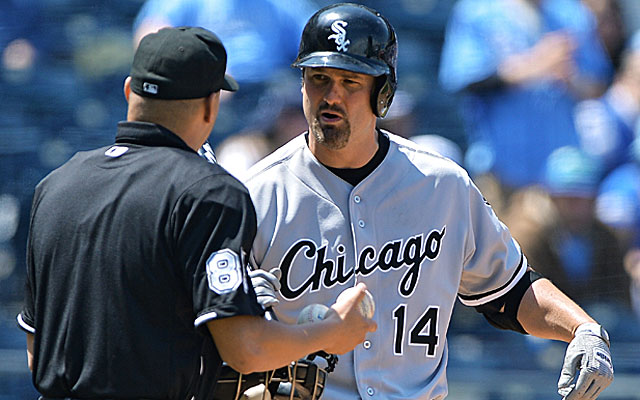 NEW YORK -- The question about the White Sox is a simple one.
Are they off to a bad start, or are they just bad?
They've already spent more days in last place (14) than they have in any of the last five full seasons. In fact, they've spent almost as many days in last place as they've spent in the last five full seasons combined.
They've scored fewer runs than any team in the American League. Yes, that includes the Astros. They're getting on base at a lower rate than any team in baseball. Yes, that includes both the Astros and the Marlins.
And Tuesday night, they came as close to having a perfect game thrown against them as you can get without it being called a perfect game. In nine innings against the Mets' Matt Harvey, their only baserunner was Alex Rios, whose seventh-inning infield single came on a bang-bang play at first base.
"That's really not a very good lineup," said one scout who sees the White Sox frequently. "I don't think they're very good. They might need to tear it down."
Or maybe not.
The White Sox record isn't good, but through 30 games it was the exact same record (13-17) they had a year ago, when they went on to spend most of the summer in first place. The lineup doesn't look good, but Dayan Viciedo will be back soon, and Gordon Beckham isn't that far behind.
Gavin Floyd needs Tommy John surgery, but Jake Peavy is healthy and John Danks is on the way back.
"Just stay patient," bench coach Mark Parent said.
"If we were a bad team, we would probably have single-digit wins right now," said first baseman Paul Konerko. "We could be in a lot worse spot."
Konerko is one of many White Sox off to a bad start ("His bat looks slow," the scout said). White Sox people say Adam Dunn has had bad luck with wind, but he has 41 strikeouts in 110 at-bats and a .145 batting average ("I might just release him," the scout said).
"It's so hard to keep telling people you feel fine at the plate, when you're hitting .100," Dunn said. "But I feel like if I stay where I am at the plate, things will change."
There's really no sense of crisis around the White Sox. These are the White Sox of manager Robin Ventura and general manager Rick Hahn, and not the White Sox of Ozzie Guillen and Ken Williams.
A offensive start like this would have led to a crisis in those days. With this group, there's a sense of calm around this team, a sense that the coaching staff believes in the players and believes that this team will eventually prove that it's much better than this.
They might be right. Starting with Tuesday night's game against the Mets, the White Sox began a stretch where they have 12 straight games, and 19 of the next 22, against teams currently below .500.
If they really are a good team, they'll have a chance to show it.
If they aren't, they should know that in time to start marketing anyone they can (Peavy? Konerko?) at midseason.
Remember, a year ago at this time, that's what we thought the White Sox would be doing last July. Williams had spent the winter talking about rebuilding, and there was little reason to believe that the White Sox would end up doing anything else.
Because of the 85 wins last year, the feeling is somewhat different now. But even with the 126 days they spent in first place in 2012, the White Sox never totally convinced us that they were good.
They don't look good right now, but it's too early to say for sure that they're bad.
Then again, three trades in four days might be behind Jerry Dipoto's usual pace

Ohtani is arguably the best hitter and pitcher in Japan

The O's need rotation help, and Cobb is available for hire
The Red Sox and Cardinals are expected to make trade offers next

The free agent first baseman may be a fit in St. Louis

The front office changes in Atlanta continue