White Sox have special slugger in Jose Abreu
With 10 home runs and 31 RBI so far, White Sox rookie Jose Abreu appears to be an elite-level slugger.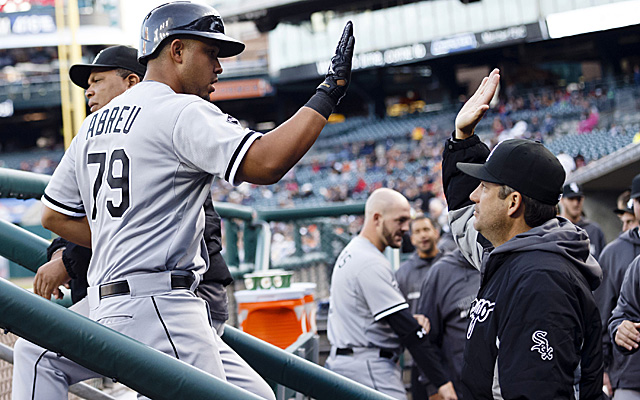 More MLB: Power Rankings | Expert Picks | Latest news & notes | Fantasy news
White Sox first baseman Jose Abreu is no ordinary rookie.
Not only is Abreu 27 years old, but he also has a six-year, $68 million deal and had been playing at the highest level professionally in Cuba before defecting.
He's also far from ordinary in terms of his production, as Abreu has now set records for both home runs and RBI in his first month of play as a rookie. His prodigious power has been on display throughout the early going, as he entered Sunday ranked third in average fly ball distance behind Mike Morse and Giancarlo Stanton.
After having witnessed his walk-off grand slam Friday night, the Rays were quite impressed (via chicagotribune.com).
"He's the best player in the world ... ever ... right now," said Evan Longoria.

"Really a big, strong fellow with a controlled attitude at the plate," Joe Maddon said. "He's not just a wild swinger. You have to make good pitches or he is going to hurt you."

"This is the first time ever seeing him live, and I am impressed with his power and how he uses the whole field," David DeJesus said.
That was all before he took David Price deep Sunday (watch here) as part of a four-RBI effort. There are still a few games left in April, but already, Abreu has put together one of the most productive first months in history for a rookie.
With 10 homers and 31 RBI, Abreu is well ahead of the rest in both categories. Here are the only players in baseball history to have at least six homers and 15 RBI in their first season before May 1:
Jose Abreu, 2014, 10 HR, 31 RBI
Albert Pujols, 2001, 8 HR, 27 RBI
Alvin Davis, 1984, 7 HR, 17 RBI
Evan Gattis, 2013, 6 HR, 16 RBI
Jason Heyward, 2010, 6 HR, 19 RBI
Wally Joyner, 1986, 6 HR, 16 RBI
[Note: Some players, such as Kent Hrbek and Carlos Delgado, did so with rookie eligibility, but it wasn't in their "first" season in the majors.]
Abreu is on pace for 62 homers and 193 RBI. He's not going to maintain that pace (or is he?!?), but it illustrates just how monstrous he's been thus far. Even if he does slow down significantly, he's likely to be one of the greatest power-hitting rookies of all-time. Only 11 hitters have previously had at least 30 homers and 100 RBI in their rookie year. Here they are, along with Abreu and his current paces. We'll throw in doubles and slugging percentage just for fun.
Top rookie power hitters
Player
Year
HR
RBI
2B
SLG
Jose Abreu (*pace)
2014
62*
193*
37*
.631
Albert Pujols
2001
37
130
47
.610
Mike Piazza
1993
35
112
24
.561
Mark McGwire
1987
49
118
28
.618
Jose Canseco
1986
33
117
29
.457
Ron Kittle
1983
35
100
19
.504
Walt Dropo
1950
34
144
28
.583
Al Rosen
1950
37
116
23
.543
Ted Williams
1939
31
145
44
.609
Rudy York
1937
35
103
18
.651
Hal Trosky
1934
35
142
45
.598
Wally Berger
1930
38
119
27
.614
Again, there's basically no chance Abreu comes close to his current pace. He'll go through some slumps, teammates won't be on base as often for him at times and pitchers will make adjustments to him as he continues to make his rounds through the league. That's natural.
Still, it's a pretty easy bet that he will join the above group, barring major injury. I think it's pretty reasonable to say he can hit at least 40 homers. The RBI are a bit more tricky, because it's such a team-dependent stat, but 120 doesn't seem out of reach. Remember, just as opponents will adjust to him, he'll continue adjusting to living and playing in America. He'll become familiar with opposing pitchers and how they like to work.
Regardless of where things go from here in 2014, Abreu is having a special opening month. The odds are pretty good that he'll parlay that into a special rookie season and will be one of baseball's premier power hitters for the near future. The White Sox have themselves a burgeoning star.
Maxwell joins a growing movement across sports

The Yankees punched their ticket to the playoffs with a win over the Blue Jays on Saturday

Sabathia's stance seems to be an increasingly popular one among athletes
Matt Chapman and Matt Olson give the A's hope

Plus the A's have hope and all the rest of the day's action

Despite an awful month, the Dodgers are again NL West champions