White Sox hope Pierzynski departure leads to Flowers' blooming
A.J. Pierzynski's unceremonious departure from the White Sox after eight sterling seasons didn't even land him a floral arrangement. Instead, it's the White Sox who get Flowers -- Tyler Flowers, 27, who is taking Pierzynski's job, taking Pierzynski's spring locker and is embarking upon the biggest baseball opportunity of his life. ...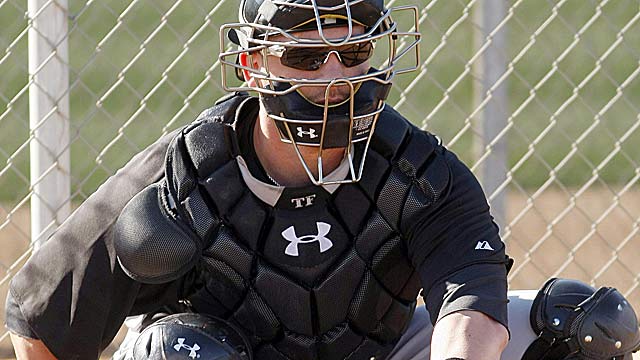 With Tyler Flowers, the White Sox expect a 'seamless transition' behind the plate.
(USATSI)
GLENDALE, Ariz. -- A.J. Pierzynski's unceremonious departure from the White Sox after eight sterling seasons didn't even land him a floral arrangement.
Instead, it's the White Sox who get Flowers.
Tyler Flowers, 27, is taking Pierzynski's job, taking Pierzynski's spring locker, and now all that's left to seize is the memories, right?
"No one is going to replace A.J. in our fan base," starter Jake Peavy says. "You win a World Series, the attitude he had, you're used to a certain face for so long … it makes it tough to replace someone who was something of an icon in Chicago.
"I'm sure at times when he has a bad game, fans will get on him. Part of his job is to stay focused, and part of our job is to pick him up when it happens."
Few job descriptions in the game this spring are as sandpaper-rough as that of backstop on Chicago's South Side. Everybody knew that Pierzynski, 36, wasn't going to last forever, though it may have appeared that way at times.
His hard-shell exterior deflected just about everything that came his way, he had a terrific season with the bat in 2012 (career-high 27 homers, and 77 RBI) and the last regular catcher before Pierzynski for a White Sox World Series winner was Ray Schalk … in 1917.
From that shadow emerges Flowers, step by careful step this spring, the greatest opportunity of his baseball life awaiting.
"Definitely," says Flowers, the Braves' 33rd-round pick in the 2005 draft before Atlanta shipped him to the Sox in the Javier Vazquez deal in December 2008. "But I'm not approaching it differently. I've always approached it as if I had this position waiting, so there's no change in preparation and work ethic.
"It's just time for the opportunity."
Fifteen miles to the north, Pierzynski is pulling on the unfamiliar blue and red at a corner locker in the Rangers' clubhouse in Surprise. He signed a one-year, $7.5 million deal with Texas the day after Christmas. New socks, new Sox.
"Everybody said it was going to be rough replacing A.J. offensively," Sox second baseman Gordon Beckham says. "We're not worried about that as much. We really feel Tyler is going to handle the pitching staff well.
"People like throwing to him. The way he calls games. The way he frames pitches. It will be easy to have a seamless transition."
That's the hope, anyway. And with the Tigers even stronger on paper with the additions of Torii Hunter and Victor Martinez, Kansas City improved with starters James Shields, Wade Davis and Ervin Santana, and Cleveland hauling in Michael Bourn, Nick Swisher and Brett Myers, that transition had better be smooth, if not seamless.
Good thing Flowers had a head start. In 2009, his first season in the organization, he was catching at Double-A Birmingham when a new acquisition happened to show up on an injury-rehabilitation assignment. Jake Peavy, just in from San Diego, had an ankle to mend and Flowers was behind the plate to help him through it. Then he was with Chris Sale for a time at Triple-A Charlotte in 2010.
"I feel like I've already spent time with the pitchers working for whenever this opportunity happened," Flowers says. "When I got over here, my intention, obviously, was to be the starting catcher one day.
"Gavin Floyd, Peavy, Sale … those are guys who, when you acquire them, you know they're going to be horses. I took time with Peavy and Sale [in the minors], and with Gavin in the spring, to go ahead and get to know their personalities."
And their pitches.
When manager Robin Ventura and bench coach Mark Parent, a former big league catcher, told him to work on knowing each pitcher individually, it was just a formality.
In the minors and as Pierzynski's backup during his first full season in the majors last year, Flowers already was on that program.
"I mean, what else did I have to do?" he says.
"I think that Tyler Flowers is as prepared at this point as we could want, and as we could imagine," Parent says.
Peavy says that Flowers "is as good as most guys in the league right now at calling a game and receiving pitches. We're going to be just fine back there."
Neither are the Sox concerned with that uninspiring .213 batting average and .296 on-base percentage Flowers compiled over 52 games (136 at-bats) in 2012.
As Parent points out, "he's got a lot of pop." Flowers connected for seven homers last season, one every 19.4 at-bats.
"Biggest thing is, you can't evaluate a guy getting three to six at-bats a week," Peavy says.
Not fairly, at least.
More than whatever Flowers can or can't do with the bat, the bigger issue for the White Sox will be their right-handed-heavy lineup.
The left-handed Pierzynski provided some balance. Now, the Sox project seven right-handers in their everyday lineup. And with righties Justin Masterson (Indians), Shields and Santana (Royals) and Justin Verlander, Doug Fister, Max Scherzer and Anibal Sanchez (Tigers) all capable of gobbling up right-handed sticks within the division, that could mean trouble.
But that's all in the future.
And Flowers has made things work so far.
A native of Roswell, Ga., Flowers was shocked when the Braves dealt him for a couple of reasons. One, as a Georgian, he probably was too intent on the hometown-boy-plays-for-hometown-team script. Two, when the Braves asked him to play in the Arizona Fall League in '08 because it would be a good "showcase," he maybe didn't pick up on the true baseball meaning of that word.
Fact was, the timing was awful, anyway. He was married right after the '08 season and really didn't want to go to Arizona. Where he wanted to be was Aruba, where he and Nancy had been planning to honeymoon. But when you're a baseball player, you've got to hit the occasional curve, right? So they delayed their honeymoon while he went to the AFL.
Then White Sox general manager Kenny Williams entered the newlyweds' life.
"I'm glad he did," Flowers says of the trade. "There's no telling what would have happened with me in Atlanta behind Brian McCann.
"It definitely was a blessing in disguise."
Now more than ever. So he will take his knowledge of the Sox pitchers and everything he learned from Pierzynski, and he will put the entire picture together. This, as they say, is where preparation meets opportunity.
"You saw the work A.J. put in day-in and day-out preparing for a game," Flowers says. "The guy worked his tail off. I think that's how you develop the consistency he had throughout his career.
"There were times in a game when I came back to the dugout and he'd ask what I was thinking in that situation, or what was my plan against that hitter," Flowers said. "I think he was beneficial."
From the shadows, Flowers watched.
From the small opportunities, he learned.
"This isn't going to overwhelm him," Parent says. "Part of that is because Robin is not going to let that happen, and part of it is I'm not going to let that happen.
"We're not going to baby him. Even though we can see he's not going to need a whole lot of help."
Judge's 48 homers trail only McGwire's 49 in single-season rookie history

The Reds still have one of the best hitters in the game in Joey Votto and a rising star in...

Maxwell joins a growing movement across sports
The Yankees punched their ticket to the playoffs with a win over the Blue Jays on Saturday

Sabathia's stance seems to be an increasingly popular one among athletes

Plus the A's and Brewers have hope, Giancarlo goes deep again, and much more