White Sox move Sept. 25 game time for Yom Kippur
The White Sox have moved the start of their Sept. 25 game to accommodate Jewish fans as Yom Kippur begins that night. It also means Kevin Youkilis won't have to make a decision on whether to play on the solemn Jewish holiday.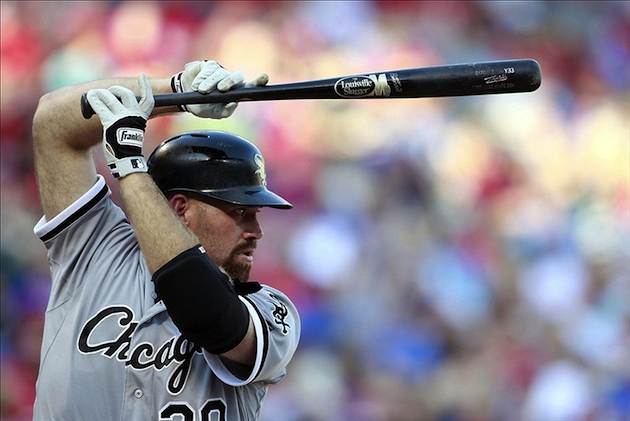 Kevin Youkilis won't have any difficult baseball decisions to make on Yom Kippur. (US Presswire)
The Jewish holiday of Yom Kippur begins at sunset on Sept. 25, and the White Sox are the first team to move the start of the Tuesday game to accommodate Jewish fans. Originally scheduled to start at 7:10 p.m., the game between the White Sox and Indians will start at 1:10 p.m.
The decision keeps one of the game's most prominent Jewish players, Chicago's Kevin Youkilis, from having to decide whether he would play on Yom Kippur. Last year, Yom Kippur began on Oct. 7 and there were questions of whether he would play. When asked last July by the JewishJournal.com, Youkilis said, "I've never played on Yom Kippur. Hopefully, if we were playing it would be a night game, not a day game." The Red Sox, of course, weren't playing on Oct. 7 last year after an epic collapse. 
The Brewers, though, were playing on Yom Kippur last season, and Ryan Braun decided to play in Game 5 of the National League Division Series.
The White Sox didn't mention Youkilis in their statement, just their fans.
"Over the past several weeks we have had a number of our fans communicate their concerns with the game's start time on September 25," said Brooks Boyer, White Sox senior vice president of sales and marketing, in a statement. "Along with the Cleveland Indians, we have agreed to move up the start time of the game to 1:10 p.m. to accommodate many fans' interests."
For more baseball news, rumors and analysis, follow @EyeOnBaseball on Twitter, subscribe to the RSS feed and "like" us on Facebook.
Stoneman Douglas caps will be worn during Friday's spring training games

Arrieta is the top starting pitcher left on the market

The Angels are lowering the fence from 18 feet to 8 feet, so we should see a jump in home...
Mathis is one of the best at something that cannot be measured but is valued

J.D. Martinez is reportedly headed to Boston on a free-agent contract

Keep tabs on the top 50 free agents on the market right here