White Sox, Royals fight after Yordano Ventura-Adam Eaton staredown
Five players ejected, including both starting pitchers. Royals win 3-2 in 13 innings, by the way.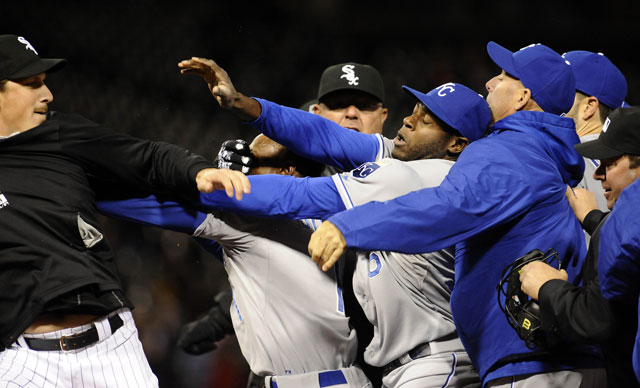 Umpires ejected five players in the bottom of the seventh Thursday night, including Yordano Ventura of the Royals and Chris Sale of the White Sox — both starting pitchers — after a bench-clearing fight at U.S. Cellular Field. White Sox pitcher Jeff Samardzija, along with Royals pitcher Edinson Volquez and outfielder Lorenzo Cain, also were ejected after the fracas. The Royals won 3-2 in 13 innings.
Watch the fight:
Adam Eaton hit a sharp one-hop grounder back to the mound with two outs in a 2-2 tie, but instead of immediately throwing to first base for the third out, Ventura delayed and stared at Eaton for a moment. Eaton said an obsenity to Ventura, who yelled an obsenity back before throwing to first base.
Both players were kept apart by teammates and umpires, but the benches cleared, and unlike other arguments the Royals have engaged in lately, there was actual pushing, shoving, clutching and grabbing with the White Sox. The argument seemed to be simmering down — Yost was trying to calm Sale, who had started the game for the White Sox, and Mike Moustakas was escorting Ventura back to the dugout — when Samardzija charged at Cain. He missed, however, and Samardzija knocked over coach Mike Jirschele instead. Royals announcers also alluded to something else that had set the Royals off — notably Cain, who they reported as being most upset — before the inning started.
Lorenzo Cain on Jeff Samardzija: "I'm not a big fan."

— Andy McCullough (@McCulloughStar) April 24, 2015
Earlier in the game, Ventura hit Jose Abreu with a pitch leading off the fourth and Sale hit Moustakas in the face with two outs in the fifth. Both teams were said to have bad blood coming into Thursday, the first game of a four-game series, that boiled over from tensions during the opening series of the season at Kauffman Stadium. Samardzija hit Cain with a pitch — Cain had said it was on purpose — on opening day.
Reports from the Royals clubhouse say that Samardzija was "chirping" after Christian Colon hit into a double play, which might have re-sparked Cain's anger from earlier in the season.
Colon's reply: So I yell back. What your deal, bro? You're not even in the game. No one is saying anything. No one's trying to fight nobody.

— Matthew DeFranks (@MDeFranks) April 24, 2015
The Royals have had issues with other teams they've played this season, notably the Oakland Athletics this past weekend at home. Those tensions involved Ventura, who received a fine for his actions. He also was at the center of a disagreement against the Los Angeles Angels.
For his part, Ventura was contrite:
Yordano Ventura was contrite and apologetic. He took responsibility for sparking the brawl. He said he needs to control his emotions better.

— Andy McCullough (@McCulloughStar) April 24, 2015
Eaton said tempers flared, but that it wasn't anything too out of line with the baseball season:
#WhiteSox were very political re: brawl. Adam Eaton said he respects KC, and "Boys will be boys." #WhiteSox

— JJ Stankevitz (@JJStankevitz) April 24, 2015
The Royals were second in the league in batters who have been hit by a pitch coming into action Thursday.
CBS Sports HQ Daily Newsletter
Get the best highlights and stories - yeah, just the good stuff handpicked by our team to start your day.
Please check the opt-in box to acknowledge that you would like to subscribe.
Thanks for signing up!
Keep an eye on your inbox for the latest sports news.
Sorry!
There was an error processing your subscription.
The road is Omaha is complete, now it's time for the College World Series

Jhoulys Chacin, however, is trending in the other direction

SportsLine's advanced computer model simulated Thursday's Indians vs. Rangers game 10,000...
Here is everything you need to know about the day in baseball

Let's add another chapter to his book of dominance

We're more than halfway through June and the Brewers have gotten little-to-nothing on offense...