Who has been the best in 2014 at making the highlight play?
Which defenders in 2014 have been tops when it comes to making plays that are almost impossible? Let's explore.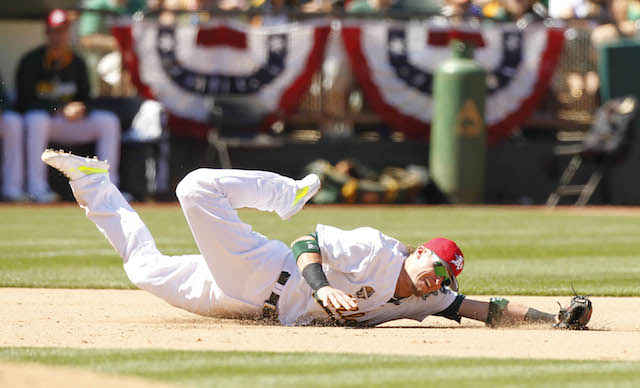 More MLB: Power Rankings | Expert Picks | Latest news & notes | Fantasy news
The question before us: When it comes to making the all-but-impossible play in the field -- the highlight play, if you will -- which glove-men have been tops in 2014 thus far? 
To help us answer this question, we'll turn to FanGraphs. Over at the electric pages of note, they've collected data from the Scouting Edge service and classified every play according to perceived difficulty. For our purposes, we're interested in those that Scounting Edge has determined would be made by a mere 1-10 percent of the relevant MLB population (thus classified as "remote"). 
Now we'll go through each position and list the fielder who has successfully handled the highest percentage of these 1-10 percent "remote" plays, and we'll limit it to those defenders who have spent at least 500 innings in the field in 2014 (except in the case of pitchers, obviously). In the case of ties, we'll go with the guy who has made the highest total of remote plays. 
Onward!
Catcher
Yadier Molina, Cardinals: Remote-play %: 33.3; successful remote plays: 3
No surprise here, as Molina is generally regarded as the best defensive catcher of his generation. As you can see, we're necessarily dealing with some small sample sizes here (after all, near-impossible plays, ipso facto, aren't made all that often), but Molina is on top where horse-sense suggests he belongs.  
Here's a taste ...
Note: I can't say definitively whether that's one of the three remote-percentage plays that Molina has been credited with in 2014, but visually it certainly seems to qualify.
First base
Edwin Encarnacion, Blue Jays: Remote-play %: 25.0; successful remote plays: 4
Encarnacion isn't thought of as a quality defender, and other numbers back up that perception. This season, though, he has shown a wee knack for making the unlikely snare. Bear in mind, of course, that this is just one glimpse of a defender's abilities. The vast majority of in-game defensive reps occur on more makeable plays.
Second base
Dee Gordon, Dodgers: Remote-play %: 15.4; successful remote plays: 13
While Gordon doesn't rank among the best defenders at the keystone, it's probably not surprising that a player of his speed, instincts and athleticism could pull off the occasional miracle play, so here he is. A special nod goes out to Aaron Hill of the Diamondbacks. While his remote percentage of 12.5 falls short of Gordon's mark, per Scouting Edge he leads the majors this season with 32 succesful plays of this kind.
But back to Mr. Gordon ...
Third base
Josh Donaldson, Athletics: Remote-play %: 16.7; successful remote plays: 18
Why wouldn't it be Donaldson? He's perhaps the best defensive third baseman in the game today, and his superlative reactions at the position mean he's inclined toward making plays that almost no one else can. For instance ... 
Shortstop
Jean Segura, Brewers: Remote-play %: 20.0; successful remote plays: 15
Here's another one that doesn't square with conventional perceptions. Segura isn't a top-tier defensive shortstop overall, but he's making the difficult plays in 2014. Like this one ...
Outfield
Desmond Jennings, Rays: Remote-play %: 33.3; successful remote plays: 6
Will Venable, Padres: Remote-play %: 33.3; successful remote plays: 6
Billy Hamilton, Reds: Remote-play %: 25.0; successful remote plays: 8
Jennings and Hamilton don't surprise, as they're frontline fly-catchers. Venable's a surprising presence, but, as you've seen above, he's not alone in that respect.
In the service of reinforcing Mr. Venable's case, please regard the following:
Excelsior!
Note: David Murphy of the Indians and B.J. Upton of the Braves also check in with a remote-play percentage of 25.0; however, Hamilton earns the tie-breaker by virtue of his having made more such plays. 
Pitcher
Wily Peralta, Brewers: Remote-play %: 100.0; successful remote plays: 2
Another Brewer! Obviously, with pitchers an already meager sample size becomes more so. Peralta, though, earns the nod for making both remote plays that came his way.  
Acuna edged out Shohei Ohtani and Vladimir Guerrero Jr.

There's no reason to run over the cases for and against Bonds, so let's have fun instead

The coveted right-hander would certainly be a fit in Milwaukee
We rate the best mustaches from random baseball cards because, why not?

Colon wants to break a Dennis Martinez record

The Twins have been rumored to be interested in Darvish all winter