Who needs Masahiro Tanaka the most?
Masahiro Tanaka is headed to MLB in time for next season. So which likely contender is most in need of his skills?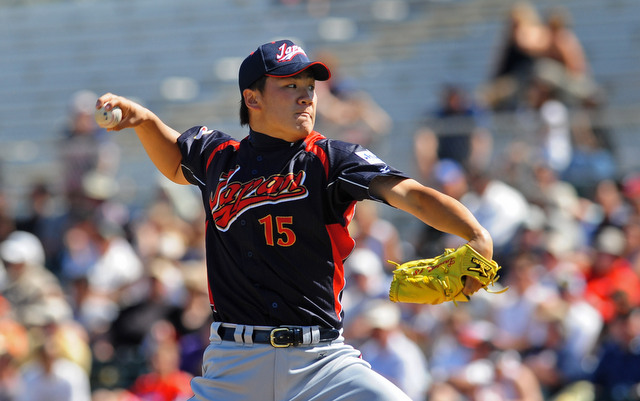 MORE: FA tracker: position players | FA tracker: pitchers
As previously noted, Japanese right-hander Masahiro Tanaka has officially been posted and will likely sign with an MLB team in time for next season. At age 25 and now limited a posting fee of no more than $20 million, Tanaka is the kind of present and future ace who should be of some interest to pretty much every team in baseball. While likely 2014 non-contenders like the Cubs (especially) and Phillies and perhaps the Mets and Astros may sensibly be in on Tanaka (again, he's 25, so he's more than just a near-term solution), let's put our focus on those teams with legitimate designs on the playoffs in the season to come. Among those teams, let's see who needs a performer like Tanaka. 
First, though, what can realistically be expected of Tanaka in 2014? His credentials in Japan are of course sterling (1.27 ERA and 5.72 K/BB ratio in 212 innings for the Rakuten Golden Eagles last season, and a 2.30 career ERA and 4.50 K/BB across parts of seven seasons). As any number of hurlers have proved, Japanese hurlers in the aggregate are more than capable of making the leap. It's a lineage that spans from Hideo Nomo through Yu Darvish.
Add it all up, and Tanaka profiles as a strong asset in the season to come. Over at NOMProjections.com, they foresee Tanaka as yielding a 2014 WAR of between 4.0 and 5.0. In terms of overall value, that would put Tanaka somewhere in the range between A.J. Burnett and Darvish, based on how those pitchers performed this past season. In related matters, NOMProjections predicts a 3.59 ERA and a 3.02 K/BB ratio. Obviously, much will depend upon what park he calls home and what kind of defense he has behind him. In neutral context, though, Tanaka figures to be valuable. 
And now for the potential contending suitors who need him most ... 
Angels
The Angels' rotation has been a trouble spot recently, and although they snared potential upgrades this offseason in acquiring Tyler Skaggs and Hector Santiago, they could still use depth and certainty behind Jered Weaver and C.J. Wilson. As well, the Angels likely need another signature addition in order to keep up with the two-time defending-champ Athletics, improved Rangers and Robinson Cano-infused Mariners. Additionally, there's no guarantee that the 22-year-old Skaggs, although full of upside, is ready to pass muster at the highest level. 
Diamondbacks
The D-Backs parted with the aforementioned Skaggs and right now have the injury-prone Brandon McCarthy penciled in as their no. 2 starter. As well, Patrick Corbin, while a good major-league starter, isn't an ace or a rotation anchor. Tanaka would immediately become that in Arizona. It's hard to figure out many of the moves the D-Backs have made this winter, but there's no question that they're angling for contention. They're not there yet. 
Dodgers
With Clayton Kershaw, Zack Greinke, Hyun-Jin Ryu, Josh Beckett and Dan Haren already in the fold, adding Tanaka would be in the service of assembling an "embarrassment of riches" when it comes to starting pitching. Can Beckett be depended upon to provide durability and effectiveness for the first time since 2011? Will bounce-back candidate Haren actually bounce back? Those questions become far, far less pressing with Tanaka on the roster. Could any team in baseball match a 1-2-3 of Kershaw-Greinke-Tanaka? No, it says here. 
Mariners
The M's have of course made the priciest and most conspicuous addition of the offseason in Cano. Doubtless, Cano will vastly improve the Mariners in 2014, but an alchemist he is not. That is, it takes more than one player to turn a team that was out-scored by 130 runs into a contender. The front of the rotation is strong with Felix Hernandez and Hisashi Iwakuma, and Taijuan Walker and James Paxton have plenty of ceiling. However, Tanaka would give Seattle a third frontline starter and permit the team some patience when it comes to Walker and Paxton. Considering how much they've already invested, the Mariners need to see this through, lest they wind up a more expensive fourth-place team next season.  
Rangers
Given the recent pricey addition of Shin-Soo Choo, it's possible the Rangers won't be serious bidders for Tanaka. They're also already on the short-list of best AL teams on paper headed into 2014. As for the Texas rotation, it's a potential strength as is: Darvish, Derek Holland, Matt Harrison, Alexi Ogando and Martin Perez. If generally healthy, that front five is the envy of most teams in baseball. But injury concerns aren't hard to find in there. For that reason, Tanaka would give the Rangers the depth they may come to need. They're not desperate for him, though.
Red Sox
The Sox aren't as strongly linked to Tanaka as some of the usual suspects are, but there's interest. At present, the Boston rotation is solid, but there's no guarantee that Clay Buchholz and Jake Peavy can stay healthy. As well, there's no guarantee that John Lackey will be as effective as he was in 2013. Adding to the appeal for Boston is that a Tanaka signing would block the rival Yankees from making a move they badly need to make. The Sox, of course, have suffered free agent losses of their own this offseason, and while this addition wouldn't directly address the holes left behind, Tanaka would replace some of the wins that Jacoby Ellsbury and Jarrod Saltalamacchia took with them. 
Yankees
CC Sabathia may be knee-deep in his decline phase, and Hiroki Kuroda will turn 39 in early February. Ivan Nova has promise, but the back end of the Yankee rotation is deeply uncertain at this writing, what with David Phelps and Michael Pineda being slotted in. More broadly, the Yankees, even though they've added Jacoby Ellsbury and Brian McCann, are still a team that finished third in the brutal AL East and then sloughed off the MVP-caliber likes of Cano. Signing Tanaka would likely push the Yankees past the $189-million luxury tax threshold, depending on what happens with Alex Rodriguez and his forthcoming arbitration ruling. 
Contenders who need a player like Tanaka but almost certainly won't pay the going rates include the Blue Jays, Braves, Orioles, Reds, Pirates and Indians. In the end, though, expect one of the teams detailed above to ink him. The guess here is that it's either the Yankees or Cubs. 
The Red Sox and Cardinals are expected to make trade offers next

The free agent first baseman may be a fit in St. Louis

The front office changes in Atlanta continue
The Marlins are more likely than you think on our list

Judge finished a distant second in the balloting and he paid respect to the winner

Stanton just won the 2017 NL MVP award but could wind up being dealt this offseason