Who will be the next prospect to get a long-term deal before MLB debut?
Jonathan Singleton signed a long-term contract before making his MLB debut. Here are some other prospects who could get a similar deal.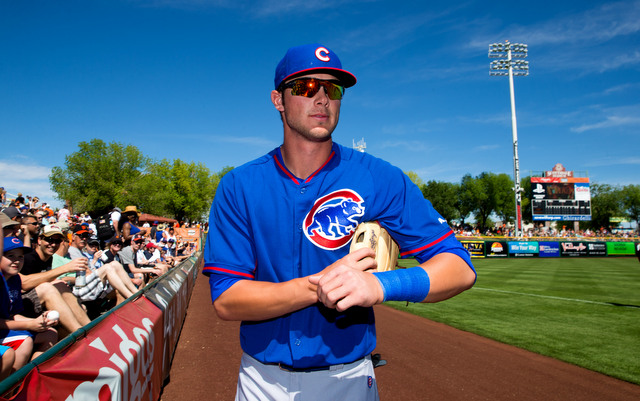 More MLB: Power Rankings | Expert Picks | Latest news & notes | Fantasy news
Earlier on Monday, Jon Heyman of CBSSports.com confirmed the Astros and first base prospect Jonathan Singleton have agreed to a five-year contract worth at least $10 million. The deal includes three club options and can be worth up to $35 million.
The contract is unprecedented because Singleton has not yet made his MLB debut. He will be called up to join the team before the series opener against the Angels on Tuesday. The Astros offered George Spinger a seven-year, $23 million deal and the Pirates offered Gregory Polanco a seven-year, $25 million deal in recent months, but both outfielders rejected the offers, which came before their MLB debuts.
Teams have been signing their top young players to long-term extensions for years now. It has become imperative if you want to contend. Signing players before they make their big-league debuts is incredibly risky, obviously, yet the potential savings are enormous. The Singleton, Springer and Polanco deals could save the clubs tens of million of dollars even if they fall a little short of their ultimate ceiling.
It was only a matter of time before a team signed a prospect long-term before his MLB debut, and it's only a matter of time before it happens again. Here are some other top prospects who are candidates for Singleton-esque contracts. Cardinals outfielder Oscar Taveras would have been an ideal candidate, but he made his debut over the weekend. Alas.
SS Javier Baez & 3B Kris Bryant, Cubs: The Cubbies have an enviable cache of position player prospects, led by Baez and Bryant. Bryant was the second overall pick in the 2013 draft and has since hit 27 minor-league home runs in only 97 games. Baez, the ninth overall pick in 2011, has started to pick it up in recent weeks after getting off to a very slow start in Triple-A. He still has a .692 OPS with a 34.6 percent strikeout rate, however. Baez swatted 37 homers and stole 20 bases just last season. These two are the future on the left side of the infield for the Cubs, at least in theory. Starlin Castro will have something to say about that.
2B/OF Mookie Betts, Red Sox: With Dustin Pedroia entrenched at second base, the Red Sox have already started giving Betts some time in center field in anticipation of calling him up later this year. He has been off the charts at Double-A this year, hitting .355/.443/.551 with 18 doubles, six homers, 22 steals and more walks (35) than strikeouts (20). Betts has been the best all-around hitter in the minors this year and while he's not another Xander Bogaerts, he could have an immediate impact.
RHP Jonathan Gray, Rockies: Pitchers don't seem like the type to get a long-term deal before making their debuts, but if any pitcher is going to get it, it'll probably be Gray. ESPN's Keith Law recently rated him the best pitching prospect in baseball, and so far this year the third overall pick in the 2013 draft has a 3.86 ERA with a 46/10 K/BB in 53 2/3 Double-A innings. Those numbers don't really stand out, but a big righty with an upper-90s fastball and a devastating slider figures to go on to do big things.
OF Joc Pederson, Dodgers: Because their big-league outfield is full and quite expensive, Pederson is in an awkward spot. He might be the best piece of trade bait in baseball, and how much more valuable would he be if he was coming with a below-market value contract? The answer: very. Teams love nothing more than cost-controlled young players. Pederson is hitting an insane .332/.440/.609 with 15 homers and 13 steals in 53 Triple-A games this year (to be fair, his home park in Albuquerque is extremely hitter friendly), and is basically MLB ready. Los Angeles just has no room for him.
• • •
Some other top-shelf prospects who could be candidates for a Singleton-esque contract include Indians shortstop Francisco Lindor, Phillies third baseman Maikel Franco, Marlins lefty Andrew Heaney and Padres right-hander Matt Wisler. Consider them the honorable mentions.
The key to Singleton's deal was his MLB-readiness. The only reason he was still in Triple-A was his service time, specifically the Astros wanted to keep him down until after the Super Two cutoff to keep his future salaries down. The new contract makes his future salary and service time a non-issue. It's all set.
Teams are not going to sign prospects in Class A to long-term contracts because there's still so much that can go wrong. In fact, even offering extensions to Double-A guys like Bryant, Gray and Betts feels risky, though all three are super advanced and expected to make their debuts before the end of the season. Sooner or later another prospect will take a long-term deal before making his debut, and these guys are as good a bet as anyone to get it.
Keep it locked right here for everything you need to know about the world of baseball Tues...

There have been several racially charged incidents at Fenway Park this year

Washington's right fielders have sputtered offensively since Harper went down
The good news? Wichita still has a chance to win the series Tuesday night

Soon more home runs will have been hit in 2017 than in any other season in MLB history

Ferrell somehow avoided going to the ground