Who won? Reds will know soon, but Indians, Diamondbacks may not
The three-team deal between the Reds, Indians and Diamondbacks was fascinating, but the rush to determine who won the deal isn't. We'll know soon how well the Reds did, because it mostly depends on whether Shin-Soo Choo can handle center field. The Indians and Diamondbacks answers will likely take longer.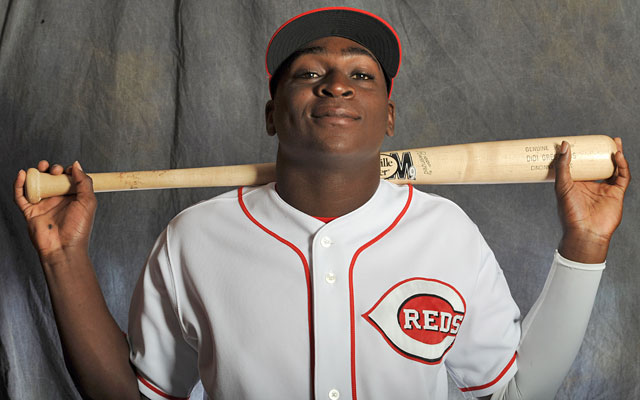 Didi Gregorius brings a plus glove but a questionable bat with him to the Diamondbacks. (Getty Images)
We always want to know who won.
The minute any trade is announced (and often before that), we want to know who won.
It's understandable. It's also wrong, because all too often, what we thought on the day of the trade doesn't play out over the next few years.
And it's what plays out that matters.
So here's some good news for Reds fans after Tuesday's big three-team trade with the Indians and Diamondbacks: You're going to know soon.
If Shin-Soo Choo can handle center field, the Reds are winners.
The Reds strongly believe he can do it.
"He'll be fine," one Reds person texted me late Tuesday.
If he is, and if he stays healthy, the Reds just got the leadoff hitter they've been seeking for months. It's actually pretty amazing that the Reds won 97 games last year (only the Nationals won more, with 98), given that their leadoff men combined for a .254 on-base percentage (the worst by any major-league team in at least a decade).
Choo's career on-base percentage: .381. Last year, he was on base 65 more times than the Reds leadoff hitters were.
That has to translate into more runs, even before you take into account that Choo should hit a ton at Great American Ball Park.
"A ton and a half," the Reds person said.
The Reds know there's a good chance they'll only have Choo for one year, but they were willing to accept that. They were also willing to take a chance on him in center field (and would much prefer not to have to consider a backup scenario of Jay Bruce in center field).
In any case, the Choo impact should be immediate.
But this trade had three sides. We heard at last week's winter meetings how tough it is to make three-way trades, but Indians general manager Chris Antonetti was able to pull this one together.
Was it worth it?
As of now, the answer seems to be yes, at least on two sides and possibly on all three. For the Indians and Diamondbacks, though, there's no way that answer can come now.
Diamondbacks general manager Kevin Towers, on a Tuesday night conference call, called Didi Gregorius "one of the premier young shortstops in the game."
Not everyone in the game agrees with that assessment (and judging by Twitter, plenty of Diamondbacks fans don't, either).
But good shortstops may be the hardest thing to find in baseball right now, and Towers (who has been searching for one) knows that as well as anyone.
He also thinks he knows Gregorius, having personally scouted him in the Arizona Fall League. The proximity to the Fall League worked out well for the Diamondbacks once before, when former GM Josh Byrnes traded for Ian Kennedy in part because of what he had seen from him in the Fall League.
It could take time to know if Towers did as well with Gregorius as Byrnes did with Kennedy. Towers won't even guarantee that Gregorius will open 2013 in the major leagues, saying only that he'll have a chance to compete for the job.
Towers is getting roasted by many for giving up Trevor Bauer. He said he traded Bauer only because the Indians insisted on getting him in any Gregorius deal, but many in the game insist just as strongly that the Diamondbacks had soured on Bauer.
Bauer has his own way of doing things, which can make him fascinating but also can make him frustrating. His biggest defender/protector in the Diamondbacks organization, according to sources, had been Jerry Dipoto, who left a little more than a year ago to become the Angels general manager.
The Diamondbacks still brought Bauer along quickly -- he debuted in the big leagues last June, just five months after his 21st birthday -- but his routine and his style seemed to grate on some Diamondbacks people as the year went on. His 6.06 ERA and 11 walks in 16 1/3 major-league innings didn't help, either.
If Bauer becomes a true ace -- and many still believe he could -- then the Indians win the deal.
Then again, if Gregorius really does become a premier shortstop, then the Diamondbacks win it, too.
Check back in a few years.
Or, in the case of the Reds, in a few months.
Keep tabs on the top 50 free agents right here

Your one-stop shop for all things MLB Winter Meetings-related

The Angels knew about the first-degree sprain and still wanted to sign the potential ace, of...
The run on relievers continues with two more signings

The Yankees added Giancarlo Stanton in a blockbuster trade, though they now have openings at...

Smyly is currently on the mend from Tommy John surgery