Wieters aims to make best of his (likely) final two years as an Oriole
Catcher Matt Wieters says he's put contract talk on the "back burner," probably best since there is no hint he and the Orioles will bridge what appears to be a significant gap in talks.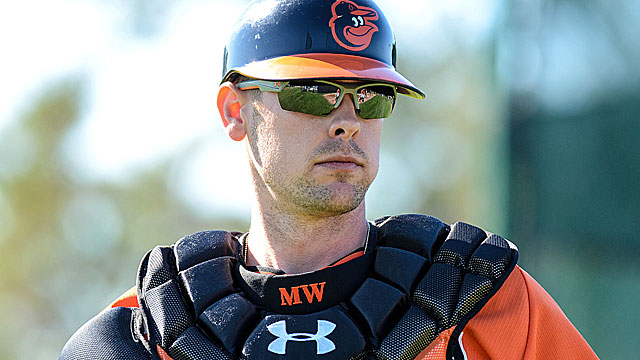 SARASOTA, Fla. -- Orioles catcher Matt Wieters may carry the tools of ignorance. But when it comes to this negotiating game, he is no dope.
No one can make a contractual stalemate sound nicer than him.
When Wieters says he "thinks both parties are on the same page," what he doesn't mention is that that means that while the parties understand where each other stands, they also both know that no long-term deal is in the offing.
The Orioles tried the past two years during spring training, but there appears no plan to try again this spring. The thinking seems to be: We know we aren't in the ballpark, so why bother? Or at least, why bother today?
Based on what you hear, that's probably sound thinking. It's not happening. Not now, anyway.
Wieters won't get into the specifics of past talks, but there's no evidence from either side that anyone believes a deal is about to happen. The gap between the sides is suggested to be immense. That explains why Wieters' name even came up this winter in trade rumors, though ultimately the Orioles understandably decided that while they have a difference of opinion on his value, he is practially irreplaceable.
The trade talk doesn't faze Wieters: "I love being on this club, and until someone gives me a call, I'm going to look forward to coming to this clubhouse."
Wieters also says, pleasantly, that "everybody's happy to be where they are," and it appears he means they've all come to grips with the idea nothing is about to happen in terms of a new Orioles contract, and that they are all dealing with it fine.
"I look at it like this," he said. "I have this year to look forward to, and I have today to look forward to."
In other words, he's stopped worrying about such mundane things as money.
That's probably the best way to look at it, though technically he has this year with the Orioles, and maybe next year, too. His attitude seems to be that he's going to enjoy it however long he's here. Maturing now at 27, he has a quiet confidence.
He said he loves that he still shares a clubhouse with many of the talented players he teamed with in the minors. For now, anyway.
"Normally, you have turnover. It's great to stay with the same guys the next few years," said Wieters, though technically only two are guaranteed or even likely because he's a free agent after the 2015 season.
It's a group that jelled two years ago, breaking through with a shocking run to the playoffs. They took a bit of step back last season while still finishing well above .500, at 85-77, same as the Yankees, who they also battled all through 2012. The magic wasn't quite there in 2013, but the megatalents have returned. Chris Davis, Manny Machado, Adam Jones and Wieters give the Orioles the best quartet of 20-something position players in the majors.
General manager Dan Duquette promises the team will be competitive again (he did so even before agreeing to a $50 million, four-year deal with Ubaldo Jimenez), and he's still surveying the free-agent market, with Kendrys Morales on the radar.
Meanwhile, Wieters professes to be unconcerned about the possible turnstile of players.
"In this clubhouse, we deal with the names in the clubhouse," Wieters said. "If we get another guy, we'll welcome him with open arms. But we feel we have enough right here. We feel we have a good core. We feel we have a good nucleus."
Wieters said he used to think often about the prospect of a long-term deal, especially when he was getting started in the big leagues. Now he hardly ever does. "That's why players have agents," he said. "They're the ones who are business-minded."
But if Wieters isn't as business-minded as an agent (in his case, Scott Boras), he at least appears to be with the program. Top two-way catchers almost never hit the free-agent market, which is part of the thinking behind seeing the value of seeing what's out there when he becomes a free agent in a couple years.
By all suggestions, it seems almost a foregone conclusion Wieters will look around in two years, and may well be gone. Before agreeing to the Jimenez deal, the Orioles carried a surprisingly similar payroll as the Rays, and they've shown no inclination to get into big-bucks deals again. The biggest contract the Orioles have ever signed was Jones' $85.5-million deal.
Davis also is a free agent after 2015, and the prevailing belief is the Orioles may have even less chance to keep Davis, who hit 53 home runs with 138 RBI and 370 total bases in 2013, all league-leading totals. That kind of power translates into a deal far from what Orioles owner Peter Angelos probably even imagines.
As for Wieters, while his percentage numbers fell a bit in 2013, it's doubtful his asking price did. His kind of two-way backstop is in short supply.
Top catchers usually get top dollar. Joe Mauer stayed with the Twins for $184 million over eight years. Buster Posey signed long-term with the Giants for $167 million over nine. And Yadier Molina stayed in St. Louis for $75 million, but that was signed just before he blossomed from star to megastar.
Wieters may not quite be in that category yet, but he has a lot going for him. He's been a consistent home-run producer, with 22, 23 and 22 the past three years. And he's stellar behind the plate and as a thrower.
The only knock is some slippage in the batting average and on-base numbers last season, to .235 and .287. Boras provided some numbers to counter that case. According to Boras, Wieters had 43 line drives fall in out of 67 in 2012, a normal rate, but only 43 out of 91 fell in last year, accounting for the difference in results.
In any case, Wieters is leaving the arguments to Boras.
"I enjoy showing up to play ball," he said. "That's what I look forward to."
That other thing, the money talk, that's all up to Boras, too.
"I've completely put everything on the back burner," Wieters said. "Scott will come to me. And I will pray about it, and God will lead me to where to go. Me, I'm just going to worry about playing baseball."
As luck would have it now, on that other subject of the contract, there's really nothing to talk about. At least not now, there isn't.   
Thursday brings us plenty of stretch-drive MLB action, so keep it right here

The ballparks in Cincinnati, San Diego and Seattle will have expanded netting in place by Opening...

Mondesi spent six years as the mayor of San Cristobal in the Dominican Republic after reti...
The veteran skipper has been Mets manager since the start of the 2011 season

The Baltimore third baseman is eligible for free agency following the 2018 season

The clubs breaks ground on Globe Life Field next week