Will Jeff Bagwell, a deserving Hall of Famer, get his due?
Bagwell's in his sixth year on the ballot and has been north of 50 percent for some time. But he hasn't enjoyed much momentum in recent votes.
We're zeroing in on the Jan. 6 reveal of the BBWAA 2016 Hall of Fame class, one certain to include Ken Griffey Jr. and maybe another player or two. As we lead up to the announcement, CBS Sports' Eye on Baseball scribes are running through the serious candidates one day at a time. Up next is Jeff Bagwell.
More HOF: One-and-dones | Kendall | Griffey | Hoffman | Edmonds | Wagner | Trammell | Smith | Garciaparra | McGwire | Sosa | Clemens | Bonds | Schilling | Martinez | Mussina | Walker | McGriff | Sheffield | Kent | Raines
Bagwell, now 47, is a Connecticut native who was born in Boston and went on to be drafted by the Red Sox out of the University of Hartford (fourth round, 1989). The Sox, rather infamously, went on trade Bagwell the minor-leaguer to the Astros for veteran reliever Larry Andersen. While Andersen was outstanding for Boston down the stretch in 1990, Bagwell, of course, went on to become one of the greatest first basemen in baseball. 
And he is just that -- one of the greatest first basemen in baseball history. Across parts of 15 big-league seasons in Houston, Bagwell batted .297/.408/.540 with 449 home runs; 488 doubles; 2,314 hits; 1,529 RBI; 1,517 runs; 1,401 walks, and 202 stolen bases. Bagwell wound up ranked in the top 100 all-time in OPS+ (36th), runs scored (64th), RBI (49th), total bases (72nd), doubles (72nd), home runs (38th), walks (28th), extra-base hits (46th), times on base (58th), sac flies (26th), defensive games as a first baseman (11th), double plays turned as a first baseman (12th), and assist as a first baseman (third). In other words, Bagwell's got an impressive dossier.
While injuries -- particularly his late-career shoulder woes -- conspired to keep him from reaching benchmarks like 500 homers or 3,000 hits (particularly the former), Bagwell isn't lacking for counting stats, as the rankings above attest. Also bear in mind that Bagwell, while he played in what was mostly a great era for offense, logged a comfortable plurality of his career plate appearances in the run-suppressing Astrodome. As his park- and league-adjusted OPS+ of 149 proves, Bagwell was especially impressive in context and on a rate basis. Peak? From 1994-2000, a span that covers Bagwell's age-26 through age-32 seasons, he batted .309/.433/.593 (167 OPS+) and averaged 41 homers and 41 doubles per 162 games. He was, of course, the unanimous NL MVP in '94.
Bagwell helped his teams win in other ways, too. He was a standout defender at first base. Reputation and the eye-test say as much, and so do the advanced metrics (per Baseball-Reference, Bagwell with the glove was 54 runs better than the average first baseman over the course of his career). As well, Bagwell was a plus base-runner, especially by the standards of his positional peers. He stole 202 bases in his career at a 72.1 percent success rate, and over the course of his 15 seasons Bagwell took the extra base almost half the time. 
That complement of well-rounded skills is reflected in Bagwell's lofty Wins Above Replacement (WAR) figure. Bagwell's career WAR, which roughly captures his value at the plate, in the field, and on the bases, of 79.6 ranks 38th all-time among position players. Needless to say, that's Hall of Fame-grade value right there. Per Jay Jaffe's JAWS system, which uses career and peak WAR, Bagwell is comfortably above the established standards for Hall of Fame first baseman and in fact grades out as the sixth-most valuable first baseman of all-time. Of the top 10 first basemen per JAWS, just three -- Bagwell, Albert Pujols (still active), and Jim Thome (not yet eligible) -- aren't in the Hall. 
That brings us to the matter of Bagwell's support among BBWAA voters. Here's how his ballot percentages have tracked over the years (75 percent is needed for election) ... 
2011: 41.7 percent
2012: 56.0 percent
2013: 59.6 percent
2014: 54.3 percent
2015: 55.7 percent 
Bagwell's case looked very promising after his big second-year leap followed by a push toward 60 percent in 2013. However, in part because of a ballot increasingly crowded with worthies, he's lost his momentum. Bear in mind that candidates now spend just 10 years on the BBWAA ballot, as opposed the previous limit of 15. Bagwell's within hailing distance, but after this year his time will be more than half up. 
Part of what's going on is an emphasis on Bagwell's lack of a signature achievement when it comes to his counting stats (i.e., 3,000 hits or 500 homers), but mostly it's the often tacit suspicion that he used performance-enhancing drugs during his career. Yes, Bagwell, used androstenedione while it was still legal and still allowed by MLB, and he also, um, ate lots of meat. But he never failed a drug test, and he wasn't named in the Mitchell Report. So when writers leave Bagwell off their ballots on those grounds, they operate in a state of blind assumption. They're free to do that (for some reason), but it's a stance that lends itself to risible inconsistencies. 
This is the sort of thing that comes from any discussion on the topic of Bagwell and the whispers against him. Here's ESPN's Pedro Gomez in 2012 ... 
You notice Bagwell has never denied using? "@Ben_Oehler: @pedrogomezESPN too many voters think like you. Keeping guys like Bagwell out wrong

— Pedro Gomez (@pedrogomezESPN) April 25, 2012
When it's pointed out to Gomez that Bagwell did, in point of fact, deny using PEDs, the voter responds thus:
Bagwell DID deny. Fine. You join BBWAA for 10 years, you get to do what YOU want with your vote.

— Pedro Gomez (@pedrogomezESPN) April 25, 2012
All right. 
Insofar as this year's vote is concerned, Bagwell, per the ballot-collecting work of Ryan Thibodaux, is tracking at 81.6 percent with roughly one-third of voters having disclosed their choices. It seems likely, given recent outcomes, that the percentage in question will fall below 75 percent once the non-disclosed ballots are counted, but maybe Bagwell will indeed make the gains necessary to put him on target for election. He certainly deserves as much.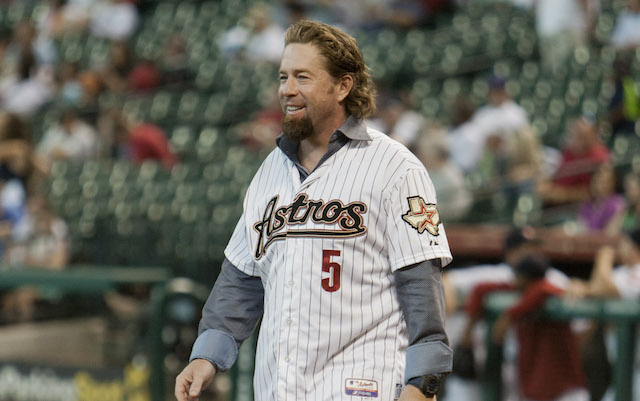 CBS Sports HQ Daily Newsletter
Get the best highlights and stories - yeah, just the good stuff handpicked by our team to start your day.
Please check the opt-in box to acknowledge that you would like to subscribe.
Thanks for signing up!
Keep an eye on your inbox for the latest sports news.
Sorry!
There was an error processing your subscription.
Keep up with all the latest trade rumors around Major League Baseball

The Dodgers and Orioles have reportedly pulled off the first blockbuster of the trading se...

The Orioles received five prospects in exchange for their franchise player
The Dodgers and Orioles pulled off a blockbuster on Wednesday, and these two Dodgers are pretty...

Which prospects might contenders deal away in the coming days? Let's have a look

From Zach Britton to Jonathan Schoop, we examine all the Orioles' trade options