Will Rockies-Diamondbacks be next NL West feud?
In a division somewhat known for hostilities, the Rockies and Diamondbacks may be entering the fray.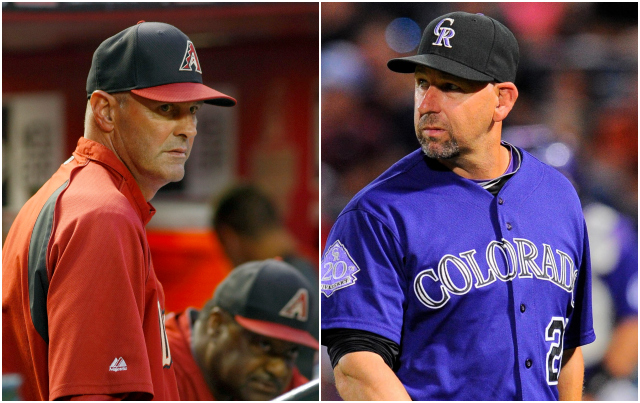 MORE: Spring Training | FA tracker: position players | FA tracker: pitchers
The Dodgers and Giants have loathed each other since baseball time immemorial. The Dodgers and Diamondbacks have swimming pool- and Ian Kennedy-related hostilities in their recent past. The Dodgers and Padres aren't far removed from thatZack Greinke-Carlos Quentin head-on collision. And now it seems the Rockies and Diamondbacks might have some grievances going forward. 
It seemingly started Wednesday. Rockies right-hander Tommy Kahnle -- a 24-year-old minor-leaguer with a history of control problems -- plunked Mark Trumbo in the back, surely inadvertently. Then later Wade Miley drilled Troy Tulowitzki in the leg, forcing the Rockies' shortstop from the game and causing some anxious moments for Colorado. Here's more from Troy Renck of the Denver Post: 
Asked whether he thought Miley meant to hit him, Tulowitzki declined comment. Rockies manager Walt Weiss couldn't mask his disappointment, saying "you never want to see one of your guys hit."

The idea of retaliation is unfathomable in a Cactus League game. And yet the Rockies were privately convinced that Miley's pitch was on purpose. Why?

Arizona general manager Kevin Towers said before spring training that he wants his pitchers to hit more batters this season. "I think come spring training, it will be duly noted that it's going to be an eye for an eye and we're going to protect one another," Towers told MLB.com. "If not, if you have options, there's ways to get you out of here, and if you don't follow suit or you don't feel comfortable doing it, you probably don't belong in a Diamondbacks uniform."

Frontier justice has a place in baseball. But it requires context. A cleats-up slide. Admiration of a home run like it's a first born. Bad blood. None of these factors existed Wednesday.
As Renck goes on to note, D-backs manager Kirk Gibson seemed to sorta-kinda deny intent, but he did so in highly qualified terms:
"It's part of the game. It can happen in spring or during the regular season," Gibson said. "I think one of the things we've focused on is using all quadrants of the plate. We're not out there intentionally trying to hurt anybody. Nobody wants their guy to get hit and neither do we, but it's part of the game."
In light of Towers's previous comments, Gibson's non-denial denial makes perfect sense.  
I get purpose pitches in response to prior purpose pitches. I even get sending a message when an opposing pitcher even accidentally comes near a hitter's head. What I don't get is this kind of escalation after an obviously unintentional plunking of a guy in the middle of his back ... during spring training. Then again, that's exactly what their GM and executive vice-president said they would do. 
Perhaps, though, the Diamondbacks, who finished nine games out of playoff position last season, should be a little more worried about, you know, winning baseball games rather than being county sheriff. 
Keep it locked right here for everything you need to know about the world of baseball Tues...

There have been several racially charged incidents at Fenway Park this year

Washington's right fielders have sputtered offensively since Harper went down
The good news? Wichita still has a chance to win the series Tuesday night

Soon more home runs will have been hit in 2017 than in any other season in MLB history

Ferrell somehow avoided going to the ground